The first rule of fight club is: you do not talk about fight club. Perhaps no one knows the value of this sentence better than student Allison Garrett, who submitted it as a full essay on the 1999 cult classic movie… and ended up getting 100/100 mark. Nicely done.
Images VIA
Allison chose to write about the Brad Pitt and Edward Norton-starring film, which follows an insomniac as he becomes part of an underground fight club.
Seeing her chance to play on one of the movie's most iconic lines, Allison went for it by handing in an essay containing less than 20 words. Here's the paper in its entirety:
The first rule of fight club is: you do not talk about fight club.

That's it. That's the essay.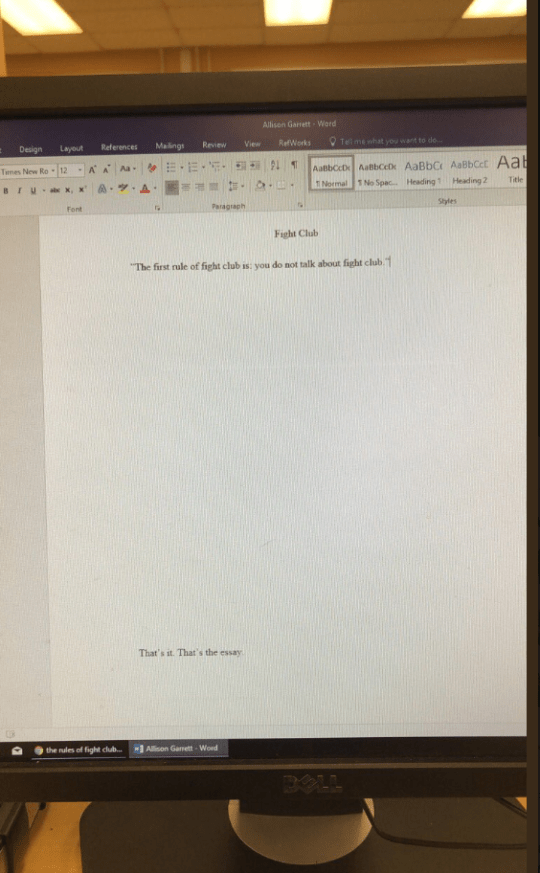 A bold move to say the least, one that thankfully paid off and received a 100% perfect grade – although she was lucky her professor saw the funny side. Here's what the lecturer wrote in the notes:
I struggled over this grade for a long time. I finally decided you get a grade for a laugh and how relevant your review is for this particular movie.

Let me warn you: do NOT try this kind of thing with any other professors; they may not have my sense of humour.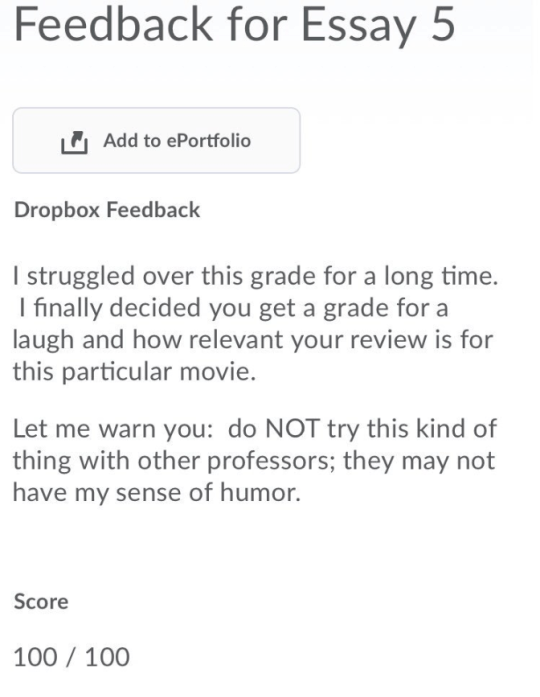 It's a good job this one did. As Allison said when she uploaded the results to Twitter, "the opportunity arose, and I took my chances". Later on in the comments, she wrote:
I was always told life is about taking risks.. i was scared to say the least…

I got a 100 on the paper and passed the class with an A.
Hats off to Allison for going for it and taking the risk… it certainly worked in her favour and continues the legacy of the film in a smart and hilarious way.
For more on Fight Club, here's how Brad Pitt got so ripped for his role as Tyler Durden.