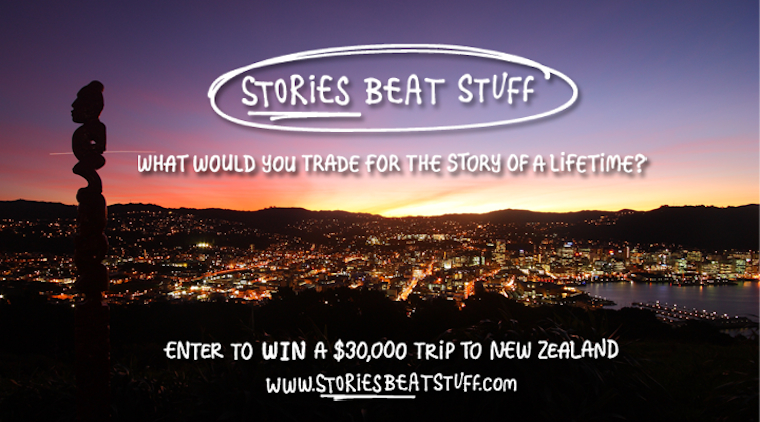 Almost a year ago, we ran a competition that allowed you to win a trip to New Zealand, courtesy of Tourism New Zealand. The premise was simple – you had to create a video detailing the stuff that you would give up in order to win the trip to New Zealand. The idea behind thecampaign was that stories and experiences are worth more than the stuff that you own, and that by giving up some of this stuff you would be able to win the trip to New Zealand which would give you a whole bunch of great experiences and great stories to tell. You also got to invite a friend along with you. To enter, you had to make a video of what you would give up. Here's the winner from the competition that happened back in November and what they got up to when they went to New Zealand:
[yframe url='http://www.youtube.com/watch?v=6fu20GZ_6rI']
Looks like they had a pretty banging time huh? I have always wanted to go to New Zealand – like I said in that old post – because my buddy Gordo told me it was the shit, but this video only confirms that desire even more. I hope I win this time. The prizes look even better this time too as you can invite three friends along with you instead of just one and the 'experiences' that they've picked out for you look way more fun than the ones that they laid out back in November. There's two options: Culture Kaboom and City Splendour.
Culture Kaboom basically entitles you to visit a city that has over 50 volcanoes and then traipse through mud pools, geysers and hot beaches until you reach the Maori people who will invite you to go fishing with them and then cook said fish for dinner. You also get to see a bunch of the awesome landscapes and mountains that New Zealand possesses and were utilised so well in the Lord of the Rings trilogy. Here's a trailer of what you can get up to with Culture Kaboom:
[yframe url='http://www.youtube.com/watch?v=jp1YiOeu-jc']
City Splendour is a little bit more low key but is still pretty cool. You get VIP access to the three biggest cities in the country – Wellington, Christchurch and Auckland – and get to check out everything that's going on each of them. Apparently there's a bunch of cool clubs, a bunch of cool restaurants, some nice harbours and you get to watch whales all the time from them which is pretty cool. There's a trailer to that one too here:
[yframe url='http://www.youtube.com/watch?v=Rs1o4wVk0lU']
I think personally I would prefer to get involved with Culture Kaboom because it's not every day you get to check out active volcanoes, but I'm sure partying in the cities would be cool if you got to do that as well. I mean partying in any city is generally pretty cool but partying in New Zealand would be even cooler because you get to check out whales too.
Anyway, this competition is better than the last one as well because you don't even need to make a video to enter! This time the winner is chosen by YOU and you get entered into a draw for a trip to New Zealand just by voting for your favourite video. Instead of a video you can also enter a photograph of what you want to give up for the trip, but a video is more likely to win. Here's my entry below: do me a favour and vote for it so I get to go to New Zealand, what have you got to lose because you'll get entered into a draw too!
I wanted to do a video but I did that last time and didn't win so figured I would try my luck with a photograph this time. I'm already of the mindset that stories are way better than stuff so I don't actually own that much stuff but a couple of things that are really important to me are my guitars as ironically they facilitated a lot of the best stories I have from when I used to play in a punk rock band and tour the world. But for a $30,000 trip to New Zealand I think I would give them up. Yeah, no problem, I could always get another one. Anyway here's the picture of them, if you want to enter the video/photo competition yourself though – and you definitely should – check out the Stories Over Stuff Facebook page and go for it: