Steve Buscemi has long held a place in pop culture, probably mainly due to his ridiculous face but also because he's a damn good actor on his day too. It seems like everyone, young or old, male or female absolutely loved the guy, and this was probably only amplified by his recent role in Boardwalk Empire.
Images VIA
We've now perhaps reached peak Steve Buscemi now though as it's been revealed that you someone has actually decided to manufacture a Steve Buscemi bikini, naturally featuring his face all over it. Get a load of this woman wearing it: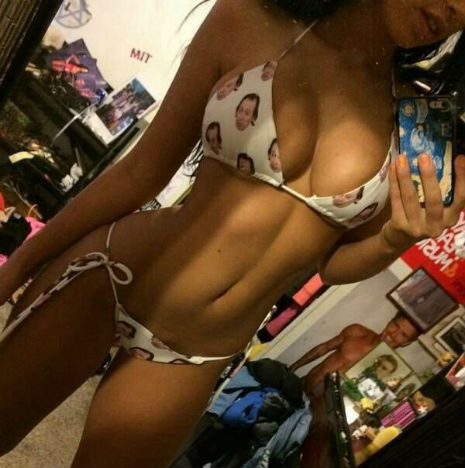 Perfect. Imagine meeting a girl down the beach wearing that, it would probably be love at first sight for most of us right? Unfortunately, it looks like the company that saw fit to build and stock them – O-mighty.com – is no longer making them either that or they're out of stock.
Maybe if you hit them up and beg then you'll be able to get one. You know you'll absolutely smash it on the beach this summer with one of them.
For more Steve Buscemi, check out this pretty incredible story about him and 9/11.