When you think about the next big music collaboration, you're probably not thinking that it would involved Steveo Aoki teaming up with Vin Diesel to create an EDM track. Apparently, this IS the next big music collaboration though.
Featured Image VIA
Disappointingly, the pair haven't actually released a track yet and have no set release date for one either, but some of the stuff they're saying about it is going to turn the hype dial up to about 1000. Get a load of some of this.
Vin Diesel has said the following about it:
The first time I played my new monster track to my girlfriend, I cried.

I'm gonna get a Grammy before I get an Oscar – it's that good.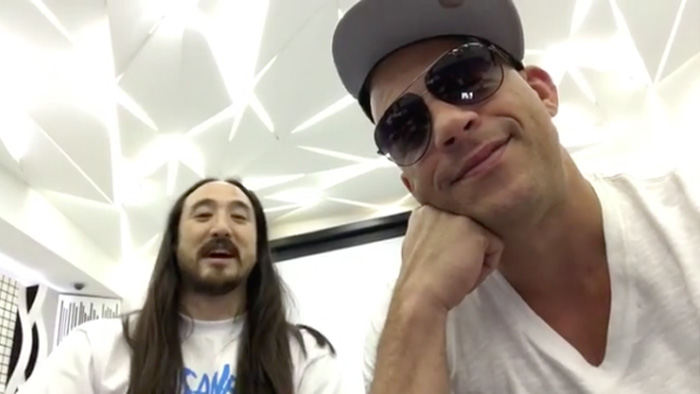 Nothing like talking it up eh? I mean I can understand how someone making their first song might think that it's the best thing ever, because that's just kind of how you feel the first time you create something (then five years later you realise what dogshit it actually was), but when you listen to Steve Aoki's take on it you get the feeling that this might actually be the real deal:
What Vin brought to the table, I've never experienced before.

I think it's going to blow people's minds.
I mean granted, that could easily mean that it's going to blow their minds by how shit it's going to be because Aoki has never experienced such a shit level of musicianship before, but equally it does sound like he's kind of pumped to release it as well. And considering some of the people he has collaborated with, it's high praise indeed.
Whatever happens, it's definitely got me interested and I'm going to check it out, although I probably would have done so anyway because it's such a ridiculous collaboration. Even more excited for it now though.
For evidence of Vin Diesel's musical talent, check out a video of him absolutely killing Sam Smith's 'Stay With Me'. Seriously.