I don't think I've ever heard a bad word said about Stephen Fry. The guy is a real national treasure and one of the wittiest, most interesting and generally likeable people around.
Featured Image VIA
So it's disappointing to hear that he's deleted his Twitter account after a bunch of Internet pussies freaked out over a harmless joke he made at the BAFTAs.
Costume designer Jenny Beaven had just left the stage after collecting her award for Best Costume Designer (Mad Max: Fury Road), when Fry, who was hosting, said:
Only one of the great cinematic costume designers would come to the awards ceremony dressed like a bag lady.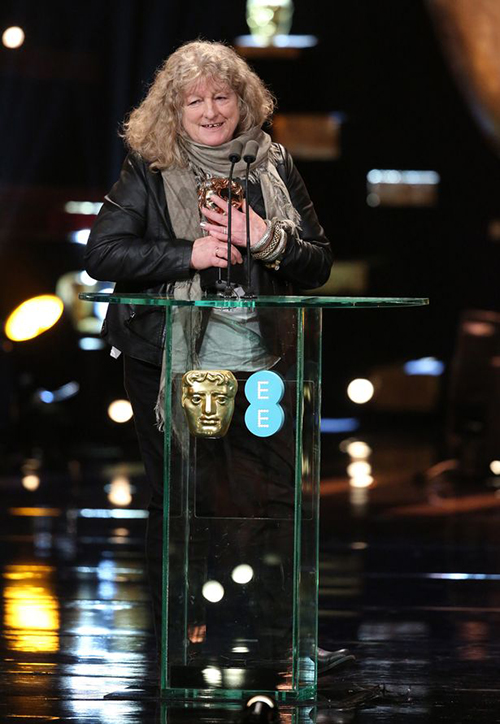 Image VIA
Harmless, light-hearted joke between friends right? Not according to these cry-babies:
Jenny Beavan is a master in her field. She doesn't need to truss herself up for approval. Fry, you're an embarrassment. #BAFTA #baglady

— Elizabeth Corlett (@ElizaCorlett) February 14, 2016
What a totally twattish thing for Stephen Fry to say about Jenny Beavan. Why does he even still present this? Ugh.

— Poppy Dinsey (@PoppyD) February 14, 2016
Not sure that Stephen Fry saying BAFTA-winning costume designer Jenny Beavan had come "dressed as a bag lady" was very gallant.

— Simon Price (@simon_price01) February 14, 2016
Fry, who we all know is a sensitive soul, responded with a couple Tweets himself: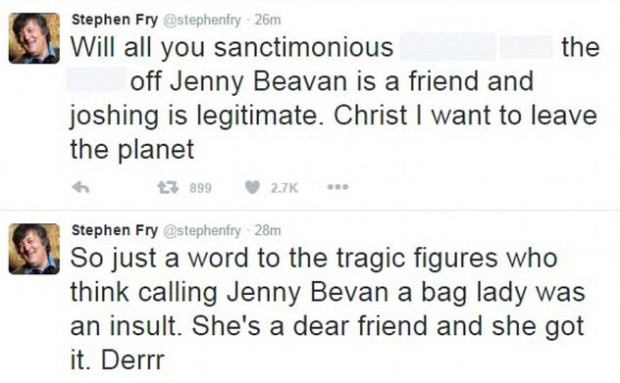 He then decided to delete his Twitter completely and not have to deal with the PC idiots that dominate the Internet anymore.
David Baddiel & Matt Lucas said it best:
@StephenFry outrage confers identity on the anonymous, unfortunately..it's the curse of here. Well done tonight, grand job.

— David Baddiel (@Baddiel) February 14, 2016
@stephenfry Didn't you get the memo? No-one is allowed to do jokes anymore.

— Matt Lucas (@RealMattLucas) February 14, 2016
To listen to Stephen Fry's 10/10 answer as to what he'd say if ever met God face to face, click HERE.