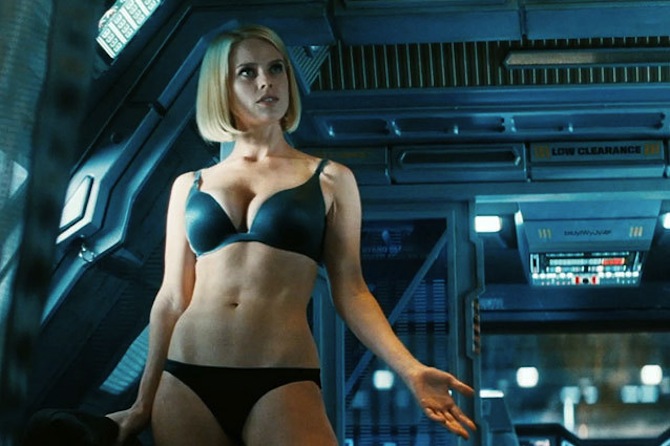 After receiving a hailstorm of criticism for including a clip of Dr Carol Marcus (played by the hot British actress Alice Eve) in her underwear in the new Star Trek Into Darkness film, director JJ Abrams has released a previously unseen deleted scene.
In the hopes of balancing out the screen time spent on naked flesh between the two genders, and casting away any black clouds of misogyny, Abrams premiered the clip of Benedict Cumberbatch's character, John Harrison, taking a steamy shower on the US chatshow Conan. The director said: "It's not in the movie but we have this," before airing the brief clip of a bare-chested Cumberbatch in the shower.
[yframe url='http://www.youtube.com/watch?&v=7LXKjjS-eZI']
Speaking of the controversial scene where Alice Eve stands in her underwear, seemingly for no reason, Abrams explains that Marcus was supposed to come across as the womanised version of Kirk, saying: "I don't think I quite edited the scene in the right way, but to me it was sort of a balance. There's a scene earlier where (Chris Pine's) Kirk isn't dressed either."
The half-naked Kirk clearly hasn't ruffled as many feathers as Dr Carol Marcus' stripped down performance has. The films writer, Damon Lindelof tweeted last week to remind viewers that the Enterprise crew members strip down regardless of whether they are male or female. He tweeted: "I copped to the fact that we should have done a better job of not being gratuitous in our representation of a barely clothed actress", before adding, "We also had Kirk shirtless in underpants in both movies."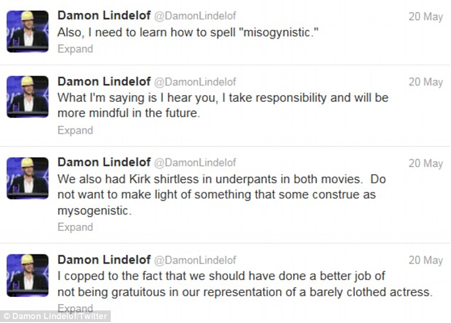 This is not the only time the sci-fi franchise has appeared sexist. According to a Star Trek infographic on MoneyGaming.com, "in the pilot episode the first officer was played by a woman. The network had the role recast as they thought it wasn't believable for a female to be in charge."
Despite the controversy though, Star Trek into Darkness is performing well on the silver screen, having secured the UK box office chat top spot and grossed over £120 million worldwide, which although a little below expectations is still respectable.