It's no secret that the amounts of money that surround modern day football is absolutely absurd, but this has got to be one of the most ridiculous stories surrounding the beautiful game I've ever heard.
Featured Image VIA
Burger King are apparently offering Zenit St Petersburg £6.8 million to change their name to Zenit Burger King. Whilst that might sound completely baffling, I suppose you only have to look at teams like the New York Red Bulls or Red Bull Salzburg to realise that it is possible to include the name of your product in the name of a football team and Burger King have just taken the ball and run with it.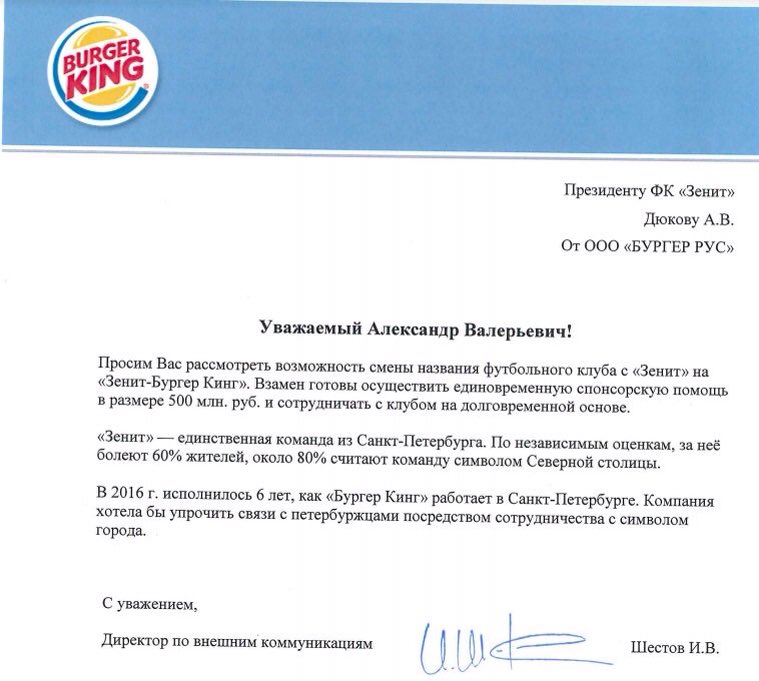 But honestly, Zenit Burger King doesn't even make any sense – surely you would want to still keep the name of the place in the title of the team so it would be St Petersburg Burger King or Burger King St Petersburg? Zenit Burger King does sound a lot cooler though, I'll agree with that bit.
Anyway, as much as £6.8 million sounds good to you or me, it's peanuts to a big Russian football club like Zenit St. Petersburg so it seems unlikely that they're going to take the money and become Zenit Burger King unfortunately. But just imagine how good it would be if they did? I don't think I would ever be able to stop laughing when I heard they were playing a game.
For more of the same, check out this guy who actually succeeded in changing his name to bacon double cheeseburger.