A 30 year old love letter from Tupac Shakur to a high school sweetheart has emerged and is being sold for a cool $35,000 through memorabilia dealer Moments In Time.
The recipient of the letter – who wishes to remain anonymous – had the following to say about her relationship with Tupac during those high school years:
I met him in drama class after he transferred from Baltimore to California. He called me Beethoven because of my piano skills.

He was a charismatic character who didn't give a damn, highlighting the fact he wore Afrocentric gear and rocked a blonde high-top fade before it was the cool thing to do in the west coast.

The thing that really attracted me to him was that he made me understand Shakespeare. It was like magically, all the antiquated and complicated language of Shakespeare made sense. He took something as difficult as Shakespeare and gave it a contemporary voice.

We were in love, but it didn't work out for whatever reason. I wasn't a fan of who he grew up to be.

I never really cared for the music he recorded — it was nothing like those freestyles I remember in front of our school. I knew the kid who made me understand Shakespeare and who didn't care that he dressed different or wore his hair different.

I knew the kid who loved Prince, and candles and had a broken heart. And the kid who drew birds flying upside down on the nets that he passed in school.
Wow. Sounds like a romance worthy of Romeo and Juliet. And wait until you get a load of the letter she's selling from Tupac too: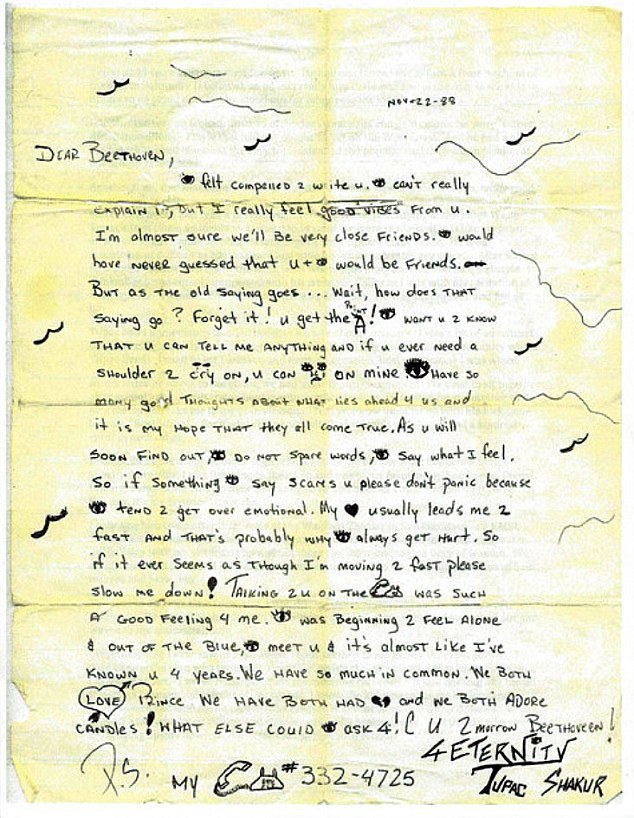 Oh man. What an absolute sweetheart. I especially like the way he actually draws an eye for every I, with eyelashes and everything. You know the girls are going to love that. And just everything he says is enough to melt a girls heart. Although 30 years later I suppose everyone knows that money is way more important than love. So it goes.
For more of the same, check out this love letter Dr. Dre once wrote to his girlfriend too.