Welcome to the weekend – this is the Sick Chirpse Soccer Saturday Accumulator – let's go bookie bashing. Make sure you click one of the banners below or this link to claim your free £30 bet on this weekend's games.
We'll start with the big boy bet of the weekend – the big fat both teams to score win treble.
Man City to beat Arsenal – both teams to score, Man Utd to beat Aston Villa – both teams to score, Liverpool to beat Spurs – both teams to score. £5 sees £360 with our friends from Ladbrokes.
Click here to claim your free £30 bet from Ladbrokes. 

The early kick off of the day and undoubtedly what you'll be waking up from your hangover to deal with is the Man City Arsenal game. Top of the league away to the team that many see as the favourites to take the Premier League title. Sergio Aguero will be buzzing after having a midweek break from Champions League football. Man City's home form has been scintillating at home but if any team are gonna put a stop to that it will be this Arsenal team that are running riot of the Prem at the moment. Man City know they have to win if they want a pop at the Prem and Arsenal will come out fighting – led by their talisman – Aaron Ramsey.
Man Utd have not been a sure thing all season but with Rooney running the show you gotta hope  they can put an end to Villa's recent run of good fortune. There will be goals in this game for sure and 3-2 to the Manchester team would not even shock me with how they've been playing. Rooney will score. Science.
The final game in our treble is the newly crowned mighty Liverpool who take on a lacklustre Spurs team who have not scored as many goals this season as a whole as their old Welsh friend Gareth Bale has for Real Madrid. Slightly embarrassing. They will snatch a goal Sunday though as AVB looks to employ Defoe to do more than just hit the post again and again – however – Studge may be back up top for Liverpool and with Suarez, Coutinho and everyone else on absolute fire and away win is hugely on the cards for the reds.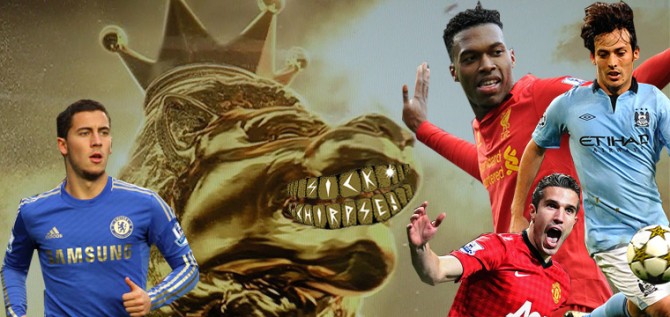 Our Safe as houses Saturday treble sees £20 turn into £110 with Ladbrokes if Everton, Chelsea and Liverpool win.
Click here to claim your free £30 bet from Ladbrokes.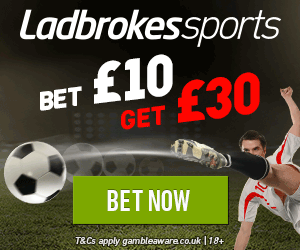 This Everton team are approaching this  game with more confidence than you'd ever expect for a team that have been sufficated by David Moyes for more than a decade. Now is their time to let fly and boy are they ready – eyes on Lukaku as his beast mode will be in full force against a resurgant Fulham team who still can't win away.
Chelsea are at home to Tony Pulis and is newly established anti-football outfit Crystal Palace. Get ready for the reset button to be pressed as all his hard work is undone by Hazard and co. In the most convincing bit of daylight robbery since Frank Ribery convinced those underage prostitutes that burn scars were cool, Chelsea will roll Palace over like…well see previous euphemism. 4-1 Chelsea.
Liverpool will set Suarez loose on Spurs and Kyle Walker will try and fail to mark Moses/Coutinho/insert any player here. My only real worry with this one is that Spurs might not even bag but hopefully AVB will wake up from his snoring voice long enough to play Defoe who loves to grab a goal or two. 3-1 Liverpool.
If you have a spare quid knocking around you might even want to back the 5 draw below to win over £600 with Ladbrokes. Just a thought. Or even just pick 4 of them for a swift £160:
Cardiff v West Brom
Newcastle v Southampton
West Ham v Sunderland
Hull v Stoke
Norwich v Swansea
Here's a little video of Matt Le Tissier to get you in the Premiership mood for Sick Chirpse Soccer Saturday Accumulator:
'www.youtube.com/watch?v=ws2qjN3G1JY']
Here's your weekend fixtures Sick Chirpsers. Enjoy:
Sat 14 Dec 2013 – Premier League
Man City v Arsenal 12:45
Cardiff v West Brom 15:00
Chelsea v Crystal Palace 15:00
Everton v Fulham 15:00
Newcastle v Southampton 15:00
West Ham v Sunderland 15:00
Hull v Stoke 17:30
Sun 15 Dec 2013 – Premier League
Aston Villa v Man Utd 13:30
Norwich v Swansea 13:30
Tottenham v Liverpool 16:00