Snoop Dogg, Snoop Lion, Snoop Elephant or whatever animal he has evolved into now, has an app that lets you "Snoopify" your photos.
Snoopify being adding cash, zoots, gold chains and every other Hip Hop cliche stickers to your phones photos.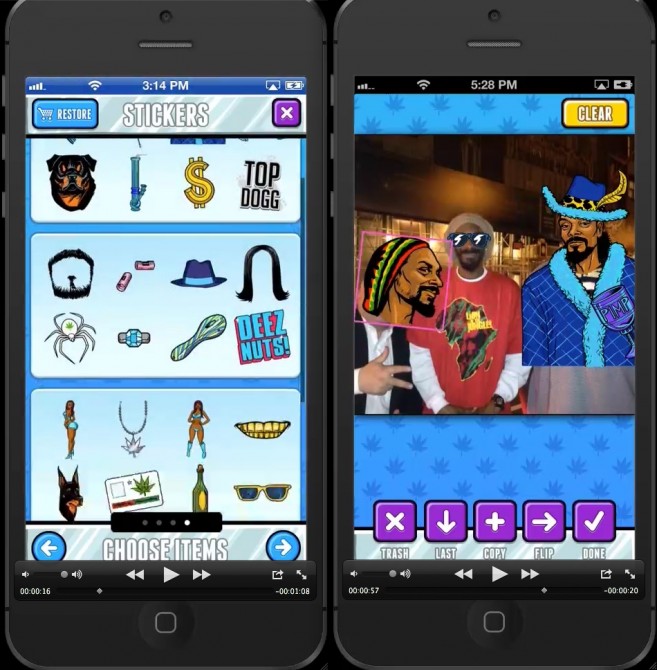 Sticker packs are available to purchase in app at prices that seem reasonable for an unsticky virtual sticker, but in the latest update to the app, a new sticker has been added, titled the "Golden Dro golden joint" the golden jay.
This single sticker is available to you for the cool price of $99.99. I haven't misplaced my decimal point here, it's a penny away from $100.
And much like the dick responsible for Yeezus, and his plain white t-shirts (see here). They are actually selling, reporting to have sold at least 15 so far! That is nearly $1500 on a sticker that you can't even fucking stick anywhere but your shitty picture of your cat.
Snoop's brand manager, Nick Adler, said that this sticker was added with this price to the latest update "on a whim."
He said he was shocked by the success and went on to say "hey, this is a new world." If this is the new world take me the fuck back, where is the nearest DeLorean when you need one.
For this price you may expect some bonus from purchasing it, like Snoop coming to perform all his classics in your living room while sharing his stash with you and your pals. But no. When asked what is this golden joint, Mr Adler replied, "There's no poetry behind it, it's just golden."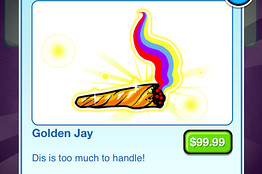 With this price and a flow of idiots ready to hand over their hard earned cash, golden seems a fitting name.
☛ Next: 11 Year Old Kids Ask Snoop For Sexual Advice