Remember a few years ago when Snoop Dogg briefly became Snoop Lion and released a largely forgettable reggae album?
Featured Image VIA
Probably vaguely, but the big news is that he's at it again only this time with gospel music. He's keeping his name this time though and documenting the whole process through a reality TV show entitled True G. Here's what the synopsis from Impact TV says all about it:
See Snoop Dogg on his journey as a husband, father and community caretaker. Go inside the album as he reveals his source of inspiration. Hear Snoop's personal testimony and stories of God's grace through his many trials and tribulations.
I really wasn't aware that Snoop Dogg was religious but I guess it looks like he is. Who knew? Apparently he's been talking about this gospel album for a while and it's going to involve him rapping to the backing of a gospel choir, after revealing that Mary Mary and Fred Hammond had planned to record music for it. Whoever they are.
Snoop also recently shared the following text conversation with his mother, the ordained evangelist Beverly Broadus-Green: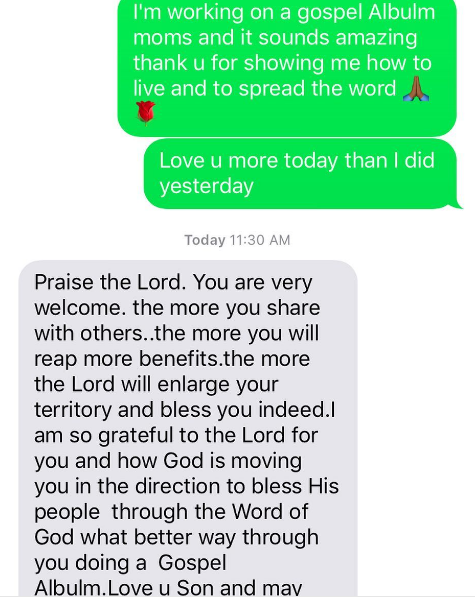 Man, can you imagine that happening 20 years ago? I guess Snoop has just evolved from a G to a True G over that period, whatever that means. The world can be a crazy place sometimes.
For more Snoop Dogg, check out this story about when he smoked weed at the White House. Awesome.