Skiers and snowboarders have had a long, unspoken and ultimately unnecessary beef going on for years now, but it got taken to the next level over in Colorado this week.
Featured Image VIA
Snowboarder Seth Beckton claims a skier threw him off a 25 foot high chair lift at Aspen Highlands after a miscommunication between the two – a drop that he was lucky to survive. He shared this warning on Facebook earlier, which is currently going viral:
https://www.facebook.com/photo.php?fbid=10204266345452507&set=a.1038883226041.5511.1644351507&type=3&theater
The Aspen Times set the scene well, as described to them by Beckton:
Beckton said he and the skier barely spoke on the way up the mountain, though the man called attention to Beckton's snowboard when they got on the lift, saying, "Oh, you're a snowboarder, huh?"

It wasn't until the top of the lift, at about 9:30 a.m., that the two men began chatting about the 5 to 6 inches of fresh powder on the ground, he said. Beckton said he made a comment about it being easier to get face shots of powder on skis as opposed to a snowboard.

Beckton quoted himself as saying, "To get tits-deep pow shots you just need to be on your edges."

Whatever the comment, Beckton said the skier then turned to him and said, "Are you making fun of me?"

Beckton said he was "taken aback" by the question and wasn't sure how to interpret it because the man was wearing a helmet and goggles and he couldn't see his face.

"I thought it was kind of funny," Beckton said. "I thought he might be joking. I wasn't trying to offend anyone. I didn't even think the comment was offensive."

So, even though he actually hadn't been making fun of the man, Beckton playfully answered his question and said, "Not really – but maybe."

"If you think that's funny," the skier told him, "do you think this is funny?"

The skier then "grabbed me and pushed and pulled me off the chair," Beckton said. A third man was riding the same chair, he said, though he didn't know if the man was a friend of the skier's or not.

The next thing he knew, Beckton was heading toward the ground in "an out-of-control fall" and somehow landed safely in the cushy powder.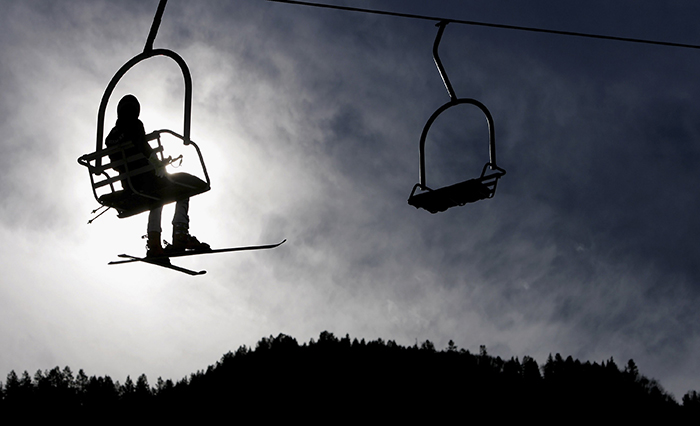 So it seems like this skier didn't really appreciate Seth's sense of humour there, and thought the best response was to try murder the guy. I don't really get the joke either to be honest, but judging by this story I know it's not something to ever say to a skier when you're 25 feet up in the air with them.
Anyway, one thing's for sure — this ski Vs snowboard rivalry is far from over. Your move, snowboarders.
Check out the greatest POV skiing video you'll ever see HERE.