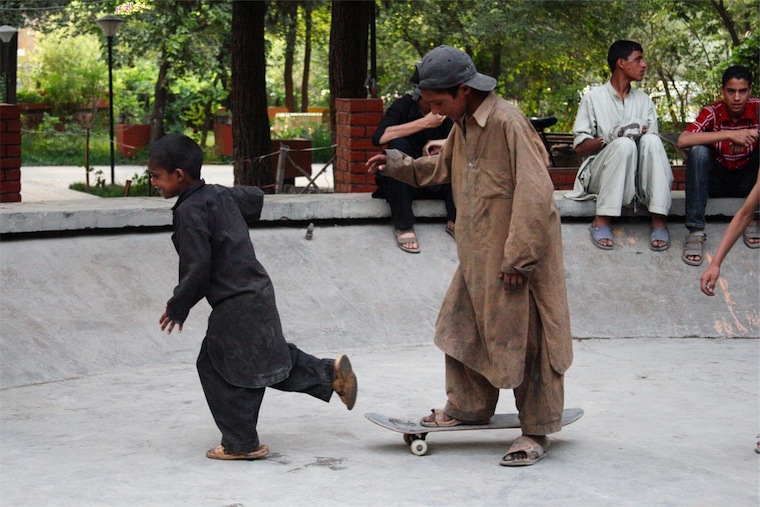 Skateistan is a non-profit charity that gets kids from countries like Afghanistan tearing it up on a skateboard.
Skateistan work with kids aged between 5-18, who are mainly street working children and 40% girls. Their mission statement is as follows:
To use skateboarding as a tool for empowerment:

in a place it hasn't existed before
giving young people a voice, and;
giving local people agency to shape projects according to need.
Now I've got to say, this is totally rad. I had the chance to waste my youth skateboarding, so why shouldn't kids in Afghanistan? Whoever put this charity into action deserves to be bought a beer.
The general idea behind the charity is that it helps street workers get off the street and work in cleaner, happier and safer environments. For example, Mirza is a 17 year old kid from Afghanistan who used to wash cars to make a living. Over the winter months it gets real cold in Afghanista, and washing cars can become a real ball ache. It gets so cold that the water just freezes while you're trying to wash the car with it, mega stress. Since Skateistan moved into town, Mirza now works in a skate park cleaning and teaching other kids how to rip it on their skateboard.
There's also loads of girls taking part in the Skateistan movement. For example, Fazilia is a 12 year old girl who used to earn her living selling chewing gum on the streets, her family was poor and more often then not couldn't afford to feed their whole family. Just like Mirza, Fazilia now works for Skateistan helping spread the word of skateboarding gospel. She says that although her father disagrees with her skateboarding, and most people look at girls on a board and think 'Why should they have the right to do that?' (Afghanistan is a pretty sexist country in case you didn't know), she loves the feeling that skateboarding gives her and will never give it up.
Check out this short documentary that Skateistan have put together telling their story. There are also some sweet videos of Afghan kids ripping it on Skateistan's YouTube channel. If you're into what they're doing go and tell them on Twitter.
Fvck war, go skate.