Billionaire retailer Sir Philip Green is currently dealing with the collapse of his Arcadia empire (Topshop, Dorothy Perkins, Miss Selfridge), and one person who's pretty chuffed about it is photographer Jake Walters, who worked with the business mogul on a photoshoot back in 2005.
Featured Image VIA
That year, Sir Philip was at the top of his game – splashing £1.2 billion on his family including an £100m super-yacht in Monaco, which he has recently been urged to sell in order to rescue Arcadia staff pensions (as if).
Revealing that he had acted like a prick during the photoshoot, Jake shared the subtle bit of payback he got on the billionaire – making him look like an actual dick between two shrubby testicles:
My portrait of Sir Philip Green taken on his Arcadia office balcony on Oxford Street. He was unpleasant and rude to me and my assistant when we arrived to photograph him so I thought.. well if it's ok for you to act like a prick, it must be ok to make you look like one. So I did. pic.twitter.com/BcjtaMuWdr

— Jake Walters (@MrJakeWalters) December 4, 2020
Genius! Pure genius! Unfortunately the Guardian didn't end up using that particular shot, but good to see it doing the rounds 15 years later.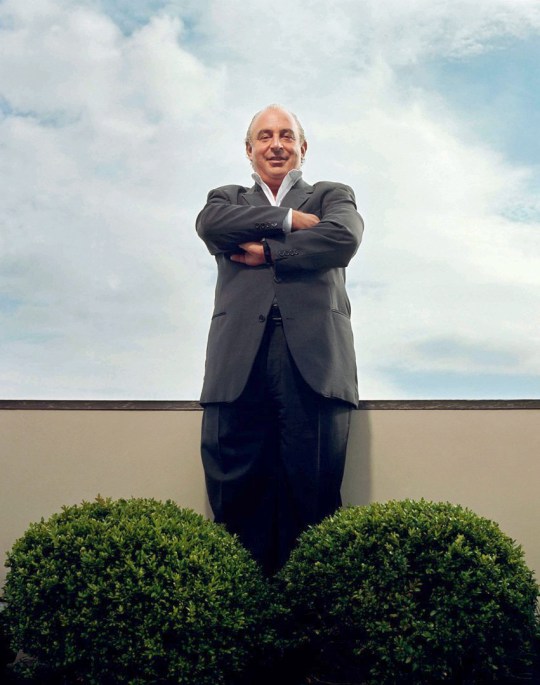 Aside from being a dick to photographers and a smug arsehole in general, Sir Philip Green was at the centre of the #MeToo drama in the UK back in 2018, with allegations of racial, physical and sexual abuse from employees. He is alleged to have paid out large sums of money in return for silence from some of the accusers who initially spoke out.
He's also faced criticism for his tax affairs, although Arcadia has paid substantial corporation tax.
In 2005, his wife Cristina, the official owner of Arcadia, received a £1.2bn dividend – but she paid no tax in the UK as she is a resident of Monaco. Alright for some!
So with that kind of history and reputation, it's no wonder people are loving Jake Walters's photography here. Pretty amusing to think Green had no idea what Jake was doing as this photo was taken. Always a good idea to keep on a photographer's good side, it seems.
For our weekly rundown of the best photos & GIFs on the internet, check out this week's Dope Shots.