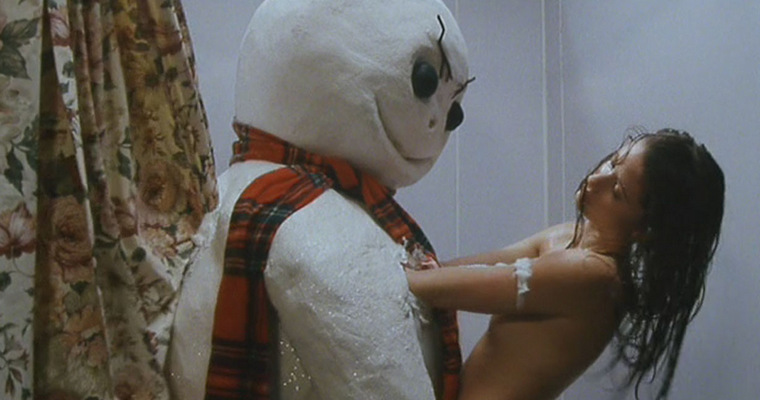 So, it's only a few sleeps away from Christmas and everyone is brimming with excitement. Perhaps you've already settled in to a few merry little numbers already (Scrooged, Jingle all the Way, Muppet Christmas Carol), but you're looking for something you haven't seen before – possibly violent. Don't worry; I have the perfect thing for you. This is Sick Chirpse's Alternative Christmas Film Selection.
Jack Frost
[yframe url='http://www.youtube.com/watch?v=JYwcmJQQ6jQ']
A friend and I found this little gem in an independent VHS rental shop when we were young. Assuming it was the Michael Keaton classic, we snapped it up and soireed on home. With the tagline, "he's chillin' and killin'", I knew this film would be necessary viewing, alongside Casablanca and the works of Hitchcock. In fact, there is bathroom scene not too dissimilar from one in Psycho. Well, by that I mean an evil snowman, crudely constructed by a dire special effects team, slinks into a bath with Shannon Elizabeth (the girl who played Nadia in American Pie) and proceeds to subject her to some severe sexual abuse.
[yframe url='http://www.youtube.com/watch?v=f42Ew-zV2JM']
Apart from being a lewd defiler, the snowman sets about across the fictional town of 'Snowmanton' where he brutalises its residents with various Christmas paraphernalia. How a snowman shifts along with legs is something that may concern you. Well, he kind of moves like a puddle and regenerates like the T1000 in Terminator 2: Judgement Day. Still, I remember thinking, when I watched it as a youngster, that a light jog would be enough to escape his twiggy clutches. Still, it's a cult favourite that should not be overlooked.
[yframe url='http://www.youtube.com/watch?v=Z_EdhP5pngQ']
Rare Exports
 [yframe url='http://www.youtube.com/watch?v=2pH9IyqTk1E']
In the dying moments of last year's summer, I was recommended this continental offering. Of course, in the sweltering heat of British weather it may have seemed like an unseasonable idea to watch a Christmas film, but I was drawn to the film's intriguing plot.  Set on a Finnish mountain, a group of scientists have arrived to investigate the terrain's minerals. This disturbs the local reindeer herders and also troubles the team's children, who seem to have a bad feeling about what the scientists might unearth. Sure enough, waiting below is a beastly imagining of the conventional Santa Claus character. For those who like the prospect of an out-and-out battle between Northern Europeans and mythical creatures, you will find this to be a quirky little yarn. For anyone who is admires the stunning visuals of the Scandinavian landscape, then you won't be disappointed. And for any ladies who are into sturdy, bearded men who look like they'd nurse a wounded deer to health, cook you a steak and then make passionate love to you whilst Bon Iver plays in the background, then I think this film may be of interest too.
Silent Night, Deadly Night
 [yframe url='http://www.youtube.com/watch?v=ph2qpWw7nZI']
Anyone who has a soft spot for the slasher film will tell you that the main facets that characterise the genre are: awful acting, a formulaic plot and a healthy sum of continuity errors. Silent Night, Deadly Night involves all three, and somehow it went on to spawn a series of unwarranted sequels. The basic rudiments of the first film's plot are: child sees parents murdered by the gloved hand of a man dressed up as Father Christmas; boy spends remainder of childhood in a boarding school; boy, now man, steals a Santa suit and goes on a merciless rampage across his hometown. So, it's basically Halloween, but just that bit more festive.
This is a classic scene from the first sequel of the franchise. Look out for these three things:
1.The skillful acting of the girl who waits until the victim is completely dead before asking the killer what the hell he is up to.
2. The blatancy of the continuity error involving the policeman's gun (it's facing the killer, then it's facing himself, allowing for him to be shot in the head).
3. The immortal line that went viral, "GARBAGE DAY", which doesn't even make sense in the context of the film.
[yframe url='http://www.youtube.com/watch?v=0ZF0FG55TKg']
Santa with Muscles
[yframe url='http://www.youtube.com/watch?v=nmPgWz85Us0′]
I threw this one in because the list seemed to lean somewhat on the crappy budget slasher movie side. So, with that in mind, here's a crappy budget kid's comedy. Being lucky enough to have cable at a younger age than most, I recall being subjected to this jolly delight many times. What's not to love about the concept? A criminal millionaire (Hulk Hogan) bangs his head and develops a spell of amnesia, which makes him think that he's Santa. Obviously, mirthful consequences ensue.
I'd like to say if that premise doesn't take your fancy so far, at least the beautiful Mila Kunis is in it. Sadly though, she was a child when the film was made, and unless you're the lead singer of a Welsh rock ensemble, you're going to have to watch Ted – which is a 36% better film – if you're looking for a Ukrainian-American hotty to gawp at. Anyway, stick this on and transport yourself back to a time where Hogan was a hero and not a reality joke, with a terribly filmed sex tape.
Gingerdead Man
 [yframe url='http://www.youtube.com/watch?v=xsOtcEOkJ-I']
Well, hands down, this feature wins the award for the most sidesplitting name. However, the jokes end there. This film is an unremitting blood bath. Think the fire extinguisher scene from Irreversible over and over again, but 30 times more excessive. Nah, I'm only joking; it's a film about a bloody 2ft killer gingerbread man named Millard, who is possessed by the spirit of a serial killer. I haven't seen the film yet (I'm far too perturbed by this thought), but I know that none other than Point Break's Gary Busey voices the doughy executioner. Also, I don't know how he is defeated, other than I can only assume it involves Millard getting taken down by the reincarnated spirit of a feisty detective, whose body has been transposed into a giant glass of semi-skimmed milk. If not, then I'm taking that idea to Hollywood right away.
Now you've seen this assortment of cinema, you can now plan the ultimate Christmas movie night. Sure, you may need to ingest a high concentration of intoxications and narcotics to get through them, but that's what this holiday season is all about, right? Anyway, from myself and the people of Sick Chirpse, have a holly jolly Christmas!
☛ More: Childhood Movies Recut
☛ More: Home Alone 2 – Injury Time 
☛ More: VIDEO: German Idiot Jumps Into Frozen Pool Only Wearing Speedos, Guess What Happens Next?