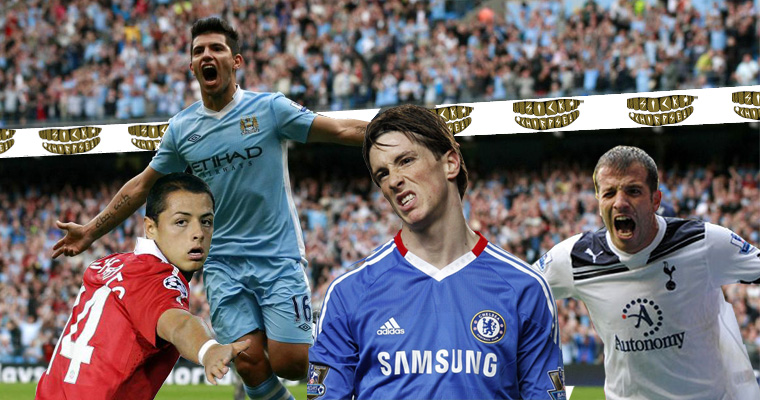 Follow AMJ @AMJEEZIE
Apologies for their not being a Week 9 update, not that anyone would've actually noticed, I went off the radar for a week. Problem with that is that I have now left Steven Pienaar in my team despite him being suspended for the past 2 weeks – what a genuine moron. Anyway back to the more important things – who were the big scorers of the week in the Sick Chirpse League. High score of the week goes to no other than now 12th placed Johnny Callow's Room 362 with a not so whopping score of 46. Other big news is that Shane Tremlin's Trem's Trash have managed to sneak their way into the top 5 and in turn force out early front runners Prince Boatengs. Here's how the Prem games fared up on the weekend:

BIG HITTERS: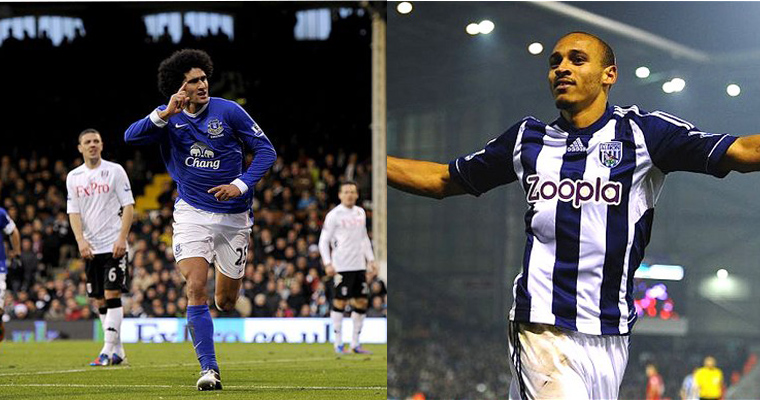 To quote the Evertonian faithful, "Marouane Fellaini, you are the love of my life. Marouane Fellaini, i'll let you shag my wife. Marouane Fellaini", I want curly hair too…" That may not seem relevant and you might not let him shag your wife but stick him in your fantasy football team and you'll be singing this too within a week. Fellaini notched up two goals and a total of 12 points from the tough away trip at Craven Cottage but couldn't do enough to secure the win as he missed an easy chance for his hat-trick. Although when he's down as a 3.8 million midfielder and is the 6ft4 spearhead of the Everton attack you'd be silly not to snap him up.
Peter Odemwingie. Wow. Known as Peter The Great and harder to find on google than a picture of Paris Hilton without a cock in her mouth. If you can spell Odemwingie on the first time of trying you are a better man than me. He had a hell of a game Monday night at home to the Saints and further dented Neil Adkins chances of keeping the Saints afloat. He banged in two great goals and took home a cheeky 12 points to boot and with a trip away at Wigan as the Baggies next game he might even keep this hot streak going.
BIG SHITTERS: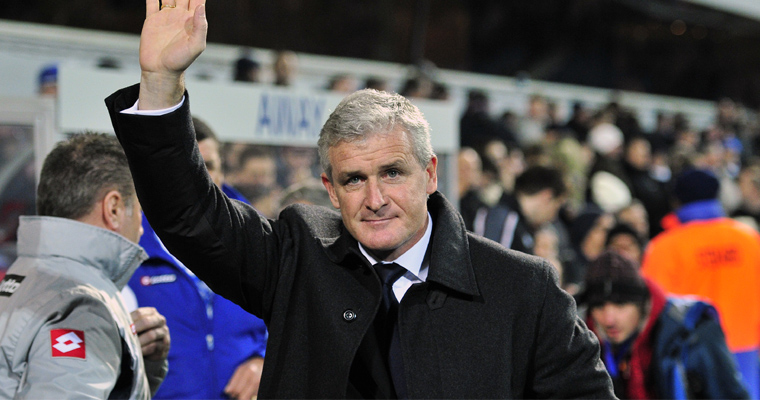 I remember when I made a fantasy football team last season and stuck Abel Tarabbt in my team based on the fact that I thought Rangers had cracked some kind of code that could turn footballers into Gods – I thought he was gonna be my secret weapon and turn the league alight. I kept him in for 11 weeks and he didn't score once. Bottom line is – he was a shit house. This season many people have made the same mistake with the industrious Park Ji Sung, the incredulous Bobby Zamora and the ugliest right back in the world Jose Bosingwa – however – none of these have set the Prem alight. It really isn't their fault though.
It is the fault of the man that should be one of the best managers in the Premiership but would be more at home trying to pry Barnet off the bottom of the football league as that's about all he's capable of. The reason he hasn't made the BIG SHITTERS portion of things before is because I keep wanting old Sparky to magic his way out of his shower of shit managerial mediocrity but he's unable to do it. When you can't beat a Reading team who haven't won a game all season when you are on your home patch you need a serious talking to – not to mention a Reading team who had played 120 minutes of football days earlier and had let in 7 on their own patch. Take a long hard look at yourself Hughesy – and if you've still got QPR players in your team please do the same as you are clearly a dick.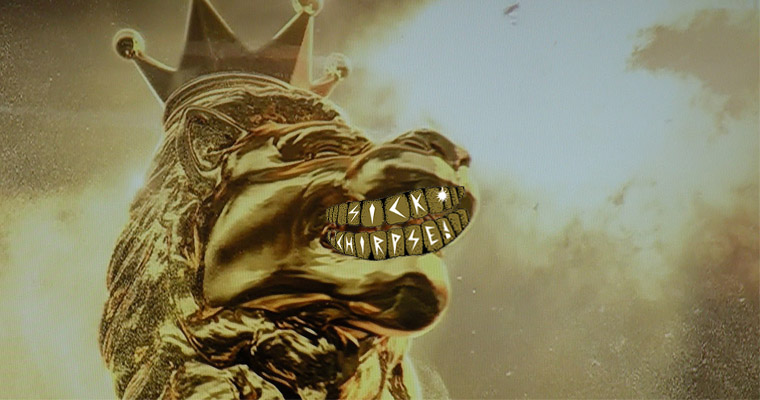 This weekend the Premiership is looking like this:
Saturday:
Arsenal v Fulham
Aston Villa v Manchester United
Everton v Sunderland
Reading v Norwich City
Southampton v Swansea City
Stoke City v Queens Park Rangers
Wigan Athletic v West Bromwich Albion
Sunday:
Manchester City v Tottenham Hotspur
Newcastle United v West Ham United
Chelsea v Liverpool
Predictions this week are Arsenal to pull down the pants of their London rivals and Walcott to finally get rewarded with a start. Villa will get smashed by Utd with the RVP show taking full credit – maybe Rooney will even score a pen. Everton to take the spring out of Martin O'Neill's step with a consumate home victory courtesy of Fellaini. Reading to finally win a game against a lacklustre Canaries outfit. Southampton to get a swift lesson from Michu and the boys at Swansea. Stoke to anti-football their way past QPR and finally get Mark Hughes sacked. West Brom to do a job away at Wigan but be held to a draw. Man City to come out fighting against a poor travelling Spurs as AVB refuses to play more than one striker against the Man City back line. Newcastle to fold up West Ham and put them in their pocket as Chelsea dispatch an average Liverpool team into further midtable mediocrity.
Here's the league:
Sick Chirpse
League PIN: 8009937
POS
Manager
Team name
Total points
Week pts
Starting
XI pts
Starting
XI pos
Goals
Goal Pos
Overall Position
1
Tom Shipley
Apocalypse Dudes
435
27
356
26364
32
807
5215
2
Gavin Rapaport
Poo
420
26
345
39890
26
16561
10699
3
Tom Sands
Prison Break FC
416
35
372
12831
27
10823
12826
3
Huw Barker
HavantGotAClueVille
416
32
422
467
28
6854
12826
5
Shane Tremlin
Trems Trash
397
32
324
75962
18
133078
27993
6
Alex Prince
Prince Boatengs
395
24
342
44322
24
34081
30125
7
Luke Skidmore
bunchofslugs
393
22
344
41362
25
24244
32420
8
Trevor Brenson
RJBs XI
389
24
389
4969
21
77218
37366
9
Emma Craig
The Only Way Is Emma
384
20
356
26364
19
114077
44130
10
Dave Ward
Pimp My Side
373
37
341
45835
23
46253
61418
11
Huw E
Dynamo Kebab
372
38
304
117315
18
133078
63121
12
Johnny Callow
Room 362
368
46
342
44322
18
133078
70090
13
James Martin
Tourist Attraction
366
23
366
17108
19
114077
73607
14
Dan Filer
ClubTropicanaDrinkFC
359
18
359
23254
20
95236
86880
15
Peter Jones
Joner
356
27
326
71942
21
77218
92787
16
Drew Walsh
Real SocieLAD
355
37
333
59038
19
114077
94850
16
Jeff Ingle
Jeffentus
355
34
256
201486
20
95236
94850
16
William Rowe
Keefy's Krunchers
355
31
345
39890
25
24244
94850
19
Richard Dulieu
Dyslexic CF
351
21
351
32077
17
151488
102681
20
AlexanderMark Jones
Dunblane Massacres
349
25
284
157965
21
77218
106576
20
Redwan Elharrak
Real Talk
349
32
349
34579
18
133078
106576
22
Matthew Stewart
FC Boosh
346
21
336
53874
19
114077
112423
22
Ben Rowland
Atheist FC
346
36
308
108813
23
46253
112423
22
Ross Stearny
stearnpots barmyarmy
346
26
338
50569
18
133078
112423
22
Nikul Patani
Brown Bear United
346
21
346
38475
21
77218
112423
26
Bobby Peliza
bObbyDazzlers
345
30
318
87915
19
114077
114442
26
James Blundell
Blundells boys
345
32
293
140480
20
95236
114442
28
Mark Endicott
Real Madreadfull
344
27
247
210779
21
77218
116433
29
Terry Buckingham
Real Madras
343
22
315
94115
19
114077
118412
29
Charlie Hey
tiki taka jazz cats
343
30
343
42826
22
60844
118412
31
Ryan Williams
Dirty Buffalo
342
23
313
98282
17
151488
120334
32
Piers Dixon
Dixon Balls FC
340
39
363
19634
17
151488
124277
32
Michael Magee
Mickey T FC
340
35
340
47395
19
114077
124277
34
David Williams
Muffin stuffers
339
42
337
52166
20
95236
126151
34
Patrick Grayson
real aycliffe
339
23
339
48976
19
114077
126151
34
Thomas Foley
Unbelievable Crisps
339
33
273
177575
21
77218
126151
37
Daniel Ostridge
Ajax Treesdown
338
26
340
47395
18
133078
128147
37
Ross Williams
Tepee Town FC
338
24
320
83811
19
114077
128147
39
Robbie Atkinson
diables Rouges
336
26
269
183928
19
114077
132020
40
Neil Williams
Lumpers and Kickers
335
30
288
150419
19
114077
133916
40
Nicky Greenhow
Boomerwanger
335
29
260
196590
19
114077
133916
42
Ben Lawson
spunkin FC
330
43
347
37189
19
114077
143346
43
Anthony Ward
Park Ji Wonders
328
28
313
98282
18
133078
147102
44
Ryan Addams
Fish fillet
327
37
247
210779
17
151488
148996
45
Tim Williams
TIMW_BRAP KILLAS
323
40
334
57247
20
95236
156255
46
Blake Walton
Walton Wonders
321
25
319
85834
13
211755
159878
47
Louis Day
Spews Stars
318
26
318
87915
19
114077
164995
47
Lee Walsh
KeansaKunt
318
27
246
211717
24
34081
164995
47
smart les
lemon peng-win
318
34
318
87915
18
133078
164995
47
Elliott Henderson
Barsenal
318
23
271
180785
16
168905
164995
51
Daniel Guy
Dans witwickys
317
21
317
89969
14
199411
166650
51
Sam MartinRoss
Martin-Boss
317
28
220
227614
18
133078
166650
53
Anthony Ford
4 Dimensions
316
38
261
195301
17
151488
168243
53
Shaun Williams
The Galacticos
316
31
288
150419
13
211755
168243
55
Jon McLeish
Bayern Bru
313
28
295
136371
14
199411
173093
56
Martyn Aeissame
Gratuitous FC
312
28
310
104539
14
199411
174625
56
Billy Mclean
Barcemoaner
312
21
310
104539
18
133078
174625
58
Alex Crawshaw
Crawshaw's Commies
307
18
271
180785
18
133078
182229
59
Matt Morris
Morris FC
305
16
305
115191
15
185032
185033
59
Dean Webster
Blues
305
27
302
121491
16
168905
185033
61
Nick Reid
OnOne United
300
37
300
125831
17
151488
191870
61
Aaron Hicks
Proud's Prodders
300
23
293
140480
15
185032
191870
63
John Ryan
Obi – 1 Kanobi – 0
299
10
299
127893
14
199411
193192
64
David Hewitt
football
296
23
296
134247
14
199411
196943
65
Mohamed Hussein
Why Always Me FC
294
22
259
197820
11
230514
199356
65
Maxwell Hughes
maxibon united
294
26
304
117315
15
185032
199356
67
Christopher Davies
T Dogg's Ball Hoggs
293
19
244
213371
11
230514
200538
68
Danny Sharpe
Team Sharpey
289
13
289
148458
16
168905
205030
68
Max Sheppard
Fred West Ham
289
17
274
175862
14
199411
205030
70
Nick Randles
Quallo
288
21
288
150419
11
230514
206088
71
Jamie Sadur
Skid Mark
287
23
287
152284
14
199411
207051
71
Toby Dennett
Dennethinaikos
287
28
312
100362
12
222046
207051
73
Luke Henderson
Luke Ronald FC
286
19
283
159866
17
151488
208075
74
Michael Sinfield
FC Scorgasm
280
27
280
165286
16
168905
213818
74
Christian Adofo
The Mandem
280
25
280
165286
15
185032
213818
76
Daniel Watson
SirBobWouldBeProud
279
18
246
211717
10
237312
214698
77
Sam Lister
inter thevan
278
25
293
140480
13
211755
215559
78
Alex Taylor
leave-my-arse-a-lona
277
24
270
182387
21
77218
216472
79
Ashley Townsend
1 MANNING 1 CUP
274
34
200
232888
16
168905
218993
80
John Twinn
Pav FC
273
19
277
170681
11
230514
219796
81
Josh Watkins
bluesbrother
272
19
272
179149
11
230514
220553
81
Nestor Schischka
The Winning One
272
27
274
175862
10
237312
220553
83
Richard Gilbert
Queefstars
271
20
271
180785
12
222046
221365
83
James Roberts
WOOPWOOP United
271
28
279
167134
8
246347
221365
85
Dave Bunker
Team Bunker
266
25
191
234190
17
151488
225040
86
John Hawkins
Mmmmcustard
264
20
274
175862
15
185032
226408
87
Jack Hopwood
FC Kaiser
263
31
263
192601
12
222046
227052
88
Mark Guy
butchys tanks
258
17
258
199074
13
211755
230173
89
Daniel Haviland
Warriors
257
17
257
200265
7
249035
230735
90
James Tootill
BigDonFC
252
25
249
208933
9
242544
233511
91
Steve French
French FC
247
26
247
210779
9
242544
235889
91
Craig Abbs
Team abber
247
23
247
210779
13
211755
235889
93
Luke Wyborn
The Wombles
240
24
235
220089
9
242544
238807
94
Tyler Casey
50 Shades Of Goals
238
24
238
218058
8
246347
239562
95
Tomn Pitts
Gareth Keenan Troops
233
26
233
221255
10
237312
241281
96
Theodore Morgan
DangALangTime
221
21
221
227161
14
199411
244483
97
David Armitage
Real Betties
218
17
218
228390
10
237312
245214
98
Wes Holden
Green FC
214
25
214
229699
9
242544
246021
99
Nick Bourne
Greenham Royals
212
17
212
230268
8
246347
246401
100
Matthew Hurley
12fort
166
13
166
235997
10
237312
251064
Premier League Fixtures
Saturday 10th November 2012
Sunday 11th November 2012