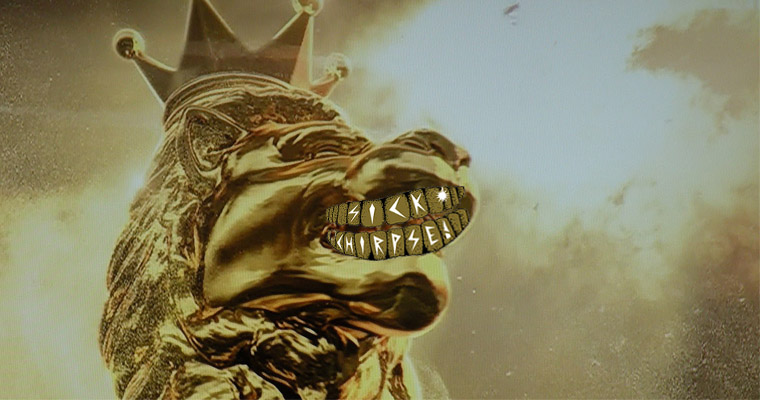 Week Two is over and there haven't been any tetonic shifts in the plate of the Sick Chirpse league with the usual characters still there or there abouts…except for Alex Prince's Prince Boatengs who have emassed a total of 99 points in the second week alone to take him to the top of the pile. Despite naming his team after a very average Ghanian footballer he's still managed to bang 11 goals in to take him top of the Golden Boot League too.
As if you didn't get the message last week the boys at Sick Chirpse told you all about Michu and reminded you to get Aguero out asap and hopefully you did.
There are a couple of big hitters from week two that we need to remind you of while you've still got a chance to bosh a few transfers through:
BIG HITTERS: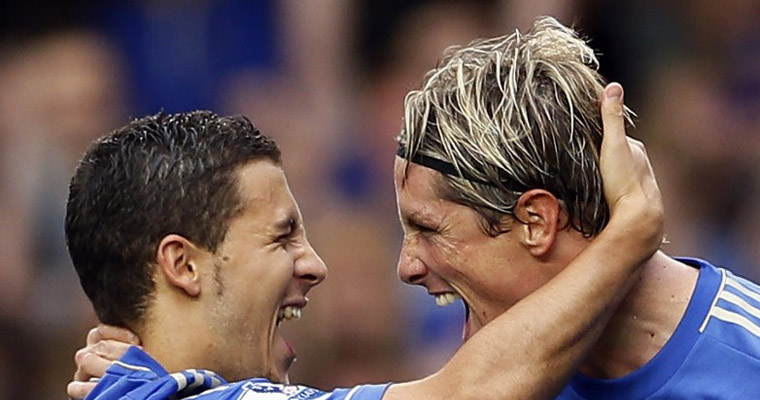 For all those that put their money behind the £30 million man, Eden Hazard, you have already had your faith returned. Chelsea have scored 8 goals in their first three league games and Hazard has assisted 6 and scored 1 of these, amassing 27 points in three games forcing the hand of 43.04% of the daily telegraph managers to enlist his expertise. Our second big talking point also falls to a Chelsea man…can you hear the drums Fernando? Torres has hit the ground running this season after a quiet first week when he should've been given a penalty against Wigan but instead settling for 2 points – in week two he managed to score and assist 2 racking up the best part of 19 points.
Only problem is though if after these results you've begun following the crowd and stuffed these two in near the top of your team – you might not have noticed that Chelsea spent last night getting spanked by Athletico Madrid and Mr Falcao four goals to one – and the Blues won't even have a game this weekend. So if you read this in time – you might wanna take the opportunity to fork the majority of Chelsea players out for this weekend if you've still got your immaculate 30 transfers in tact.
BIG SHITTERS: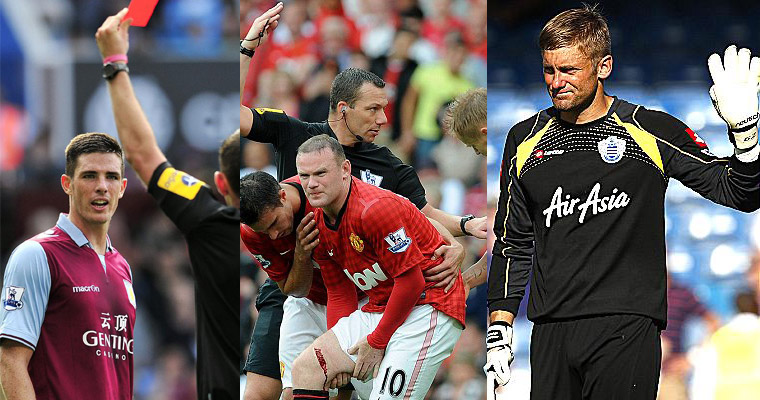 The same people that tried to squeeze RVP, Aguero and Rooney into their attaking three inevitably had to settle for a back line full of Villa and QPR players – which is why such people are labelled pricks. There is no way to justify this as everyone knows fantasy football leagues are won from a good defence onwards, which brings us to the first of the three of the big shitters of week two, Ciaran Clark. He managed in a single game to reaffirm exactly why Aston Villa ticket prices have remained consitently low for so many years – because they're fvcking shit. It doesn't get much worse than letting in three goals at home to a team who have struggled to score away for a couple of years, however, that just wasn't enough for Clarkey as he decided to attempt murder on poor old Jelavic around 60 minutes with the score at 0-3 the way of the Toffees – cue a big fat dirty minus 3 for the week. Tosser.
Rob Green is allergic to clean sheets – not just the ones on the football pitch but he also pisses the bed most nights. The bloke is an absolute douche bag. Even Mark Hughes has realised this 1 month into his QPR goalkeeping tenure where it took him over a year to realise Joey Barton was a fvcking axe-wielding rapist nutcase (allegedly). Rob Green has done worse things in the first two weeks of the season than Ian Walker did in his whole career and as a result Hughesy has decided to sign Champion's League winner and general good goalie Cesar resulting in Green being selected by only 0.44% of the telegraph managers.
Finally, the biggest of all the shitters this week was Wazza. After being dropped for the first game of the season he came back in to the starting line up against Fulham with all the potency of an air freshener. Right at the end of the game with a literal 2 minutes left on the injury time clock Fulham sent on Hugo Rodallega aka. The Silent Assassin in an attempt to render Rooney obsolete for the next 4 weeks. Checkmate. Now Rooney is stuck with a bigger gash in his leg than most of the grannies he'll spend the weekend banging.
[yframe url='http://www.youtube.com/watch?v=BkDnmDuGehk']
That's the round up for week two. Hopefully you've all got 5 Chelsea players and the rest of the QPR defence and my team will storm the league…in reality I don't think that's gonna happen. Big shout out to Wes Holden's Green FC – what an absolute shower of shit that team must be. Wanker. Here's the league as it stands SickChirpsers:
OS
Manager
Team name
Total points
Week pts
Starting
XI pts
Starting
XI pos
Goals
Goal Pos
Overall Position
1
Alex Prince
Prince Boatengs
139
99
123
3210
11
164
1742
2
Tom Sands
Prison Break FC
134
84
134
1374
10
573
2600
3
Gavin Rapaport
Poo
115
69
110
8867
9
1877
11259
4
Peter Jones
Joner
109
79
98
21504
7
13218
17470
4
Trevor Brenson
RJBs XI
109
71
109
9615
6
29247
17470
6
Daniel Ostridge
Ajax Treesdown
108
61
105
13057
7
13218
18827
7
Emma Craig
The Only Way Is Emma
107
71
107
11266
6
29247
20249
8
Piers Dixon
Dixon Balls FC
105
60
93
30241
5
56094
23253
9
Luke Skidmore
bunchofslugs
98
62
83
55324
7
13218
36186
10
Neil Williams
Lumpers and Kickers
96
70
64
129790
5
56094
40809
11
AlexanderMark Jones
Dunblane Massacres
95
51
95
26541
7
13218
43294
12
Terry Buckingham
Real Madras
94
60
71
99680
7
13218
45936
12
Charlie Hey
tiki taka jazz cats
94
53
94
28389
8
5237
45936
14
John Ryan
Obi – 1 Kanobi – 0
93
56
93
30241
6
29247
48577
14
Johnny Callow
Room 362
93
57
94
28389
4
94454
48577
16
Huw Barker
HavantGotAClueVille
92
54
92
32236
4
94454
51365
16
James Blundell
Blundells boys
92
57
89
38964
6
29247
51365
18
Huw E
Dynamo Kebab
91
56
80
65075
4
94454
54182
19
Bobby Peliza
bObbyDazzlers
89
53
89
38964
4
94454
60155
19
Michael Magee
Mickey T FC
89
58
81
61707
4
94454
60155
21
Dave Ward
Pimp My Side
88
57
75
83495
5
56094
63343
21
Daniel Guy
Dans witwickys
88
53
88
41521
6
29247
63343
21
Richard Dulieu
Dyslexic CF
88
50
88
41521
5
56094
63343
24
Alex Crawshaw
Crawshaw's Commies
87
66
67
116526
6
29247
66512
25
Tom Shipley
Apocalypse Dudes
86
37
79
68670
7
13218
69873
26
Ross Stearny
stearnpots barmyarmy
83
45
83
55324
6
29247
80404
27
Anthony Ward
Park Ji Wonders
82
56
82
58450
4
94454
83968
28
Sam MartinRoss
Martin-Boss
81
60
50
189971
5
56094
87669
29
Lee Walsh
KeansaKunt
79
50
57
160999
6
29247
95293
29
smart les
lemon peng-win
79
35
79
68670
5
56094
95293
31
Christopher Davies
T Dogg's Ball Hoggs
78
55
71
99680
5
56094
99143
31
Elliott Henderson
Barsenal
78
47
71
99680
3
139952
99143
33
Nick Reid
OnOne United
76
51
76
79711
4
94454
106937
34
Martyn Aeissame
Gratuitous FC
74
48
74
87400
4
94454
114824
34
Mark Endicott
Real Madreadfull
74
42
61
143350
6
29247
114824
34
Shaun Williams
The Galacticos
74
51
61
143350
2
184361
114824
34
Thomas Foley
Unbelievable Crisps
74
51
55
169744
6
29247
114824
38
Anthony Ford
4 Dimensions
73
62
61
143350
6
29247
118901
38
Dan Filer
ClubTropicanaDrinkFC
73
39
73
91408
1
218944
118901
38
Nikul Patani
Brown Bear United
73
44
73
91408
4
94454
118901
41
Ryan Williams
Dirty Buffalo
72
44
72
95448
2
184361
123000
41
Luke Henderson
Luke Ronald FC
72
52
72
95448
6
29247
123000
43
Matt Morris
Morris FC
71
41
71
99680
4
94454
127124
43
Shane Tremlin
Trems Trash
71
49
51
186161
3
139952
127124
43
Billy Mclean
Barcemoaner
71
35
71
99680
5
56094
127124
46
Ben Lawson
spunkin FC
70
44
70
103801
3
139952
131128
46
Josh Watkins
bluesbrother
70
36
70
103801
5
56094
131128
46
Craig Abbs
Team abber
70
46
70
103801
5
56094
131128
49
Drew Walsh
Real SocieLAD
68
46
67
116526
3
139952
139350
49
Ross Williams
Tepee Town FC
68
40
68
112270
4
94454
139350
51
Matthew Stewart
FC Boosh
67
43
67
116526
3
139952
143380
51
James Martin
Tourist Attraction
67
44
67
116526
3
139952
143380
53
Robbie Atkinson
diables Rouges
66
32
57
160999
2
184361
147434
54
Jon McLeish
Bayern Bru
64
39
64
129790
2
184361
155475
54
Max Sheppard
Fred West Ham
64
36
55
169744
3
139952
155475
56
Blake Walton
Walton Wonders
63
37
63
134230
3
139952
159551
56
Patrick Grayson
real aycliffe
63
32
63
134230
2
184361
159551
58
David Williams
Muffin stuffers
62
41
49
193640
4
94454
163604
58
Tim Williams
TIMW_BRAP KILLAS
62
38
62
138857
3
139952
163604
58
Toby Dennett
Dennethinaikos
62
43
62
138857
2
184361
163604
58
Nestor Schischka
The Winning One
62
23
62
138857
4
94454
163604
58
Luke Wyborn
The Wombles
62
37
62
138857
2
184361
163604
58
Nicky Greenhow
Boomerwanger
62
39
62
138857
2
184361
163604
64
Mark Guy
butchys tanks
61
41
47
200522
5
56094
167597
65
Ben Rowland
Atheist FC
60
33
60
147835
4
94454
171434
66
Aaron Hicks
Proud's Prodders
59
32
59
152114
3
139952
175238
66
William Rowe
Keefy's Krunchers
59
38
59
152114
4
94454
175238
68
John Twinn
Pav FC
57
21
57
160999
2
184361
182778
68
Daniel Watson
SirBobWouldBeProud
57
29
57
160999
1
218944
182778
68
Jeff Ingle
Jeffentus
57
37
34
229435
3
139952
182778
71
Dean Webster
Blues
56
36
56
165342
3
139952
186270
71
David Hewitt
football
56
38
56
165342
3
139952
186270
73
Tomn Pitts
Gareth Keenan Troops
54
30
54
173865
4
94454
193282
73
Redwan Elharrak
Real Talk
54
27
54
173865
1
218944
193282
73
Ryan Addams
Fish fillet
54
32
54
173865
3
139952
193282
73
Michael Sinfield
FC Scorgasm
54
36
54
173865
2
184361
193282
73
Daniel Haviland
Warriors
54
27
54
173865
1
218944
193282
78
Mohamed Hussein
Why Always Me FC
52
28
52
182159
3
139952
199822
78
Danny Sharpe
Team Sharpey
52
25
52
182159
1
218944
199822
80
Jamie Sadur
Skid Mark
51
23
51
186161
2
184361
202924
81
Ashley Townsend
1 MANNING 1 CUP
50
36
27
234671
4
94454
205982
82
Sam Lister
inter thevan
48
28
48
197148
1
218944
211511
82
Dave Bunker
Team Bunker
48
34
25
235388
3
139952
211511
84
Louis Day
Spews Stars
46
23
46
203774
3
139952
216643
85
James Tootill
BigDonFC
45
20
45
206788
3
139952
219006
85
Maxwell Hughes
maxibon united
45
26
51
186161
3
139952
219006
87
Jack Hopwood
FC Kaiser
44
17
44
209664
1
218944
221196
88
Alex Taylor
leave-my-arse-a-lona
43
24
43
212466
3
139952
223308
88
James Roberts
WOOPWOOP United
43
22
49
193640
1
218944
223308
90
Richard Gilbert
Queefstars
42
21
42
214932
2
184361
225193
90
Nick Randles
Quallo
42
22
42
214932
2
184361
225193
92
John Hawkins
Mmmmcustard
39
18
39
221605
2
184361
230342
92
David Armitage
Real Betties
39
16
39
221605
1
218944
230342
94
Christian Adofo
The Mandem
37
16
37
225262
1
218944
233160
95
Steve French
Anal Villa
34
16
34
229435
0
238039
236383
96
Theodore Morgan
DangALangTime
33
23
33
230576
2
184361
237264
96
Tyler Casey
50 Shades Of Goals
33
15
33
230576
0
238039
237264
98
Matthew Hurley
12fort
26
10
26
235022
0
238039
241108
99
Nick Bourne
Greenham Royals
25
11
25
235388
1
218944
241479
100
Wes Holden
Green FC
24
10
24
235671
1
218944
241782