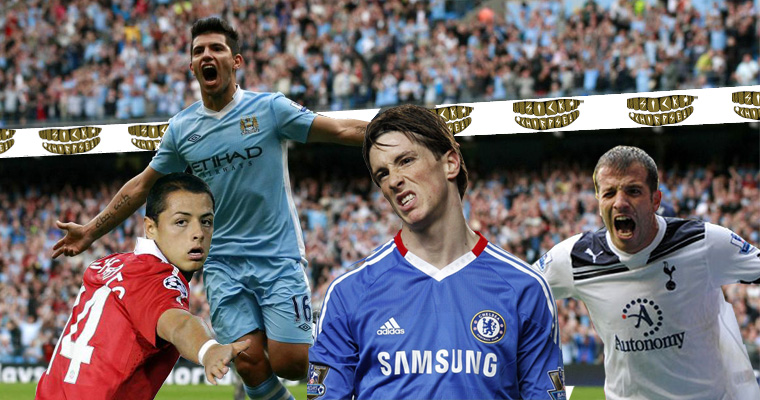 Week Three is over and so are the chances of the following teams amounting to anything better than a turd sinking to the bottom of the toilet:
Matthew Hurley's 12 Fort
Nick Bourne's Greenham Royals
Wes Holden's Green FC
Tyler Casey's 50 Shades of Goals
Steve French's Anal Villa
All of which have amassed less than 50 points in their opening 3 weeks of football, to put that into perspective that's only 20 points more than Michu has bagged by himself.
At the end of the table that people actually care about it seems that one turd really isn't going to get flushed and after three weeks of hard graft Gavin Rapaport's Poo is sitting cushty on 172 points.
On to the important matters at hand – STOP WHAT YOU ARE DOING IMMEDIATELY AND DO NOT MAKE ANY TRANSFERS. It's the international break and we all know that some of you are going to rush into putting people like Leighton Baines in your team but he might get injured for England as so many great talents often do. So to quote The Rock, "slow your role."
Here's the heroes and zeroes of Week Three in that order.
BIG HITTERS: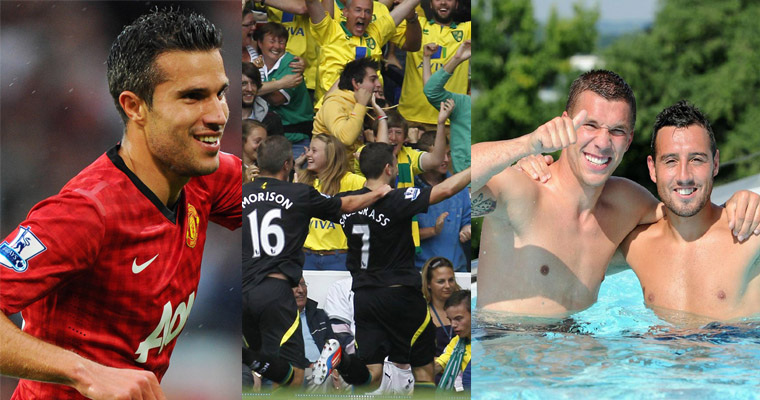 Robert Snodgrass did his best to reinvent himself as a Premier League footballer on the weekend as he ran the game for the Canaries. In a gracious attempt to distance himself from his Fragglerock-like name and appearance the goal-hungry winger managed to bag a goal at White Hart Lane to add to the assist he notched last week.
Special mention must go to Arsenal new-boys and potential gay power couple, Lukas Podolski and Santi Cazorla, who managed to take their off-the-field chemistry and apply it away at Anfield on Sunday. The shirtless lovers were at the heart of both of the goals as Arsenal dominated Liverpool; the first goal from Podolski on 31 minutes came from a Cazorla pass, before Podolski returned the favour for the Spanish winger's second half goal.
The real hitter of the week has to go to the one the only, Robin Van Persie. RVP, we hardly knew ye. As if anyone would ever have doubted the Premier League 11/12 Player of The Year and Golden Boot Winner – even though he he did the worst impression of an Andrea Pirlo penalty in recent memory. His hat-trick helped guide Manchester United to victory in the dying minutes against an unlucky Southampton side. Basically if you don't have him in your team, you're an idiot.
[yframe url='http://www.youtube.com/watch?v=c-vhFQOXU_A']
BIG SHITTERS: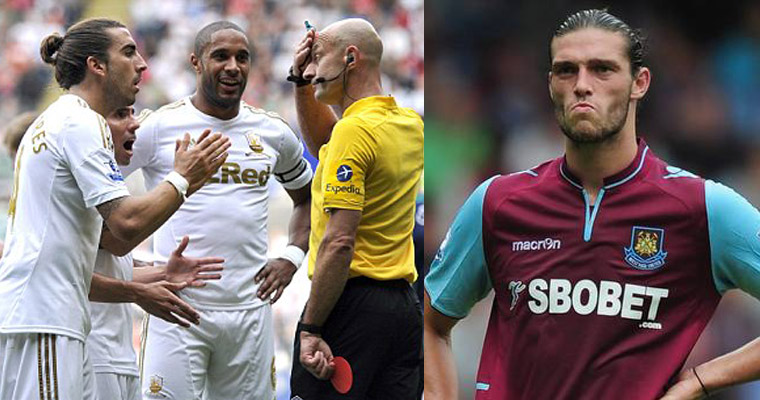 There weren't an overwhelming amount of shitters this week in comparison to Week Two when we were spoilt for choice – with more shit spewing out of the Prem than the average Spurs fan's mouth.
Hardly any clean sheets across the Premiership this week; with clean sheets only coming the way of Arsenal, The Baggies and The Hammers. The biggest shock possibly came when Swansea let slip their perfect record by letting hired gun and Black Cat new boy Fletcher bag a brace against them. He can't be entirely to blame but Chico and Swansea were certainly left to regret his decision to do the can-can around the head of Louis Saha as the latter belted down the left wing. Whether or not a connection was made – Saha hit the deck and Chico hit the showers early after doing his best to accumulate a solid -2 for the week.
The other big pile of shit this week, Shandy Carroll, was well on his way to making it into the Big Hitter pile until he pulled up around 68 minutes with a hamstring injury that was later said to have ruled him out for 6 weeks. With the play running through him all day the Hammers did their best to shock the Premiership with a 3-0 victory, 5 of the points going to the undervalued (on the fantasy price list) 5.8 million man. It was nice to see the big donkey not cutting a depleted figure for once but anyone who made the big decision of transferring him in when his loan was finalised, I'm afraid to say you have most likely wasted a transfer.
So that's Week Three finished boys and girls – now it's time for the international break so please don't go making a shit load of transfers until you know exactly whose coming back from duty with a splint. Here's the league as it stands SickChirpsers:
POS
Manager
Team name
Total points
Week pts
Starting
XI pts
Starting
XI pos
Goals
Goal Pos
Overall Position
1
Gavin Rapaport
Poo
172
57
120
32986
14
2043
3368
2
Alex Prince
Prince Boatengs
171
32
146
5130
14
2043
3615
3
Tom Sands
Prison Break FC
159
25
148
4273
12
9353
8210
4
Daniel Ostridge
Ajax Treesdown
155
47
127
21346
12
9353
10792
5
Huw Barker
HavantGotAClueVille
152
60
152
2873
11
17301
13183
6
Trevor Brenson
RJBs XI
151
42
151
3199
11
17301
14066
7
Peter Jones
Joner
140
31
129
18657
11
17301
27757
8
Tom Shipley
Apocalypse Dudes
138
52
109
59191
13
4549
30979
9
Emma Craig
The Only Way Is Emma
137
30
122
29245
8
68728
32769
10
Dave Ward
Pimp My Side
135
47
106
68112
11
17301
36353
10
Richard Dulieu
Dyslexic CF
135
47
135
12269
8
68728
36353
12
Luke Skidmore
bunchofslugs
130
32
122
29245
9
46567
46585
12
Terry Buckingham
Real Madras
130
36
100
87795
10
29481
46585
14
Piers Dixon
Dixon Balls FC
129
24
110
56473
7
95130
48841
15
James Blundell
Blundells boys
128
36
130
17443
9
46567
51231
16
Neil Williams
Lumpers and Kickers
127
31
92
116748
7
95130
53589
17
Johnny Callow
Room 362
126
33
122
29245
5
153544
55962
18
Alex Crawshaw
Crawshaw's Commies
125
38
97
98355
11
17301
58483
19
John Ryan
Obi – 1 Kanobi – 0
123
30
123
27425
8
68728
63607
20
Ross Stearny
stearnpots barmyarmy
122
39
130
17443
10
29481
66300
21
Charlie Hey
tiki taka jazz cats
120
26
120
32986
9
46567
71750
22
AlexanderMark Jones
Dunblane Massacres
119
24
118
36986
8
68728
74591
23
Bobby Peliza
bObbyDazzlers
118
29
121
31089
6
124056
77459
24
Daniel Guy
Dans witwickys
117
29
117
39166
7
95130
80424
25
Anthony Ward
Park Ji Wonders
116
34
118
36986
8
68728
83318
25
Mark Endicott
Real Madreadfull
116
42
78
168730
11
17301
83318
27
Billy Mclean
Barcemoaner
114
43
114
46088
8
68728
89269
27
David Williams
Muffin stuffers
114
52
78
168730
10
29481
89269
27
Ross Williams
Tepee Town FC
114
46
96
101983
9
46567
89269
30
Dan Filer
ClubTropicanaDrinkFC
111
38
111
53798
6
124056
98523
30
Huw E
Dynamo Kebab
111
20
90
124293
5
153544
98523
32
Michael Magee
Mickey T FC
109
20
101
84275
5
153544
104777
33
Thomas Foley
Unbelievable Crisps
106
32
72
188002
10
29481
114500
33
Tim Williams
TIMW_BRAP KILLAS
106
44
96
101983
8
68728
114500
35
Elliott Henderson
Barsenal
105
27
94
109272
4
181113
117697
35
Max Sheppard
Fred West Ham
105
41
81
158021
7
95130
117697
37
Ben Lawson
spunkin FC
102
32
107
65054
6
124056
127469
37
Sam MartinRoss
Martin-Boss
102
21
71
191000
6
124056
127469
37
Shane Tremlin
Trems Trash
102
31
82
154435
6
124056
127469
40
Nikul Patani
Brown Bear United
101
28
101
84275
5
153544
130830
40
smart les
lemon peng-win
101
22
101
84275
6
124056
130830
42
Anthony Ford
4 Dimensions
99
26
74
181805
8
68728
137415
42
Lee Walsh
KeansaKunt
99
20
77
171989
9
46567
137415
42
Nick Reid
OnOne United
99
23
99
91281
5
153544
137415
45
Josh Watkins
bluesbrother
98
28
98
94740
7
95130
140584
45
Martyn Aeissame
Gratuitous FC
98
24
98
94740
5
153544
140584
47
Matthew Stewart
FC Boosh
97
30
97
98355
6
124056
143913
48
Christopher Davies
T Dogg's Ball Hoggs
96
18
79
165255
6
124056
147148
48
Luke Henderson
Luke Ronald FC
96
24
96
101983
7
95130
147148
48
Ryan Williams
Dirty Buffalo
96
24
96
101983
4
181113
147148
51
James Martin
Tourist Attraction
94
27
94
109272
6
124056
153499
52
Mohamed Hussein
Why Always Me FC
93
41
84
146980
6
124056
156652
52
Nestor Schischka
The Winning One
93
31
93
113021
6
124056
156652
52
William Rowe
Keefy's Krunchers
93
34
92
116748
8
68728
156652
55
Blake Walton
Walton Wonders
92
29
92
116748
5
153544
159795
55
Patrick Grayson
real aycliffe
92
29
92
116748
5
153544
159795
57
Ben Rowland
Atheist FC
91
31
88
131808
7
95130
162936
58
Craig Abbs
Team abber
90
20
90
124293
6
124056
165985
58
Dean Webster
Blues
90
34
90
124293
6
124056
165985
58
Robbie Atkinson
diables Rouges
90
24
82
154435
5
153544
165985
58
Shaun Williams
The Galacticos
90
16
78
168730
3
205022
165985
62
Aaron Hicks
Proud's Prodders
89
30
89
128109
5
153544
169047
62
Daniel Watson
SirBobWouldBeProud
89
32
79
165255
3
205022
169047
62
Drew Walsh
Real SocieLAD
89
21
88
131808
4
181113
169047
65
Luke Wyborn
The Wombles
88
26
80
161661
3
205022
171946
65
Redwan Elharrak
Real Talk
88
34
88
131808
4
181113
171946
67
Jon McLeish
Bayern Bru
86
22
86
139338
3
205022
177820
67
Ryan Addams
Fish fillet
86
32
76
175364
6
124056
177820
69
Daniel Haviland
Warriors
85
31
85
143147
2
223275
180682
69
Louis Day
Spews Stars
85
39
85
143147
7
95130
180682
71
Jeff Ingle
Jeffentus
83
26
59
218229
5
153544
186331
72
Ashley Townsend
1 MANNING 1 CUP
81
31
42
234366
6
124056
191618
72
Matt Morris
Morris FC
81
10
81
158021
4
181113
191618
74
Maxwell Hughes
maxibon united
79
34
84
146980
6
124056
196739
75
David Hewitt
football
78
22
78
168730
4
181113
199202
75
Michael Sinfield
FC Scorgasm
78
24
78
168730
5
153544
199202
77
Jack Hopwood
FC Kaiser
77
33
77
171989
4
181113
201497
77
Mark Guy
butchys tanks
77
16
66
204141
6
124056
201497
79
Dave Bunker
Team Bunker
75
27
43
233957
5
153544
205962
79
James Roberts
WOOPWOOP United
75
32
85
143147
3
205022
205962
79
Jamie Sadur
Skid Mark
75
24
75
178565
3
205022
205962
79
Nick Randles
Quallo
75
33
75
178565
4
181113
205962
83
John Twinn
Pav FC
74
17
74
181805
2
223275
208091
83
Toby Dennett
Dennethinaikos
74
12
74
181805
2
223275
208091
85
Danny Sharpe
Team Sharpey
73
21
73
184975
4
181113
210126
85
Nicky Greenhow
Boomerwanger
73
11
70
193794
2
223275
210126
87
Alex Taylor
leave-my-arse-a-lona
71
28
71
191000
6
124056
214188
87
Tomn Pitts
Gareth Keenan Troops
71
17
71
191000
5
153544
214188
89
James Tootill
BigDonFC
70
25
70
193794
4
181113
216057
89
John Hawkins
Mmmmcustard
70
31
73
184975
5
153544
216057
91
Richard Gilbert
Queefstars
69
27
69
196464
3
205022
217833
92
Sam Lister
inter thevan
67
19
67
201585
2
223275
221057
93
David Armitage
Real Betties
62
23
62
212598
2
223275
228038
94
Christian Adofo
The Mandem
61
24
61
214632
2
223275
229308
95
Theodore Morgan
DangALangTime
54
21
54
225478
5
153544
235980
96
Steve French
Anal Villa
49
15
49
230467
0
244507
239217
97
Tyler Casey
50 Shades Of Goals
48
15
48
231232
0
244507
239724
98
Wes Holden
Green FC
45
21
45
233053
2
223275
241044
99
Nick Bourne
Greenham Royals
35
10
35
236073
1
236686
244049
100
Matthew Hurley
12fort
32
6
32
236397
1
236686
244702