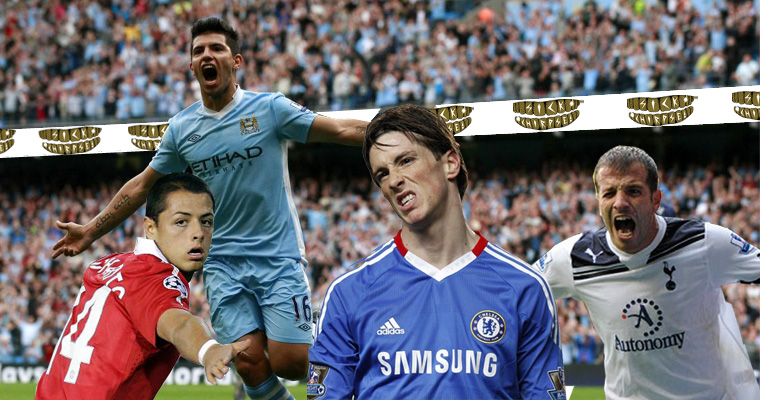 Follow AMJ @AMJEEZIE
Week 12 ends and a couple of big scores have an impact on the top 20 of the Sick Chirpse league as a few people remember that there is £100 up for grabs. Special mention goes to Mike Maghee's Mickey T FC with 68 points that take him into the top 10 for the first time in the competition and secondly to the man known as Smart Les and his Lemon Peng-Win who hit the big score of 74 this week catipulting them from midtable medicority to just outside the top 20. Chances of catching the Apocalypse Dudes is fading away more and more each week as Tom Shipley bangs in another 57 points to take him 37 points clear at the top.
Here's how the Prem sized up this weekend:
BIG HITTERS: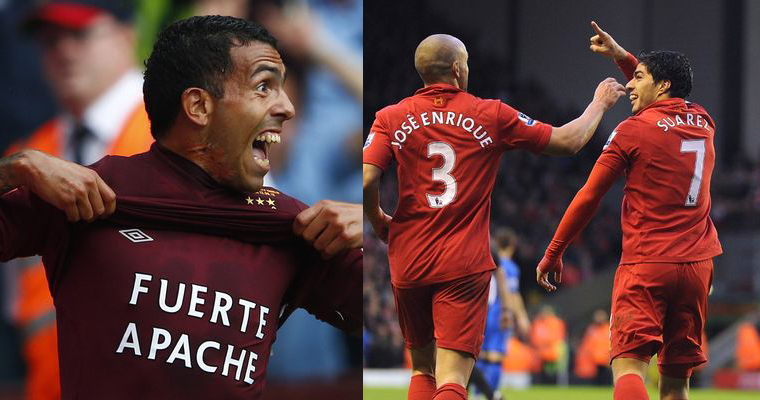 Quite a bit to shout about this week in comparison to the travesty that a lot of players had in last weeks point scoring. Let's start with none other than the part-time ex-captain of Manchester City Mr Fuerte Apache himself, Carlos Tevez. It was always going to happen at home to a Villa team in amongst utter turmoil as we predicted in last week's round up banging in two goals and setting up another taking his weekly point total to 15. With a game away at Chelsea coming up next it might be Tevez's time to shine again on the big stage as he has finally started to look like he will be reaping the benefits of his partnership with the £38 million Aguero. The other big news story comes courtesy of Anfield as Liverpool stormed to another victory propelled solely by the efforts of the young England starlet Sterling, the balding Spaniard Jose Enrique and the dirty horrible Luis Suarez. Luis Suarez jumps between big shitters and big hitters every other week as we see him go from footballing god to diving moron in a matter of days. This week sees the Uruguayan back to his best with two goals and an assist taking his weekly total to a joint best 15 as well as to the top of the Golden Boot list for the Prem. Jose Enrique had quite a good week as well with a goal, clean sheet and assist taking his weekly total to 14. With this weekend's game being away at Swansea you would bank on Rodgers to pull out all the stops against his old club and he'll be relying on these two to help that.
BIG SHITTERS: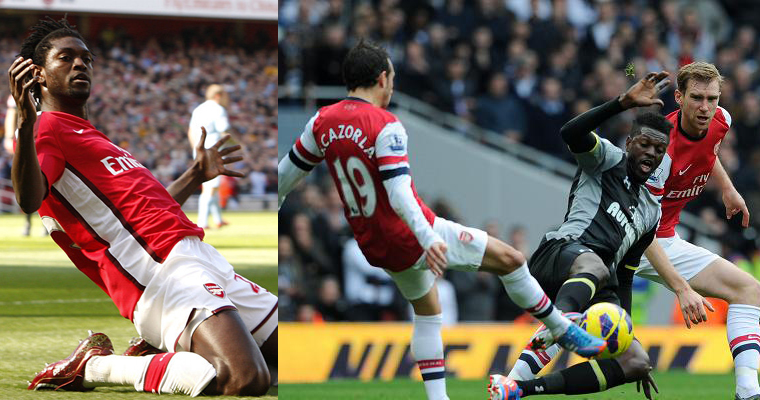 There's only one name on the lips of the Spurs and Gunner contingent as well as the Big Shitters this week and it's none other than Emmanuel Adebayor.
Both sets of fans were happy to put a session in singing the song first coined by the Yid Army but adopted by the Arsenal faithful:
"Adebayor,
Adebayor.
Your dad washes elephants,
Your mum is a whore."
The day started off nicely for the Togan International as he popped up to snatch the first goal of the game to put Spurs ahead at the Emirates Stadium sending the Tottenham fans into rapturous applause. Only a couple of minutes later the game was turned on its head when Emmanuel lost his and decided to try and write off Santi Cazorla with a hurrendous challenge that Alan Hansen couldn't even defend on Saturday night's MOTD. He still managed to notch up 4 points for the week despite the sending off but as a result Arsenal went on to win the match 5-2. So every Spurs defender got fucked over as a result and loads of Arsenal players that only a couple of fantasy football managers had cos they hadn't lost faith came out smelling of roses. So to sum up – fvck you Adebayor. It probably didn't help that when he turned up Sagna and the boys completely blanked him as if he was a giant turd – here's a video of the red card and the rinsing that he got from the Gunners:
[yframe url='http://www.youtube.com/watch?v=MT_-WWfcRqg']
This week's fixtures are as follows:
Sat 24 Nov 2012 – Premier League
Sunderland v West Brom 12:45
Everton v Norwich 15:00
Man Utd v QPR 15:00
Stoke v Fulham 15:00
Wigan v Reading 15:00
Aston Villa v Arsenal 17:30
Sun 25 Nov 2012 – Premier League
Swansea v Liverpool 13:30
Southampton v Newcastle 15:00
Chelsea v Man City 16:00
Tottenham v West Ham 16:00
Predictions for this week are as follows…Black Cats manage to hold the Baggies to a draw in a 2-2 thriller. Everton slot a cheeky 3 past The Canaries. Ferguson attempts to get Sparky sacked by slotting 4 past Julio Cesar courtesy of Rooney and RVP. Stoke charge up the anti-football powers and luck a win at home to Fulham. Reading scrape a draw away at Wigan while Arsenal keep up their high scoring ways at Villa park. Michu bags a goal but is silenced by two Suarez goals at the Britannia. Southampton go back to their losing ways as the Toon attempt to escort them to the bottom of the league again. Benitez wanks Torres off before the game and encourages an orgasm of two goals silenced by Yaya Toure bossing the midfield – draw. Finally Spurs silence East London by introducing Gareth Bale to Kevin Nolan's barmy army.
This week is a bit cheeky though as their are also games in the week so if you have some transfers this is a big chance to get a 100+ week in while you can…think about it.
Tue 27 Nov 2012 – Premier League
Sunderland V QPR
Aston Villa V Reading
Wed 28 Nov 2012 – Premier League
Chelsea V Fulham
Everton V Arsenal
Southampton V Norwich
Stoke V Newcastle
Swansea V West Brom
Spurs V Liverpool
Man U V West Ham
Wigan Man City
Here's the league as it stands brasscats:
Sick Chirpse
League PIN: 8009937
POS
Manager
Team name
Total points
Week pts
Starting
XI pts
Starting
XI pos
Goals
Goal Pos
Overall Position
1
Tom Shipley
Apocalypse Dudes
525
57
428
23111
39
788
4180
2
Tom Sands
Prison Break FC
488
31
425
25829
32
15858
19331
3
Gavin Rapaport
Poo
480
36
392
68620
29
39189
25600
4
Huw Barker
HavantGotAClueVille
476
31
487
1067
32
15858
29287
5
Shane Tremlin
Trems Trash
469
39
366
114595
21
156608
36470
6
Alex Prince
Prince Boatengs
464
46
405
48962
29
39189
42300
7
Luke Skidmore
bunchofslugs
463
49
386
78511
30
29686
43546
8
Johnny Callow
Room 362
457
55
413
38663
24
108083
51327
9
Emma Craig
The Only Way Is Emma
446
35
404
50330
22
140823
66974
9
Michael Magee
Mickey T FC
446
68
441
13653
28
50442
66974
11
Huw E
Dynamo Kebab
445
51
373
101674
21
156608
68495
11
Dave Ward
Pimp My Side
445
46
411
41049
27
63167
68495
13
Trevor Brenson
RJBs XI
444
31
444
11932
24
108083
70099
14
Jeff Ingle
Jeffentus
435
45
310
200054
25
92201
84615
15
AlexanderMark Jones
Dunblane Massacres
426
48
323
185036
26
77139
99567
16
Redwan Elharrak
Real Talk
425
45
425
25829
24
108083
101226
16
William Rowe
Keefy's Krunchers
425
41
407
46217
29
39189
101226
18
Ross Stearny
stearnpots barmyarmy
423
39
414
37480
23
124519
104695
19
Terry Buckingham
Real Madras
421
53
369
108969
26
77139
108188
20
Drew Walsh
Real SocieLAD
420
41
397
60659
22
140823
109877
21
James Martin
Tourist Attraction
419
27
419
31888
21
156608
111576
21
Charlie Hey
tiki taka jazz cats
419
44
419
31888
29
39189
111576
23
David Williams
Muffin stuffers
418
47
416
35175
25
92201
113301
23
Bobby Peliza
bObbyDazzlers
418
45
371
105375
24
108083
113301
25
Nikul Patani
Brown Bear United
416
45
416
35175
27
63167
116585
26
Mark Endicott
Real Madreadfull
415
43
303
206804
25
92201
118336
27
smart les
lemon peng-win
414
74
414
37480
24
108083
120051
28
Matthew Stewart
FC Boosh
413
39
381
87298
22
140823
121684
29
Ben Lawson
spunkin FC
412
32
396
62243
24
108083
123312
29
Neil Williams
Lumpers and Kickers
412
48
349
145145
25
92201
123312
29
Nicky Greenhow
Boomerwanger
412
26
297
211669
23
124519
123312
32
Anthony Ford
4 Dimensions
410
66
319
190017
23
124519
126597
33
Ryan Addams
Fish fillet
408
46
281
221591
23
124519
129970
34
James Blundell
Blundells boys
407
33
345
151906
24
108083
131627
35
Robbie Atkinson
diables Rouges
406
33
322
186259
24
108083
133313
36
Richard Dulieu
Dyslexic CF
405
35
405
48962
20
171651
134923
37
Dan Filer
ClubTropicanaDrinkFC
404
24
404
50330
22
140823
136534
38
Daniel Ostridge
Ajax Treesdown
403
39
382
85466
22
140823
138138
39
Piers Dixon
Dixon Balls FC
402
31
436
16858
21
156608
139690
40
Tim Williams
TIMW_BRAP KILLAS
401
44
363
120117
26
77139
141287
41
Peter Jones
Joner
400
21
370
107242
22
140823
142839
41
Billy Mclean
Barcemoaner
400
57
362
121972
25
92201
142839
43
Ben Rowland
Atheist FC
397
17
344
153576
25
92201
147662
44
Ryan Williams
Dirty Buffalo
394
30
364
118286
19
185747
152304
44
Thomas Foley
Unbelievable Crisps
394
28
335
168012
23
124519
152304
46
Ross Williams
Tepee Town FC
390
30
389
73419
20
171651
158213
47
Blake Walton
Walton Wonders
389
41
401
54564
17
209475
159660
48
Elliott Henderson
Barsenal
387
40
342
156945
21
156608
162581
48
Sam MartinRoss
Martin-Boss
387
38
270
226267
24
108083
162581
50
Shaun Williams
The Galacticos
384
40
388
75062
17
209475
166910
51
Jon McLeish
Bayern Bru
383
46
367
112726
19
185747
168340
52
Anthony Ward
Park Ji Wonders
380
28
343
155246
21
156608
172520
53
Martyn Aeissame
Gratuitous FC
379
39
358
129220
18
198144
173833
54
Lee Walsh
KeansaKunt
376
25
283
220562
27
63167
177821
55
Patrick Grayson
real aycliffe
375
14
375
98087
19
185747
179133
56
Mohamed Hussein
Why Always Me FC
366
49
329
176853
16
219261
189946
57
Louis Day
Spews Stars
365
29
365
116514
20
171651
191112
58
John Ryan
Obi – 1 Kanobi – 0
364
45
364
118286
20
171651
192216
59
Toby Dennett
Dennethinaikos
363
36
398
59041
16
219261
193305
60
Matt Morris
Morris FC
362
37
362
121972
19
185747
194350
61
Alex Crawshaw
Crawshaw's Commies
360
38
338
163455
22
140823
196423
62
Ashley Townsend
1 MANNING 1 CUP
359
56
252
231150
22
140823
197462
63
Christopher Davies
T Dogg's Ball Hoggs
358
46
287
218303
15
227400
198452
63
Daniel Guy
Dans witwickys
358
31
358
129220
16
219261
198452
63
Nick Randles
Quallo
358
38
358
129220
14
233951
198452
66
Dean Webster
Blues
357
32
337
164946
18
198144
199466
67
Aaron Hicks
Proud's Prodders
354
30
354
136381
18
198144
202384
68
Alex Taylor
leave-my-arse-a-lona
351
40
327
179659
24
108083
205193
69
Sam Lister
inter thevan
350
47
355
134543
18
198144
206151
69
Luke Henderson
Luke Ronald FC
350
36
328
178240
21
156608
206151
71
David Hewitt
football
348
38
348
146821
17
209475
207957
72
Danny Sharpe
Team Sharpey
346
30
346
150238
19
185747
209712
73
Nick Reid
OnOne United
345
27
345
151906
19
185747
210535
73
Max Sheppard
Fred West Ham
345
35
313
196950
18
198144
210535
75
Michael Sinfield
FC Scorgasm
344
36
344
153576
20
171651
211314
76
Daniel Watson
SirBobWouldBeProud
343
39
305
204935
14
233951
212118
77
Daniel Haviland
Warriors
341
57
341
158554
14
233951
213717
78
Richard Gilbert
Queefstars
340
36
340
160191
17
209475
214519
78
Maxwell Hughes
maxibon united
340
30
353
138221
16
219261
214519
80
Jamie Sadur
Skid Mark
339
30
342
156945
16
219261
215355
81
John Twinn
Pav FC
336
37
334
169587
17
209475
217528
82
Christian Adofo
The Mandem
334
33
334
169587
20
171651
218913
83
James Roberts
WOOPWOOP United
330
37
352
139986
11
246578
221570
84
Luke Wyborn
The Wombles
328
50
297
211669
16
219261
222893
85
Dave Bunker
Team Bunker
321
42
244
232566
22
140823
227039
86
Josh Watkins
bluesbrother
320
31
320
188774
14
233951
227608
87
James Tootill
BigDonFC
317
45
317
192455
12
243411
229245
88
Mark Guy
butchys tanks
313
39
307
203034
19
185747
231305
88
Jack Hopwood
FC Kaiser
313
31
311
199030
14
233951
231305
90
Craig Abbs
Team abber
310
38
310
200054
17
209475
232672
91
Nestor Schischka
The Winning One
309
19
313
196950
11
246578
233111
92
John Hawkins
Mmmmcustard
304
22
313
196950
16
219261
235219
93
Steve French
French FC
297
28
297
211669
13
239347
237878
94
Tyler Casey
50 Shades Of Goals
284
24
284
220010
9
250592
241964
95
Wes Holden
Green FC
279
48
279
222548
13
239347
243191
95
David Armitage
Real Betties
279
38
279
222548
14
233951
243191
97
Theodore Morgan
DangALangTime
275
30
275
224327
17
209475
244085
98
Tomn Pitts
Gareth Keenan Troops
272
24
272
225508
11
246578
244734
99
Nick Bourne
Greenham Royals
241
19
241
232984
9
250592
249192
100
Matthew Hurley
12fort
226
33
226
234611
14
233951
250479