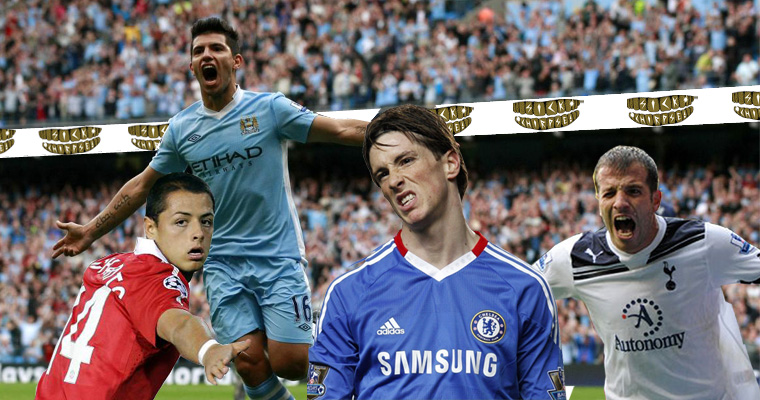 I know we probably should have published this round up sooner than the day week five is due to start, but the truth is that AMJ normally does it but he went on holiday for two weeks and told me I had to do it, but I completely forgot about it until now, so I'm writing this kinda drunk on Friday night, so please excuse any spelling mistakes or laughable factual mistakes. I'm trying to recall what happened last week in the Premiership – I don't think I even watched Match of the Day shockingly for some reason – and write about it, gimme a sec.
OK yeah that was it, it was the weekend where idiot supporters of idiot teams (Arsenal and Aston Villa fans) got woefully overexcited about their team's respective ambitions for the season. Sure, beating any team 6-1 is pretty respectable and a fun time yeah but when it's Southampton and they're bottom of the table and haven't even got a single point yet it's hardly time to declare that you are now 'title contenders.' Everyone knows what's going to happen with Arsenal, they'll do pretty well all season then drop off towards the end when Podolski gets injured or they concede a last minute penalty at Birmingham or get battered by PSG or someone in the Champion's League. Same old.
Still, if you had Gervinho in your team – which I'm sure NOBODY could have actually done – or Podolski – slightly more likely – then you cleaned up at the weekend. But Arsenal have Man City away and Chelsea at home in their next two games so don't all rush to make those transfers huh. Sure, the gunners have been uncharacteristically solid at the back this season, but they haven't played anyone that great yet so don't say I didn't warn you.
And as for Aston Villa, well, where do I start? A 2-0 victory against Swansea – with questionable keeping from Michel Vorm to blame for both of their goals, and the second goal only coming in the 90th minute – has Villa fans all over Birmingham talking of a new era and how they might win the FA Cup this season. Yeah right, give me a break. Let's see what happens when they become the first team to lose to Southampton this weekend. At least this match went some way to proving the point that Michu is not going to be the consistent badass this season that everyone seems to thinks he is after a couple of fairly lucky goals. I reckon he's got 5 more goals in him tops, which is still decent I guess but you might as well pick Kevin Nolan or someone instead.
Other matches….surprisingly Chelsea couldn't get through a stubborn QPR backline led by victim of racism Anton Ferdinand. Great, justice for Anton etc etc, now can everyone shut up about pre-match handshakes please? Oh no wait, we have another one to look forward to this weekend with Luis Suarez squaring up to Patrice Evra, another victim of racial abuse. Boring. Talking of Luis Suarez, he found the net again last week at Sunderland and is going to play every week without fail as Liverpool don't have any strikers, so maybe it's not a bad idea to stick him in your team huh? Evra was dropped/rested at the weekend and his replacement Buttner (who?) managed to bag a goal, so if Evra has been the first name on your teamsheet for a while as he is a bastion of consistency in fantasy football, maybe it's time to think about moving him on? Squad rotation amongst the big teams really, really pisses me off as you just never know who's going to play or anything. I mean Javier Hernandez got two goals last weekend and could have had three if he knew how to take a penalty, but who the hell would even have been able to guess he was even going to start? It's crazy.
Defoe also banged two in last week so maybe if you need some strike power stick him in your team. I think Adebayor is injured so Spurs aren't gonna drop him, although you never, ever know what AVB is gonna do really do you? I don't really know what happened in any of the other games last week and I can't be fucked to look it up so let's hope nothing too important did.
As for my team – Timw_brap KILLAS – we're sitting safely in midtable which is pretty surprising considering how dog shit my team is. Why the hell did I think it would be a good idea to put Darren Bent in my team? Or Juan Mata?? Neither of them have done anything.  And Colocinni is fvcking injured, I really should have taken him out of my team huh? I'm making some serious transfers when I get up tomorrow.
As for the league, all the teams at the top of the table have shit names with Gavin Rappaport's team 'POO' staying in the top spot for another week. Tom Sands' terribly named Prison Break FC – who have you got up front mate, Lincoln Burrows? – stay in third whereas Huw Barker's team 'Haven't Got A Clue Ville' somehow move into second. Take a snapshot boys, it won't be like this at the end of the season: