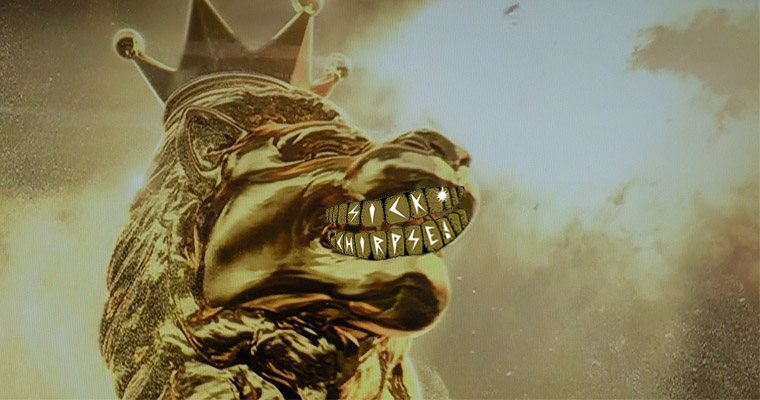 Week 5 has finished and I gotta eat my words only a couple of weeks down the line as the terribly named Prison Break FC have risen once again to the tip top of the league. With the highest points score this week of 64 to take him to 260 points all in all and 2500th in the country (there's fvcking 200,000 or some shit all together), Tom Sands is pretty much repping it at the top – and – in all fairness to the guy he also called me a dickhead on the last article that Tim had the decency to put up for Week 4 so at least he's got an attitude problem to boot. Just to remedy your mindset on the old fantasy football, the difference between his team and yours is that he doesn't have any weak links.
Here's the heroes and zeroes of Week Five in that order.
BIG HITTERS: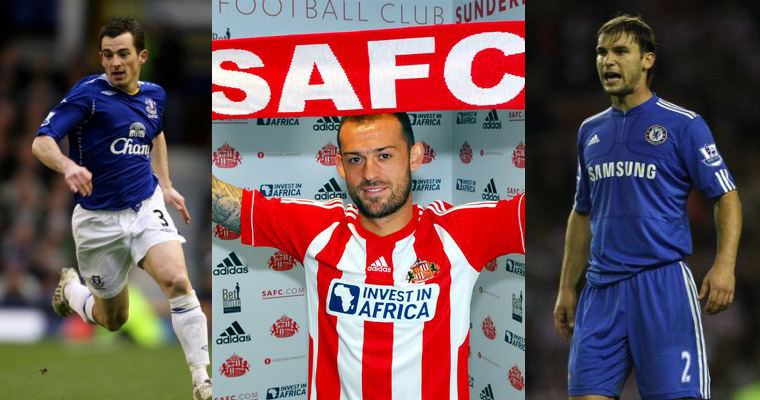 "Leighton Baines, I bet you think this song is about you, Leighton Baines. I bet you think this song is about you, don't you, don't you." I don't know how vain he is or if Carly Simon would approve of the Toffees nicking her song but Leighton Baines really is bossing it in the Prem, as are Everton. With a clean sheet and two assists to boot he makes his 4.1 million price tag seem like an absolute bargain and a must have for any team who wants to challenge at the top of the Sick Chirpse league. Branaflake Ivanovic has another dynamite display at the back for Chelsea and amasses a total of 9 points for the week meaning that he is now the highest scoring player in the world of fantasy football. He also is managing to make it into the area a couple of times a game to practise his swan dive and is immune from getting yellow cards for it so hurry up and shove him in your team. The other big hitter for the week is the big 15 million pound man, Steven Fletcher, who banged yet another goal in to keep Sunderland on as good form as he could hope after his big money switch from Wolves. His tatts might be shit and he might possibly be Jason Barnum's doppelganger but they've got Wigan at home next week and he is bound to knock a couple in for jokes.
BIG SHITTERS: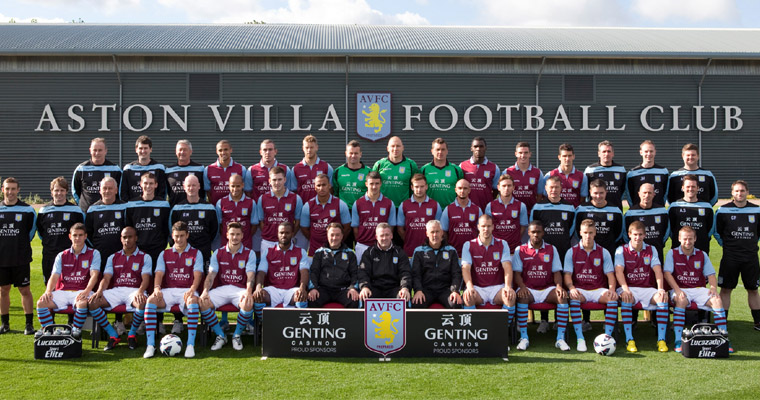 There was Nathan Dyer and his two pathetic yellows, Jonjo offering out Fergie after costing Liverpool their first victory of the season, but of course the real big shitter of this week was Aston Villa FC. From the long lost days of Dalian Atkinson, Dwight Yorke and Lee Hendrie come the new breed of turds who are hoping to drag this fine Midlands football club into the depths of relegation. From Ciaran Clark doing his best to get all over the big shitters again with his second own goal of the season to Guzan letting slip everything that came within grasp Villa managed to give Southampton their first win of the season. Any team who are letting slip a lead and allowing a newly promoted team to bash 4 goals past them need a real talking to – I just don't think Paul Lambert is the guy to do it – maybe they should get Rickie Lambert as player manager…
So that's Week Five finished boys and girls — now it's time for everyone below 5th place to pull your socks up and stop fvcking about – 5th place is a bird whose team name resembles TOWIE – need I say more. Step up SickChirpsers and check where you're at:
Sick Chirpse
PIN: 8009937
POS
Manager
Team name
Total points
Week pts
Starting
XI pts
Starting
XI pos
Goals
Goal Pos
Overall Position
1
Tom Sands
Prison Break FC
260
64
221
5051
15
9889
2554
2
Gavin Rapaport
Poo
251
43
190
28742
17
2589
4316
3
Huw Barker
HavantGotAClueVille
250
50
250
585
19
587
4565
4
Trevor Brenson
RJBs XI
238
44
238
1547
14
17550
8910
5
Emma Craig
The Only Way Is Emma
234
51
194
23623
13
28989
11216
6
Tom Shipley
Apocalypse Dudes
223
39
189
30168
17
2589
20247
6
Alex Prince
Prince Boatengs
223
29
194
23623
15
9889
20247
8
Luke Skidmore
bunchofslugs
215
38
188
31695
16
5271
29699
9
Daniel Ostridge
Ajax Treesdown
213
17
192
26076
13
28989
32560
10
Peter Jones
Joner
208
32
187
33181
13
28989
40526
11
Richard Dulieu
Dyslexic CF
206
36
206
12493
9
115128
44030
12
Piers Dixon
Dixon Balls FC
204
42
184
38000
10
89107
47485
13
Johnny Callow
Room 362
202
50
199
18241
9
115128
51306
14
Terry Buckingham
Real Madras
196
33
163
83440
12
44953
63726
14
Dan Filer
ClubTropicanaDrinkFC
196
51
196
21298
12
44953
63726
14
James Blundell
Blundells boys
196
43
168
70909
11
65385
63726
17
Dave Ward
Pimp My Side
195
37
168
70909
13
28989
65935
18
Shane Tremlin
Trems Trash
185
48
174
57167
10
89107
89870
18
Billy Mclean
Barcemoaner
185
35
197
20254
11
65385
89870
20
Ross Stearny
stearnpots barmyarmy
184
32
196
21298
12
44953
92368
21
Huw E
Dynamo Kebab
183
43
153
110831
8
141877
94893
22
AlexanderMark Jones
Dunblane Massacres
182
31
152
113670
10
89107
97350
23
Neil Williams
Lumpers and Kickers
181
40
143
139083
9
115128
99946
24
Anthony Ward
Park Ji Wonders
180
36
181
43140
10
89107
102519
25
Alex Crawshaw
Crawshaw's Commies
177
32
133
166122
12
44953
110212
25
Daniel Guy
Dans witwickys
177
33
177
50893
8
141877
110212
25
Ross Williams
Tepee Town FC
177
39
149
122077
10
89107
110212
28
Bobby Peliza
bObbyDazzlers
176
38
160
91524
8
141877
112779
28
Jeff Ingle
Jeffentus
176
57
116
202939
8
141877
112779
30
David Williams
Muffin stuffers
175
39
151
116522
13
28989
115509
30
Charlie Hey
tiki taka jazz cats
175
28
175
55140
10
89107
115509
32
Matthew Stewart
FC Boosh
174
46
158
96952
10
89107
118154
32
Michael Magee
Mickey T FC
174
41
167
73277
8
141877
118154
34
Robbie Atkinson
diables Rouges
173
52
143
139083
8
141877
120751
35
Ryan Williams
Dirty Buffalo
172
44
168
70909
5
209738
123373
36
Mark Endicott
Real Madreadfull
170
32
108
214767
12
44953
128576
37
Max Sheppard
Fred West Ham
169
33
132
168641
9
115128
131223
38
Lee Walsh
KeansaKunt
168
42
128
178420
11
65385
133801
38
Shaun Williams
The Galacticos
168
37
139
150197
5
209738
133801
40
John Ryan
Obi – 1 Kanobi – 0
167
22
167
73277
8
141877
136398
40
Nikul Patani
Brown Bear United
167
35
167
73277
10
89107
136398
42
Elliott Henderson
Barsenal
166
34
145
133412
6
190488
139001
43
Drew Walsh
Real SocieLAD
165
38
166
75771
6
190488
141576
43
smart les
lemon peng-win
165
19
165
78361
10
89107
141576
45
Ryan Addams
Fish fillet
164
53
113
207799
8
141877
144056
46
Ben Rowland
Atheist FC
163
48
157
99715
11
65385
146659
46
Sam MartinRoss
Martin-Boss
163
33
117
201207
8
141877
146659
48
Patrick Grayson
real aycliffe
161
40
161
88797
10
89107
151532
48
Thomas Foley
Unbelievable Crisps
161
35
111
210730
11
65385
151532
50
Redwan Elharrak
Real Talk
159
36
159
94178
6
190488
156355
51
Martyn Aeissame
Gratuitous FC
157
39
157
99715
7
167659
161141
52
Tim Williams
TIMW_BRAP KILLAS
156
36
154
108092
10
89107
163499
52
Nestor Schischka
The Winning One
156
36
145
133412
7
167659
163499
54
Jamie Sadur
Skid Mark
155
41
155
105274
8
141877
165874
54
Josh Watkins
bluesbrother
155
26
155
105274
7
167659
165874
56
Anthony Ford
4 Dimensions
153
29
107
216037
9
115128
170386
57
Ben Lawson
spunkin FC
151
34
179
47012
8
141877
174770
57
Luke Henderson
Luke Ronald FC
151
33
147
127732
9
115128
174770
59
Nick Reid
OnOne United
149
36
149
122077
6
190488
178993
59
James Martin
Tourist Attraction
149
30
149
122077
8
141877
178993
61
Christopher Davies
T Dogg's Ball Hoggs
148
28
115
204651
6
190488
181142
61
Aaron Hicks
Proud's Prodders
148
31
148
124870
7
167659
181142
63
Blake Walton
Walton Wonders
147
22
143
139083
7
167659
183264
63
Mohamed Hussein
Why Always Me FC
147
16
126
182993
7
167659
183264
65
Jon McLeish
Bayern Bru
146
37
132
168641
5
209738
185291
66
Louis Day
Spews Stars
143
27
143
139083
11
65385
191176
66
Dean Webster
Blues
143
34
158
96952
9
115128
191176
68
William Rowe
Keefy's Krunchers
141
26
140
147458
11
65385
194831
69
David Hewitt
football
140
32
140
147458
6
190488
196647
70
Maxwell Hughes
maxibon united
138
42
138
152914
8
141877
200153
71
Matt Morris
Morris FC
137
27
137
155589
5
209738
201817
71
Daniel Haviland
Warriors
137
22
137
155589
3
235563
201817
73
Daniel Watson
SirBobWouldBeProud
136
23
118
199394
3
235563
203435
73
Nicky Greenhow
Boomerwanger
136
39
127
180729
4
224525
203435
75
Mark Guy
butchys tanks
135
31
119
197465
7
167659
204976
76
James Roberts
WOOPWOOP United
134
27
130
173617
5
209738
206534
77
Craig Abbs
Team abber
132
19
132
168641
7
167659
209547
78
Richard Gilbert
Queefstars
129
33
129
176009
5
209738
213709
79
Nick Randles
Quallo
128
20
128
178420
6
190488
215069
80
Danny Sharpe
Team Sharpey
127
32
127
180729
6
190488
216331
80
Christian Adofo
The Mandem
127
36
127
180729
4
224525
216331
82
Dave Bunker
Team Bunker
125
18
82
233626
8
141877
218862
83
Luke Wyborn
The Wombles
123
24
111
210730
3
235563
221180
84
Jack Hopwood
FC Kaiser
122
28
122
191549
5
209738
222258
85
Ashley Townsend
1 MANNING 1 CUP
121
18
80
234158
7
167659
223355
86
John Hawkins
Mmmmcustard
118
25
115
204651
6
190488
226501
86
Alex Taylor
leave-my-arse-a-lona
118
38
118
199394
9
115128
226501
88
John Twinn
Pav FC
117
27
117
201207
3
235563
227490
89
Toby Dennett
Dennethinaikos
115
23
126
182993
2
243245
229319
90
Michael Sinfield
FC Scorgasm
112
26
112
209247
6
190488
231770
90
Sam Lister
inter thevan
112
26
108
214767
3
235563
231770
90
James Tootill
BigDonFC
112
23
119
197465
4
224525
231770
93
Tomn Pitts
Gareth Keenan Troops
102
15
102
221510
5
209738
238315
94
Tyler Casey
50 Shades Of Goals
94
20
94
227974
0
250921
241957
95
David Armitage
Real Betties
93
18
93
228645
2
243245
242341
96
Wes Holden
Green FC
92
18
92
229247
6
190488
242709
97
Steve French
Anal Villa
91
19
91
229808
0
250921
243085
98
Theodore Morgan
DangALangTime
86
21
86
232254
7
167659
244674
99
Nick Bourne
Greenham Royals
75
16
75
235157
2
243245
247227
100
Matthew Hurley
12fort
55
7
55
236666
3
235563
249854
manager of the month