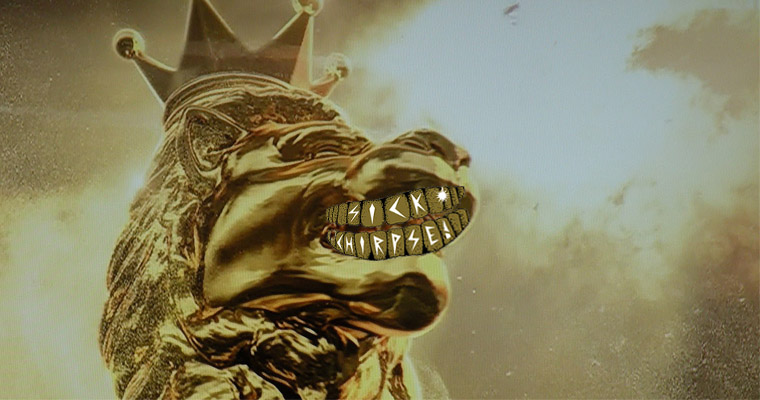 Follow AMJ @amjeezie
Week 8 is at an end and so is the mighty reign of Tom Sands' Prison Break FC who have dropped to 3rd place after what can only be described as a shocker of a week. Tom Shipley's Apocalypse Dudes smashed a cheeky 44 points taking their tally to 370 – opening up a 5 point lead over Rapaport's Poo. A couple of good results for some of the SickChirpse hopeful as James Martin's Tourist Attraction rose a couple of places with 46 points and AMJ's Dunblane Massacres rose from lowly 42nd to a still pretty shitty 21st with the week high score of 49. So Week 7 didn't really cause many upsets, but it seems that Week 8 is really starting to separate the men from the boys. Here's how the Prem fared up last week:
BIG HITTERS: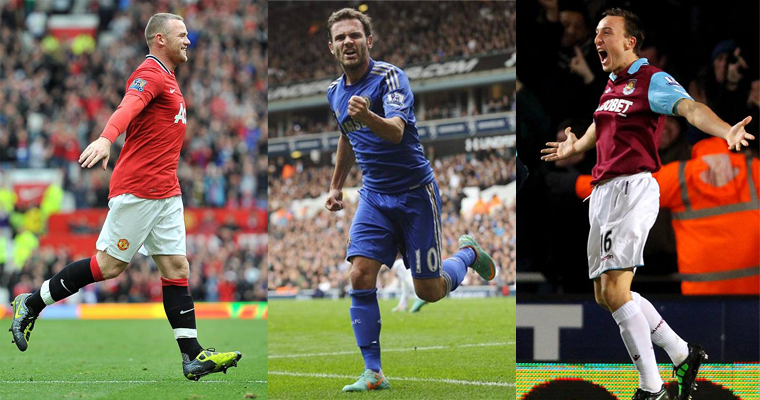 Well, well, well…if it isn't our old bald granny banging friend for life Mr Wayne doing his very best to tantalise the fantasy league. Taking time out from his part-time job as a care worker at an old granny's home to bang a couple of cheeky goals in both ends of the pitch. He started off his Saturday by giving Stoke the faintest of chances of an Old Trafford victory by stuffing the ball past De Gea, before setting the game alight at the other end accumulating a solid 12 points down to an assist and two goals. He also became the first Utd player to score at both ends of the pitch since David Beckham way back in 2003…but that's probably the shittest fact ever.
Marky Noble also earned every penny of his 3 million fantasy league price tag as he racked up the same points as Rooney after his two cheeky goals past the lowly Saints opposition. The real big hitter of the week was none other than the cheeky little bearded Spaniard, Juan Mata. The second highest priced midfielder in the land of fantasy league accumulated a whopping 15 for the week as he tore apart Spurs taking Kyle Walker's Twitter with him. The midfielder has now scored three and assisted five goals in his last four Premier League appearances but the real question is can he do the job against Man Utd at the Bridge on the weekend?
BIG SHITTERS: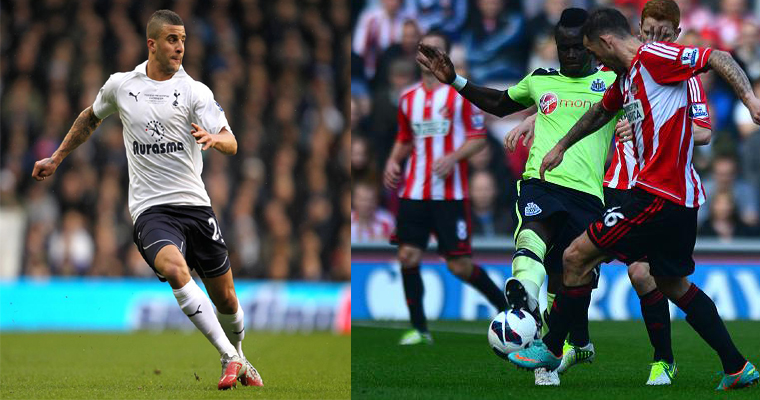 Not too many shitbags this week as everyone had a pretty good attempt at not being a complete donkey fvck up. However, it would seem that the most reliable right back in the Premiership, Kyle Walker, did not get that memo. I suppose he can't be blamed for having to come up against the tirade of passing from the three Chelsea playmakers of Oscar, Hazard and Mata but the Spurs fans really didn't agree with that. As if letting 4 goals go past him, getting a yellow card and -2 for his weekly fantasy league points he also got hounded on Twitter for having his pants pulled down on the byline so as Mata could pull the other Juan before passing it to Sturridge for number 4. The Spurs fans took to Twitter in force to call out the Spurs full back and he bottled it and deleted his account which in itself is worth a couple minus points.
The other big loser of the week has to be Cheick Tioté. He's not famed for shying away from a tackle but he took the game into his hands after taking a little kick and decided to go studs up on Fletcher and get himself a straight red. Whether or not it was a booking it cost The Toon a good three points away at the Stadium of Light and all the cheap punters out there some money as no one bets on the draw. Cheick Tioté is a mug.
This weekends fixtures are looking like this:
Sat 27 Oct 2012 – Premier League
Aston Villa vs Norwich 12:45
Arsenal vs QPR 15:00
Reading vs Fulham 15:00
Stoke vs Sunderland 15:00
Wigan vs West Ham 15:00
Man City vs Swansea 17:30
Sun 28 Oct 2012 – Premier League
Everton vs Liverpool 13:30
Newcastle vs West Brom 15:00
Southampton vs Tottenham 15:00
Chelsea vs Man Utd 16:00
Predictions for the week are Paul Lambert trusts Darren Bent and bangs a few against Norwich. Arsene and the boys put the final nail in Sparky's coffin, special thanks to Cardoza. Reading finally get that win as Fulham fvck up away again. Stoke's Anti-Football = draw. Kevin Nolan scores away for the first time in his life to get The Hammers a point. Man City put midweek behind them and stick a couple past Swansea but no clean sheet again thanks to Michu. Merseyside derby ends in red cards for at least two players as they play out a draw. Baggies hold Newcastle to a draw. Spurs make sure Saints keep on losing. Chelsea and Man Utd fight out a 4-4 scorcher courtesy of a hat-trick from an unlikely source…can you hear the drums Fernando?
In reality – the only thing that will come true is Michu will score, again. Remember where you heard it first.
Here's the fvcking league all ready:
Sick Chirpse
League PIN: 8009937
POS
Manager
Team name
Total points
Week pts
Starting
XI pts
Starting
XI pos
Goals
Goal Pos
Overall Position
1
Tom Shipley
Apocalypse Dudes
370
44
310
20207
28
441
4886
2
Gavin Rapaport
Poo
365
39
324
10221
23
8512
6328
3
Tom Sands
Prison Break FC
362
23
345
2940
23
8512
7308
4
Huw Barker
HavantGotAClueVille
357
39
359
1130
25
2819
9362
5
Trevor Brenson
RJBs XI
344
30
344
3166
19
45258
17545
6
Emma Craig
The Only Way Is Emma
340
32
314
16891
17
81230
21000
6
Alex Prince
Prince Boatengs
340
40
294
39391
21
21419
21000
8
Luke Skidmore
bunchofslugs
322
21
285
54137
22
13773
42753
9
Shane Tremlin
Trems Trash
315
45
278
67407
15
124893
53877
10
Peter Jones
Joner
309
31
278
67407
19
45258
64790
10
Richard Dulieu
Dyslexic CF
309
40
309
21104
15
124893
64790
12
Ryan Williams
Dirty Buffalo
307
36
275
73444
15
124893
68649
13
Dan Filer
ClubTropicanaDrinkFC
306
25
306
24132
17
81230
70591
14
Dave Ward
Pimp My Side
303
40
275
73444
19
45258
76479
15
James Martin
Tourist Attraction
295
46
295
37885
15
124893
93121
15
Nikul Patani
Brown Bear United
295
35
295
37885
19
45258
93121
17
Huw E
Dynamo Kebab
293
32
246
137605
15
124893
97459
17
Daniel Ostridge
Ajax Treesdown
293
22
286
52429
17
81230
97459
19
Matthew Stewart
FC Boosh
292
36
270
83999
16
102663
99597
19
Terry Buckingham
Real Madras
292
27
270
83999
18
61890
99597
21
Charlie Hey
tiki taka jazz cats
291
29
291
44035
19
45258
101724
21
Ross Williams
Tepee Town FC
291
36
278
67407
16
102663
101724
23
AlexanderMark Jones
Dunblane Massacres
290
49
250
128725
17
81230
103912
24
Jeff Ingle
Jeffentus
288
35
205
208306
16
102663
108365
25
Drew Walsh
Real SocieLAD
286
31
280
63396
15
124893
112835
26
Redwan Elharrak
Real Talk
285
33
285
54137
14
147215
115029
27
Robbie Atkinson
diables Rouges
284
37
225
179753
16
102663
117222
28
Ross Stearny
stearnpots barmyarmy
283
28
287
50697
15
124893
119505
28
James Blundell
Blundells boys
283
31
247
135428
15
124893
119505
30
Ben Rowland
Atheist FC
282
34
251
126478
19
45258
121766
30
Michael Magee
Mickey T FC
282
27
290
45676
15
124893
121766
32
Thomas Foley
Unbelievable Crisps
281
36
230
170630
19
45258
123886
33
William Rowe
Keefy's Krunchers
280
47
276
71437
19
45258
126093
34
Piers Dixon
Dixon Balls FC
279
26
304
26342
14
147215
128307
34
Patrick Grayson
real aycliffe
279
44
279
65427
16
102663
128307
36
Bobby Peliza
bObbyDazzlers
278
34
267
90549
12
187745
130445
36
Johnny Callow
Room 362
278
14
302
28785
12
187745
130445
38
Mark Endicott
Real Madreadfull
277
38
202
211405
18
61890
132617
39
Neil Williams
Lumpers and Kickers
270
22
242
146313
15
124893
147198
39
Billy Mclean
Barcemoaner
270
24
276
71437
16
102663
147198
39
Nicky Greenhow
Boomerwanger
270
46
221
186498
14
147215
147198
42
Elliott Henderson
Barsenal
267
17
234
162778
13
168361
153376
43
Alex Crawshaw
Crawshaw's Commies
266
37
231
168696
15
124893
155423
43
Sam MartinRoss
Martin-Boss
266
21
187
223313
15
124893
155423
45
David Williams
Muffin stuffers
265
32
257
112873
15
124893
157381
45
Shaun Williams
The Galacticos
265
28
234
162778
11
204108
157381
47
Lee Walsh
KeansaKunt
264
19
213
198456
19
45258
159379
47
Anthony Ward
Park Ji Wonders
264
24
266
92801
14
147215
159379
49
Daniel Guy
Dans witwickys
263
32
263
99313
12
187745
161300
49
Louis Day
Spews Stars
263
36
263
99313
16
102663
161300
51
John Ryan
Obi – 1 Kanobi – 0
262
37
262
101537
12
187745
163154
52
Ryan Addams
Fish fillet
258
34
196
216842
12
187745
170524
53
Tim Williams
TIMW_BRAP KILLAS
256
35
280
63396
14
147215
174138
54
Matt Morris
Morris FC
255
25
255
117390
12
187745
175798
55
Blake Walton
Walton Wonders
254
32
257
112873
12
187745
177560
55
Jon McLeish
Bayern Bru
254
30
238
154720
10
217776
177560
57
Christopher Davies
T Dogg's Ball Hoggs
253
32
217
192762
10
217776
179218
58
Martyn Aeissame
Gratuitous FC
252
33
263
99313
12
187745
180918
58
Anthony Ford
4 Dimensions
252
30
227
176302
13
168361
180918
60
smart les
lemon peng-win
251
33
251
126478
15
124893
182605
61
Nick Reid
OnOne United
248
29
248
133249
13
168361
187467
62
Danny Sharpe
Team Sharpey
247
41
247
135428
12
187745
189054
63
Dean Webster
Blues
246
44
244
141919
14
147215
190620
63
Max Sheppard
Fred West Ham
246
23
231
168696
12
187745
190620
65
Ben Lawson
spunkin FC
245
21
286
52429
13
168361
192073
65
Aaron Hicks
Proud's Prodders
245
18
236
158816
13
168361
192073
67
Josh Watkins
bluesbrother
238
24
238
154720
10
217776
201815
67
David Hewitt
football
238
23
238
154720
11
204108
201815
69
Luke Henderson
Luke Ronald FC
235
23
239
152638
14
147215
205517
70
Daniel Haviland
Warriors
234
25
234
162778
7
242391
206745
71
Mohamed Hussein
Why Always Me FC
232
31
206
207177
9
228384
209147
71
Daniel Watson
SirBobWouldBeProud
232
40
208
204889
7
242391
209147
73
Jamie Sadur
Skid Mark
231
11
231
168696
12
187745
210193
73
John Hawkins
Mmmmcustard
231
37
222
184885
13
168361
210193
75
John Twinn
Pav FC
230
27
230
170630
10
217776
211343
75
Christian Adofo
The Mandem
230
26
230
170630
11
204108
211343
75
Maxwell Hughes
maxibon united
230
28
238
154720
12
187745
211343
78
Michael Sinfield
FC Scorgasm
229
49
229
172562
14
147215
212423
79
Sam Lister
inter thevan
227
38
219
189731
10
217776
214546
80
Richard Gilbert
Queefstars
225
21
225
179753
11
204108
216481
80
Mark Guy
butchys tanks
225
20
212
199875
12
187745
216481
82
Nestor Schischka
The Winning One
224
22
220
188115
9
228384
217386
82
Alex Taylor
leave-my-arse-a-lona
224
36
203
210420
18
61890
217386
82
Nick Randles
Quallo
224
26
224
181531
8
236410
217386
85
Toby Dennett
Dennethinaikos
223
19
249
130974
10
217776
218361
86
Ashley Townsend
1 MANNING 1 CUP
220
31
143
235369
14
147215
221081
87
Craig Abbs
Team abber
214
28
214
197028
13
168361
226032
88
James Roberts
WOOPWOOP United
213
21
210
202528
8
236410
226791
89
Dave Bunker
Team Bunker
209
24
144
235281
14
147215
229666
90
Jack Hopwood
FC Kaiser
205
31
205
208306
9
228384
232102
91
James Tootill
BigDonFC
196
27
205
208306
8
236410
236841
91
Luke Wyborn
The Wombles
196
24
195
217656
7
242391
236841
93
Tyler Casey
50 Shades Of Goals
191
39
191
220614
6
246519
239047
93
Steve French
French FC
191
18
191
220614
6
246519
239047
95
Tomn Pitts
Gareth Keenan Troops
187
25
187
223313
9
228384
240607
96
David Armitage
Real Betties
175
20
175
229098
8
236410
244290
97
Nick Bourne
Greenham Royals
165
27
165
232152
7
242391
246470
98
Theodore Morgan
DangALangTime
155
25
155
234030
10
217776
248109
99
Wes Holden
Green FC
151
16
151
234586
8
236410
248605
100
Matthew Hurley
12fort
131
20
131
236048
10
217776
250341