Week 7 is over. The international break is over. Mark Hughes' job at Loftus Road is pretty much over. All we are waiting for is for Week 8 to commence now. Week 7 ended as many thought it would with both Manchester clubs and the other three big dogs of Chelsea, Spurs, and Arsenal all coming out with three points and impressive displays. West Brom continued there great run by seeing off QPR, where Wigan held Everton at bay with a sturdy performance. Stoke did not make many friends or win many plaudits for their anti-football draw away at Liverpool and Fulham continued their role as the worst away team in since San Marino. No real big moves were made last week by any of the members of the league – however there were quite a few goals scored in the Premiership as well as the SickChirpse league.
Here are all the results from last week if you want a mini-recap before Week 8 gets going:
Sat 6 Oct 2012 – Premier League
BIG HITTERS: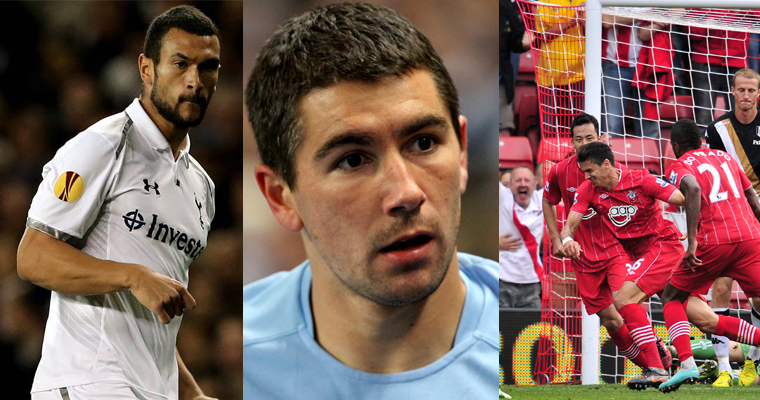 Steve-o Caulker played his third game in a Spurs shirt after returning to White Heart Lane with a glowing reference from Swansea City last year. The 6 ft 3 power house commanded the area throughout the match and looks an absolute steal at 3.3 million in the fantasy football notching up a clean sheet and a goal for his trouble last week. Might wanna wait 'til next week to slot him in to the back line though as Spurs face top of the league Chelsea tomorrow in the early kick off. Kolarov hasn't featured as much as anyone with him in their fantasy team would've liked this year but for anyone who has stuck it out with the Serbian he rewarded your faith with a clean sheet, goal, and an assist – racking up 14 points all by himself. He also helped Man City get their first clean sheet of the season and may even keep his place this weekend for the tough trip away to The Hawthorns. Last but certainly not least is Southampton's young José Fonte who popped up with two goals as the Saints held Fulham to a draw at home. He had an excellent game and managed to get himself 10 points. The luck has got to turn around some time for Southampton who are battling week in week out but just not getting the results – let's hope that Upton Park will give them there first away win (or even draw) of the season.
BIG SHITTERS: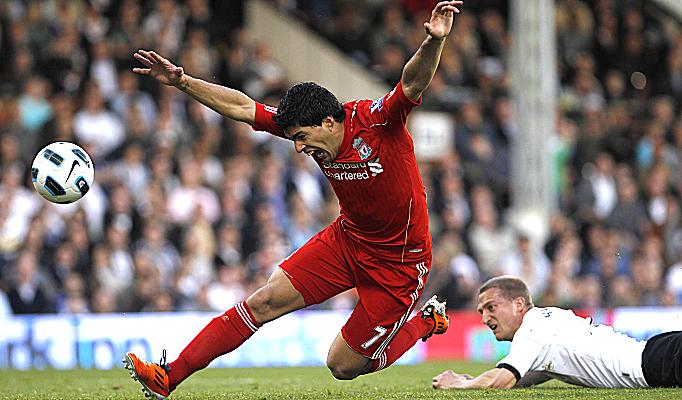 SickChirpse would like to formally apologise for recommending that you stick in this buck-toothed fool in your fantasy football team. Week 6 seen a fresh faced and vibrant Suarez stick a cheeky three past Ruddy without even breaking a sweat but Week 7 was a whole different beast. Cue Tony Pulis and his Anti-Football alliance aka. Stoke City. Suarez was an embarrasment. He spent half t he game diving and the other half missing absolute sitters. Liverpool have now scored only 3 goals at home in a total 7 games and are still without a win in the Prem at their hallowed Anfield. The dive that forced Pulis to demand that Suarez be banned for three games after the fixture was even worse than that time Pires booted someone then jumped on the floor. Below is a link to Suarez doing his best impression of a baby calf being born straight out of a mama cow's asshole:
[yframe url='http://www.youtube.com/watch?v=wvLykEcCNqs']
The fixtures this weekend are as follows:
Saturday:
Spurs vs Chelsea 12:45
Fulham vs Aston Villa 15:00
Liverpool vs Reading 15:00
Man Utd vs Stoke 15:00
Swansea vs Wigan 15:00
West Brom vs Man City 15:00
West Ham vs Southampton 15:00
Norwich vs Arsenal 17:30
Sunday:
Sunderland vs Newcastle 13:30
QPR vs Everton 16:00
So fvck International football, The Premiership is back. Whether you trust in Suarez to rinse Reading at home, or think QPR can do the unthinkable and actually get a result vs Everton – just remember to get your transfers done asap so they count for the weekend.
The SickChirpse fantasy football league is looking like this at close of business Week 7:
Sick Chirpse
PIN: 8009937
POS
Manager
Team name
Total points
Week pts
Starting
XI pts
Starting
XI pos
Goals
Goal Pos
Overall Position
1
Tom Sands
Prison Break FC
339
0
318
2099
22
4424
3666
2
Tom Shipley
Apocalypse Dudes
326
0
285
14559
26
341
7216
2
Gavin Rapaport
Poo
326
0
288
12558
22
4424
7216
4
Huw Barker
HavantGotAClueVille
318
0
322
1600
22
4424
10971
5
Trevor Brenson
RJBs XI
314
0
314
2729
18
33920
13442
6
Emma Craig
The Only Way Is Emma
308
0
285
14559
16
67830
18029
7
Luke Skidmore
bunchofslugs
301
0
253
56341
21
7980
24989
8
Alex Prince
Prince Boatengs
300
0
273
25805
19
22137
26140
9
Dan Filer
ClubTropicanaDrinkFC
281
0
281
17818
16
67830
54233
10
Peter Jones
Joner
278
0
252
58294
17
49180
59876
11
Daniel Ostridge
Ajax Treesdown
271
0
253
56341
17
49180
74274
11
Ryan Williams
Dirty Buffalo
271
0
244
74810
11
179451
74274
13
Shane Tremlin
Trems Trash
270
0
250
62246
13
136062
76341
14
Richard Dulieu
Dyslexic CF
269
0
269
30597
13
136062
78532
15
Terry Buckingham
Real Madras
265
0
250
62246
17
49180
87418
16
Johnny Callow
Room 362
264
0
275
23620
12
158723
89662
17
Dave Ward
Pimp My Side
263
0
237
90441
17
49180
91889
18
Charlie Hey
tiki taka jazz cats
262
0
262
40626
18
33920
94283
19
Huw E
Dynamo Kebab
261
0
221
128581
13
136062
96564
20
Nikul Patani
Brown Bear United
260
0
260
43927
16
67830
98889
21
Matthew Stewart
FC Boosh
256
0
237
90441
14
112508
108290
22
Drew Walsh
Real SocieLAD
255
0
257
49009
12
158723
110584
22
Ross Stearny
stearnpots barmyarmy
255
0
264
37566
14
112508
110584
22
Ross Williams
Tepee Town FC
255
0
231
104664
15
89320
110584
22
Michael Magee
Mickey T FC
255
0
263
39082
15
89320
110584
26
Piers Dixon
Dixon Balls FC
253
0
266
34645
13
136062
115328
26
Jeff Ingle
Jeffentus
253
0
188
196131
14
112508
115328
28
Redwan Elharrak
Real Talk
252
0
252
58294
12
158723
117635
28
James Blundell
Blundells boys
252
0
213
147225
14
112508
117635
30
Elliott Henderson
Barsenal
250
0
220
131000
13
136062
122384
31
James Martin
Tourist Attraction
249
0
249
64271
10
197744
124755
32
Ben Rowland
Atheist FC
248
0
219
133261
16
67830
127101
32
Neil Williams
Lumpers and Kickers
248
0
213
147225
14
112508
127101
34
Robbie Atkinson
diables Rouges
247
0
197
180778
14
112508
129425
35
Billy Mclean
Barcemoaner
246
0
259
45632
16
67830
131844
36
Lee Walsh
KeansaKunt
245
0
195
184327
18
33920
134077
36
Thomas Foley
Unbelievable Crisps
245
0
198
179013
17
49180
134077
36
Sam MartinRoss
Martin-Boss
245
0
168
219161
14
112508
134077
39
Bobby Peliza
bObbyDazzlers
244
0
229
109409
11
179451
136428
40
AlexanderMark Jones
Dunblane Massacres
241
0
222
126144
13
136062
143181
41
Anthony Ward
Park Ji Wonders
240
0
243
76970
13
136062
145389
42
Mark Endicott
Real Madreadfull
239
0
166
220784
16
67830
147555
43
Shaun Williams
The Galacticos
237
0
210
154104
11
179451
152053
44
Patrick Grayson
real aycliffe
235
0
235
95097
11
179451
156266
45
David Williams
Muffin stuffers
233
0
234
97497
14
112508
160443
45
William Rowe
Keefy's Krunchers
233
0
230
107053
16
67830
160443
47
Daniel Guy
Dans witwickys
231
0
231
104664
10
197744
164401
48
Matt Morris
Morris FC
230
0
230
107053
12
158723
166395
49
Alex Crawshaw
Crawshaw's Commies
229
0
196
182558
14
112508
168358
50
Louis Day
Spews Stars
227
0
227
114215
14
112508
172345
50
Aaron Hicks
Proud's Prodders
227
0
220
131000
13
136062
172345
52
John Ryan
Obi – 1 Kanobi – 0
225
0
225
118974
10
197744
176177
53
Ben Lawson
spunkin FC
224
0
260
43927
12
158723
178042
53
Ryan Addams
Fish fillet
224
0
165
221522
10
197744
178042
53
Jon McLeish
Bayern Bru
224
0
212
149564
9
212851
178042
53
Nicky Greenhow
Boomerwanger
224
0
200
175169
10
197744
178042
57
Max Sheppard
Fred West Ham
223
0
200
175169
11
179451
179873
58
Blake Walton
Walton Wonders
222
0
227
114215
10
197744
181693
58
Anthony Ford
4 Dimensions
222
0
190
192939
13
136062
181693
60
Christopher Davies
T Dogg's Ball Hoggs
221
0
186
199096
10
197744
183450
60
Tim Williams
TIMW_BRAP KILLAS
221
0
227
114215
12
158723
183450
62
Jamie Sadur
Skid Mark
220
0
220
131000
12
158723
185195
63
Nick Reid
OnOne United
219
0
219
133261
11
179451
186918
63
Martyn Aeissame
Gratuitous FC
219
0
218
135626
11
179451
186918
65
smart les
lemon peng-win
218
0
218
135626
14
112508
188555
66
David Hewitt
football
215
0
215
142580
10
197744
193255
67
Josh Watkins
bluesbrother
214
0
214
144880
10
197744
194840
68
Luke Henderson
Luke Ronald FC
212
0
206
162808
13
136062
197857
69
Daniel Haviland
Warriors
209
0
209
156288
7
233984
202206
70
Danny Sharpe
Team Sharpey
206
0
206
162808
9
212851
206348
71
Mark Guy
butchys tanks
205
0
195
184327
12
158723
207627
72
Richard Gilbert
Queefstars
204
0
204
167097
11
179451
208921
72
Toby Dennett
Dennethinaikos
204
0
225
118974
10
197744
208921
72
Christian Adofo
The Mandem
204
0
204
167097
10
197744
208921
75
John Twinn
Pav FC
203
0
203
169110
8
224970
210197
76
Nestor Schischka
The Winning One
202
0
200
175169
9
212851
211352
76
Dean Webster
Blues
202
0
206
162808
11
179451
211352
76
Maxwell Hughes
maxibon united
202
0
206
162808
11
179451
211352
79
Mohamed Hussein
Why Always Me FC
201
0
182
204601
9
212851
212520
80
Nick Randles
Quallo
198
0
198
179013
7
233984
215809
81
John Hawkins
Mmmmcustard
194
0
172
215745
11
179451
219762
82
James Roberts
WOOPWOOP United
192
0
179
208391
8
224970
221613
82
Daniel Watson
SirBobWouldBeProud
192
0
174
213823
5
245366
221613
84
Sam Lister
inter thevan
189
0
190
192939
8
224970
224329
84
Ashley Townsend
1 MANNING 1 CUP
189
0
122
235498
13
136062
224329
86
Alex Taylor
leave-my-arse-a-lona
188
0
174
213823
16
67830
225158
87
Craig Abbs
Team abber
186
0
186
199096
12
158723
226820
88
Dave Bunker
Team Bunker
185
0
131
234505
13
136062
227602
89
Michael Sinfield
FC Scorgasm
180
0
180
207150
9
212851
231107
90
Jack Hopwood
FC Kaiser
174
0
174
213823
6
240685
234738
91
Steve French
French FC
173
0
173
214791
5
245366
235282
92
Luke Wyborn
The Wombles
172
0
175
212788
7
233984
235821
93
James Tootill
BigDonFC
169
0
185
200517
6
240685
237259
94
Tomn Pitts
Gareth Keenan Troops
162
0
162
223625
7
233984
240305
95
David Armitage
Real Betties
155
0
155
227600
7
233984
242799
96
Tyler Casey
50 Shades Of Goals
152
0
152
229020
2
252049
243686
97
Nick Bourne
Greenham Royals
138
0
138
233302
5
245366
246897
98
Wes Holden
Green FC
135
0
135
233871
8
224970
247410
99
Theodore Morgan
DangALangTime
130
0
130
234635
9
212851
248114
100
Matthew Hurley
12fort
111
0
111
236152
8
224970
250046