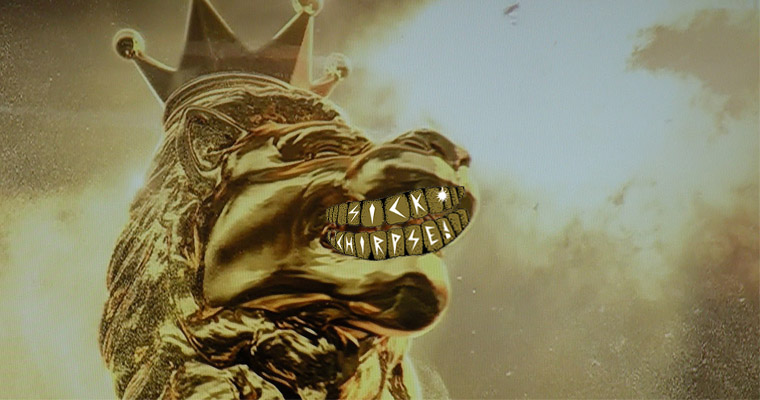 Follow AMJ @amjeezie
Week 27 is over and so are most of the 5th round FA Cup ties so we get to pretty much return to normal this week – bar the Swansea Bradford League Cup Final. I love the FA Cup but is there anything worse than having to watch ITV football highlights with adverts instead of beautiful Match Of The Day with Gary and  the boys? Due to there being less games than your average weekend the points were few and far between unless you have a silly amount of Liverpool/Chelsea players in. David Williams' Muffin Stuffers racked up a cheeky 48 point taking them to 1102 and just two points off the top ten. Peter Jones had another good week with 50 to take his Joner to 3rd continuing his onslaught on the league – only 14 points off top now – thanks to having pretty much the Chelsea starting XI. Big props of the week go the way of Michael Magee's Mickey T FC with 76 points to move him up to 26th – you can literally chart his trajectory and he only has good weeks if Liverpool do – hence being 26th place cos they're fucking shit.
Sat 16 Feb 2013 – FA Cup
Sun 17 Feb 2013 – FA Cup
Mon 18 Feb 2013 – FA Cup
Sun 17 Feb 2013 – Premier League
We said Arsenal would score goals a plenty and boy were we wrong – what an absolute shower of shit – congrats to Blackburn for getting through to the next round. Oldham did battle hard as we thought and were going down to an expected 1-2 loss until they managed to snatch a goal at the end resulting in a replay at Goodison. Man City returned to form and for the Sergio Aguero faithful your love has been repaid as he banged in a load of points to try and help them forget about their terrible Week 26. Wigan didn't struggle like we thought and stuck 4 past a lacklustre Huddersfield.  United beat Reading as expected but arguably the biggest upset of the weekend actually happened in the only Prem game as Swansea put out an absolutely garbage team and let Liverpool win a game at Anfield.
BIG HITTERS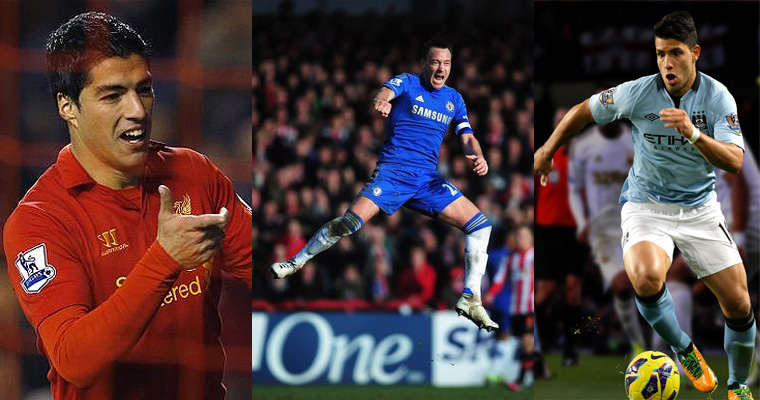 A constant thorn in the side of Swansea on the weekend and the talisman for a lot of Liverpool throughout Sunday's FA Cup Fifth Round game. The Uruguayan scored and assisted two including getting hacked down in the area and hit a total of 13 points for anyone who has him in their fantasy team. Big JT has come back with avengeance…even if it was against a third tier team. The man famed for cheating, racism and great tackle/s has come back into the Chelsea stronghold and sured them up to the extent that they kept their first clean sheet since January VS Stoke (in terms of Fantasy Football) – he also bagged Chelsea fourth in their second half drilling of Brentford. Although 11 may not seem like too much you gotta consider that he also helped out any other Chelsea backliner that you might have into their clean sheet. Big in the game. Finally, the best score in the fantasy league this week came courtesy of Manchester City's cheeky little Argentine, Sergio Aguero. 2 goals and an assist seen him rack up 15 points and return the faith of the punters as well as take City into the next round – he will be shitting points again this weekend for sure.
BIG SHITTER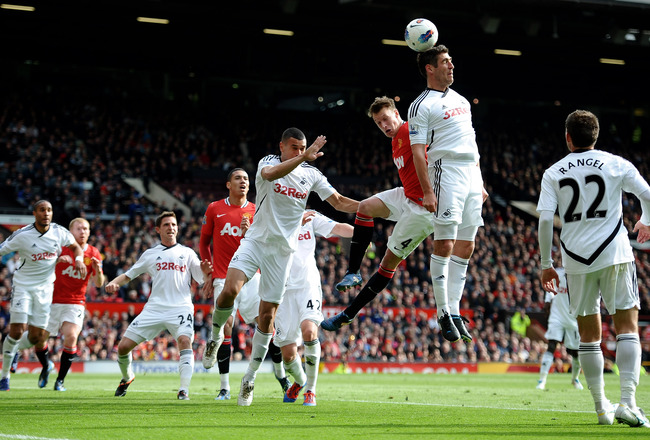 You might be in the League Cup Final, you might be pretty high up in the league, you might be everyone in the UK's second Prem team, but you really shouldn't lose 5-0 to a shower of shit like Liverpool. I won't go into too much detail but reserve team or not you should not let such a below par team make you look pathetic. Michael Laudrup will have to win the League Cup comfortably to justify what happened to his team. I just feel bad for any Swans fans that made the trip up to watch that shit.
Here's this weekends fixtures:
Sat 23 Feb 2013 – Premier League
Fulham v Stoke 12:45
Arsenal v Aston Villa 15:00
Norwich v Everton 15:00
QPR v Man Utd 15:00
Reading v Wigan 15:00
West Brom v Sunderland 15:00
Sun 24 Feb 2013 – Premier League
Man City v Chelsea 13:30
Newcastle v Southampton 13:30
Mon 25 Feb 2013 – Premier League
West Ham v Tottenham 20:00
Fulham will beat Stoke 1-0. It will undoubtedly be shit. Arsenal will attempt to put the embarassment of being out of the League Cup, FA Cup and Champions League by attempting to claw back 4th place from their rivals Spurs by beating the worst team in the Prem – they do. Norwich get a goal but fail to beat an Everton team who grind out a draw despite the Toffees being clear favourites. QPR attempt to play the Julio Cesar is sick card again but RVP has had enough and bags a brace – UTD win. Reading remind Wigan that they cannot score 4 every week as ALF steps up to slot a pen passed Wigan to put them 5 points away from the Royals who also jump out of the drop zone. West Brom beat Sunderland. Shit game. Aguero tears Chelsea apart but cannot capitalise so the Juan Mata show takes over, draw at the Etihad. High scoring game as Newcastle are held to a draw by the Saints. West Ham's assholes drop out and Spurs grind out a 1-2 win. Yid army.
Here's how the league looks this week fuckers:
Super League Table
Sick Chirpse
League PIN: 8009937
POS
Manager
Team name
Total points
Week pts
Starting
XI pts
Starting
XI pos
Goals
Goal Pos
Overall Position
1
Shane Tremlin
Trems Trash
1191
22
905
107864
72
86427
25736
2
Tom Shipley
Apocalypse Dudes
1181
27
1013
30140
85
18559
30811
3
Peter Jones
Joner
1177
50
934
83451
75
67512
32951
4
AlexanderMark Jones
Dunblane Massacres
1174
28
888
122409
86
15589
34647
5
Tom Sands
Prison Break FC
1163
36
932
85123
83
25763
41275
6
Huw E
Dynamo Kebab
1162
15
888
122409
74
73767
41847
7
Ryan Williams
Dirty Buffalo
1116
36
928
88462
69
105646
75116
8
Emma Craig
The Only Way Is Emma
1111
47
875
133196
66
124626
79113
9
Nicky Greenhow
Boomerwanger
1105
34
778
198674
69
105646
83884
10
Johnny Callow
Room 362
1104
9
963
60756
71
92898
84677
11
David Williams
Muffin stuffers
1102
48
1055
14005
74
73767
86161
12
Huw Barker
HavantGotAClueVille
1101
25
1098
5377
75
67512
86972
13
Gavin Rapaport
Poo
1094
34
942
76904
75
67512
92563
14
Drew Walsh
Real SocieLAD
1091
18
1000
36934
67
118261
94937
15
Lee Walsh
KeansaKunt
1087
29
831
167285
76
61417
98154
16
Matthew Stewart
FC Boosh
1076
22
890
120679
72
86427
106985
17
Alex Prince
Prince Boatengs
1068
39
942
76904
74
73767
113331
17
Billy Mclean
Barcemoaner
1068
25
875
133196
75
67512
113331
19
Jeff Ingle
Jeffentus
1064
35
679
226864
72
86427
116451
20
Robbie Atkinson
diables Rouges
1059
33
759
206813
68
111975
120255
21
Ross Stearny
stearnpots barmyarmy
1044
41
919
95983
63
142309
131293
22
Dan Filer
ClubTropicanaDrinkFC
1043
38
1010
31713
65
130717
131993
23
Alex Taylor
leave-my-arse-a-lona
1039
45
787
194238
75
67512
134794
24
Luke Skidmore
bunchofslugs
1038
24
897
114702
71
92898
135596
25
Terry Buckingham
Real Madras
1037
37
875
133196
72
86427
136291
26
Bobby Peliza
bObbyDazzlers
1035
34
882
127392
61
153697
137674
26
Michael Magee
Mickey T FC
1035
76
1061
12374
66
124626
137674
28
Trevor Brenson
RJBs XI
1033
14
1033
21396
58
169850
139062
29
Dave Ward
Pimp My Side
1031
23
925
90996
64
136416
140387
30
Shaun Williams
The Galacticos
1026
43
1010
31713
57
174946
143780
31
Anthony Ford
4 Dimensions
1023
25
814
178729
57
174946
145773
32
Redwan Elharrak
Real Talk
1018
29
1018
27785
57
174946
149045
32
Nikul Patani
Brown Bear United
1018
26
1018
27785
70
99302
149045
34
Blake Walton
Walton Wonders
1015
30
937
81046
60
159233
150899
35
Ryan Addams
Fish fillet
1010
19
684
226140
62
147984
154082
36
Jon McLeish
Bayern Bru
1007
18
925
90996
58
169850
155951
37
David Hewitt
football
1006
20
897
114702
60
159233
156546
38
Max Sheppard
Fred West Ham
1003
21
843
158511
64
136416
158406
39
James Martin
Tourist Attraction
1002
14
1002
35838
67
118261
158988
40
Tim Williams
TIMW_BRAP KILLAS
1001
42
826
170695
67
118261
159579
41
Neil Williams
Lumpers and Kickers
1000
42
882
127392
62
147984
160207
42
Ross Williams
Tepee Town FC
999
38
949
71284
59
164691
160831
43
Martyn Aeissame
Gratuitous FC
985
27
808
182442
56
179772
168826
43
Aaron Hicks
Proud's Prodders
985
18
813
179338
59
164691
168826
45
Mark Endicott
Real Madreadfull
979
31
727
217228
60
159233
172085
46
Louis Day
Spews Stars
968
16
968
57198
56
179772
177710
47
John Twinn
Pav FC
966
34
836
163645
61
153697
178720
48
Sam Lister
inter thevan
965
37
878
130690
61
153697
179202
49
Ben Lawson
spunkin FC
962
10
921
94260
55
184343
180688
50
Ben Rowland
Atheist FC
961
27
812
179998
63
142309
181184
51
Luke Wyborn
The Wombles
954
38
732
215824
60
159233
184509
51
William Rowe
Keefy's Krunchers
954
35
906
107004
71
92898
184509
53
Ashley Townsend
1 MANNING 1 CUP
946
44
604
233443
51
201588
188265
54
Sam MartinRoss
Martin-Boss
942
25
602
233534
60
159233
190068
55
Richard Dulieu
Dyslexic CF
939
24
939
79372
52
197515
191451
56
Piers Dixon
Dixon Balls FC
934
38
924
91807
48
212793
193605
56
Elliott Henderson
Barsenal
934
30
849
153908
50
205491
193605
58
Toby Dennett
Dennethinaikos
930
19
939
79372
45
222706
195249
59
smart les
lemon peng-win
924
30
924
91807
53
193320
197737
60
Daniel Ostridge
Ajax Treesdown
923
24
920
95099
50
205491
198123
60
Thomas Foley
Unbelievable Crisps
923
40
840
160735
53
193320
198123
62
Matt Morris
Morris FC
915
28
915
99340
61
153697
201358
63
Luke Henderson
Luke Ronald FC
914
43
822
173384
53
193320
201755
64
John Ryan
Obi – 1 Kanobi – 0
912
29
912
101932
61
153697
202588
65
Dean Webster
Blues
907
17
836
163645
46
219586
204444
65
Danny Sharpe
Team Sharpey
907
13
907
106134
57
174946
204444
67
Patrick Grayson
real aycliffe
904
9
904
108735
57
174946
205552
68
Charlie Hey
tiki taka jazz cats
894
42
894
117254
54
188851
209164
69
Anthony Ward
Park Ji Wonders
890
40
798
188420
51
201588
210667
70
Christopher Davies
T Dogg's Ball Hoggs
888
33
756
207973
40
235923
211345
71
Daniel Haviland
Warriors
878
58
878
130690
37
242051
214740
72
Mohamed Hussein
Why Always Me FC
877
32
823
172737
45
222706
215056
73
James Blundell
Blundells boys
872
34
720
219083
55
184343
216620
74
Jamie Sadur
Skid Mark
858
26
888
122409
43
228477
220856
74
Michael Sinfield
FC Scorgasm
858
32
858
146889
53
193320
220856
76
John Hawkins
Mmmmcustard
856
29
726
217522
49
209207
221452
77
James Roberts
WOOPWOOP United
846
30
822
173384
31
250146
224250
78
Daniel Guy
Dans witwickys
844
33
844
157739
36
243737
224792
79
Daniel Watson
SirBobWouldBeProud
830
39
803
185540
39
238108
228480
80
Jack Hopwood
FC Kaiser
829
31
826
170695
37
242051
228722
81
Christian Adofo
The Mandem
823
18
823
172737
52
197515
230158
82
Richard Gilbert
Queefstars
818
36
818
176069
39
238108
231281
83
Nick Randles
Quallo
813
8
813
179338
37
242051
232365
84
Steve French
French FC
810
40
810
181219
37
242051
233021
85
Nick Reid
OnOne United
801
12
801
186726
38
240122
234931
86
Maxwell Hughes
maxibon united
799
15
797
189005
41
233585
235314
87
Alex Crawshaw
Crawshaw's Commies
792
24
825
171402
46
219586
236612
87
Dave Bunker
Team Bunker
792
29
682
226411
48
212793
236612
89
Josh Watkins
bluesbrother
790
51
790
192713
33
247924
236994
90
Mark Guy
butchys tanks
761
27
743
212501
43
228477
241824
91
Theodore Morgan
DangALangTime
752
18
752
209473
46
219586
243089
92
Nestor Schischka
The Winning One
749
28
650
230229
28
252851
243465
93
James Tootill
BigDonFC
745
37
776
199534
24
255395
243923
94
Wes Holden
Green FC
728
13
728
216966
32
249083
245812
95
Tomn Pitts
Gareth Keenan Troops
722
9
722
218592
32
249083
246473
96
Nick Bourne
Greenham Royals
716
4
716
220030
37
242051
247083
97
Craig Abbs
Team abber
700
24
700
223461
31
250146
248458
98
David Armitage
Real Betties
679
28
679
226864
37
242051
250004
99
Matthew Hurley
12fort
637
18
637
231401
41
233585
252286
100
Tyler Casey
50 Shades Of Goals
631
34
636
231480
21
256710
252537