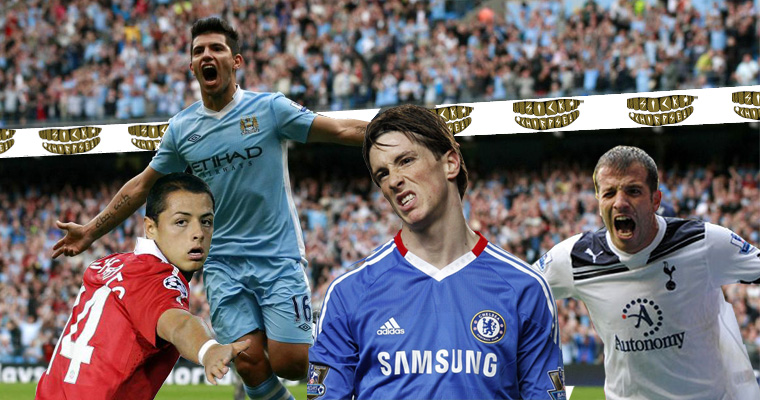 Week 26 is over and there were a couple of turn up for the books, especially in the Sick Chirpse Fantasy Football League – as top of the pile Shane Tremlin's Trem's Trash had an absolute stinker and have given the rest of the league some hope. They only managed a piddly 36 points which was well below the average for the league. Second highest score of the week went the way of Ryan Addams' Fish Fillet who racked up 66 points just behind Peter Jones' Joner who hit 72 to take them into the top 5 only 42 points off the lead. Special mention also going to Huw E's Dynamo Kebab who grabbed 64 points to take him top of the monthly points and into 3rd, with Tom Shipley's Apocalypse Dudes scoring 65 to take them into second only 15 points off the top. It's all opened up.
Here are the scores for last week's games:
Sat 9 Feb 2013 – Premier League
Sun 10 Feb 2013 – Premier League
Mon 11 Feb 2013 – Premier League
Spurs and more importantly Gareth Bale did just what the boys at Sick Chirpse predicted in the week 25 round up and saw Newcastle off despite letting a goal in themselves. Chelsea see off Wigan after playing it a bit dodgier than the 7-0 we thought would happen. Fulham managed to stop Norwich getting the win we thought they'd bag. Stoke Reading wasn't a bad game but Stoke just about edged it. We said Arsenal would be 1-2 to the Gooners but the Jenkinson sending off had a serious effect on that game so it remained 0-1. Swansea did indeed beat the Julio Cesar wall of man and Sick Chirpse Man Of The Year Michu did indeed pick up the plaudits. Danny Graham was not missed. At all. The Saints did indeed go ahead but the revival of Man City didn't get going as Gareth Barry and Joe Hart's collective asshole dropped out. Villa win at home in a huge game that I don't think anyone saw coming. Utd see off Everton as was expected. We were half right with the Liverpool game as we said Lukaku would bang another goal in, but we also expected a Luis Suarez masterclass and I'm afraid that despite 20 shots from Liverpool the big fat 0 next to their name would suggest otherwise.
BIG HITTERS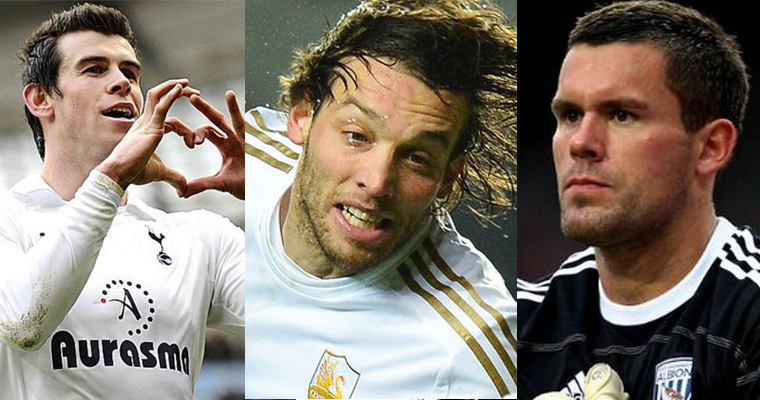 As predicted Garethe Bale had an absolute worldy on the weekend and pretty much singlehandedly put Spurs into that top four spot for another week. Two goals (and ten in the last twelve games) from the young Welshman and a sterling performance have seen him rack up 12 points to make him the second highest scoring player in the Fantasy League. On his day he is unplayable and that was the case on this weekend as amongst other things he had more shots than any other player in the Prem this weekend (seven).
Ben Foster could have been in the big hitters just for saving a Steven Gerrard penalty to help cement how much better Frank Lampard is in everyone's mind – however – he is in the big hitters this week for several things he did at Anfield on Monday. He kept the Baggies in the game on a number of occasions and his superb penalty save ended up being the catalyst for the Baggies revival and eventual 2-0 win. With seven saves including a penalty the man who learned his trade at Man Utd managed to notch up 11 points as well as silence Anfield which is worth 50 points by itself.
[yframe url='http://www.youtube.com/watch?v=48lIsw4yrVo']
Last but by absolutely no means least was our man Michu with another worldly display. If you don't have him in your team you're an idiot – it's as simple as that. Ok, so he hasn't scored in 6 games before this but let's be honest you just can't afford to take him out when he comes back with 2 goals and an assist and a 15 point haul in one week. 3.3 million in the midfield category makes Michu still the best value money of any player in the fantasy league as he is looking at 40.6 points per mil. Hero.
BIG SHITTER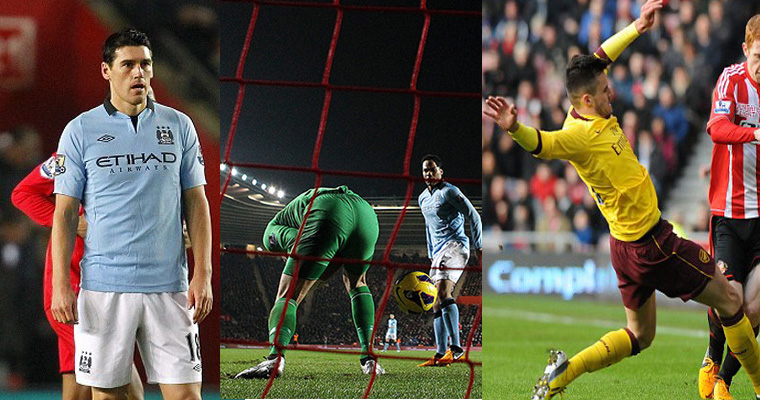 Gareth Barry. An absolute joke. His mistake pretty much cost Manchester City the title this weekend. Sorry if you're an Aston Villa fan and still love him – but in all fairness you've got more things to worry about than some fat idiot taking the piss out of some bloke who used to play for you – Barry is crap. He lost the ball for the Saints first goal and then did what can only be described as the worst own goal since Frank Sinclair used to grace the Premiership with his own brand of garbage – check out Barry below:
[yframe url='http://www.youtube.com/watch?v=1lRjVyrhB00′]
Joe Hart was the other thorn in the side of the blue side of Manchester this weekend as he decided that instead of catching the ball that he would let his asshole drop out and try and lay an egg in the middle of St Mary's (please see above). You have to expect more from a keeper whose name is being mentioned in the same breath as Seaman, Banks and Shilton when he is currently looking more like Walker, Flowers and Green. This most recent of screw-ups is leaving every England fan and certainly Man City fans quaking in their boots – not to mention that he is the highest priced keeper on the fantasy league so shouldn't be absolute shit.
[yframe url='http://www.youtube.com/watch?v=ejhoYEpGezc']
I feel bad for Jenkinson to be honest. He likes a tackle and fancied putting in some horrible boots on a couple of opposition players. We've all been there. He probably shouldn't be in the big shitters but he did only manage a point on the weekend despite a clean sheet and that isn't great.
Here's the fixtures as they look this weekend – remember it's FA Cup and that counts in your points boys and girls:
Saturday 16th February – FA Cup Fifth Round
LutonVS Millwall
Arsenal VS Blackburn
MK Dons VS Barnsley
Oldham VS Everton
Sunday 17th February FA Cup Fifth Round
Man City VS Leeds United
Huddersfield/Leicester VS Wigan
Sunday 17th February FA Cup Fourth Round Replay
Monday 18th February FA Cup Fifth Round
Sun 17 Feb 2013 – Premier League
Liverpool v Swansea 15:00
Arsenal will score goals a plenty at home to Rovers putting themselves into the next round nicely, Jordan Rhodes will bag a cheeky one though. MK Dons will play out a tough game against Barnsley who will come out on top. Oldham will battle hard but a full strength Everton team and a Leighton Baines set piece will set the teams apart. Man City will return to form and bang a couple past leads who will get a goal back but not match them. Wigan will struggle away to Hudds/Leic and might have to settle for a replay on home soil. Chelsea will finally do away with Brentford or Chelsea will have to do away with Rafa. An under strength Utd team will struggle to get going against Reading who will lead at first only to be beaten down by the Utd first teamers. The only Prem game of the weekend will see Michu continue his regained form and Suarez trying to match him. Solid Draw.
Here's the league as it looks ladies and gents. Enjoy:
Super League Table
Sick Chirpse
League PIN: 8009937
POS
Manager
Team name
Total points
Week pts
Starting
XI pts
Starting
XI pos
Goals
Goal Pos
Overall Position
1
Shane Tremlin
Trems Trash
1169
36
892
91604
71
81099
19448
2
Tom Shipley
Apocalypse Dudes
1154
65
992
23929
83
18575
26133
3
Huw E
Dynamo Kebab
1147
64
856
123151
73
68474
29681
4
AlexanderMark Jones
Dunblane Massacres
1146
57
850
128363
85
12852
30184
5
Peter Jones
Joner
1127
72
890
93302
72
74540
41526
5
Tom Sands
Prison Break FC
1127
57
883
99479
82
22065
41526
7
Johnny Callow
Room 362
1095
59
918
69986
71
81099
64633
8
Ryan Williams
Dirty Buffalo
1080
63
891
92445
67
106792
76376
9
Huw Barker
HavantGotAClueVille
1076
30
1083
3080
75
56301
79560
10
Drew Walsh
Real SocieLAD
1073
43
974
32528
67
106792
82060
11
Nicky Greenhow
Boomerwanger
1071
64
761
193046
68
100446
83644
12
Emma Craig
The Only Way Is Emma
1064
52
856
123151
63
131651
89245
13
Gavin Rapaport
Poo
1060
65
897
87428
73
68474
92628
14
Lee Walsh
KeansaKunt
1058
49
800
168538
75
56301
94274
15
Matthew Stewart
FC Boosh
1054
68
881
101270
71
81099
97583
15
David Williams
Muffin stuffers
1054
56
1021
13652
73
68474
97583
17
Billy Mclean
Barcemoaner
1043
50
848
130095
74
62353
106468
18
Alex Prince
Prince Boatengs
1029
59
909
77320
72
74540
117581
18
Jeff Ingle
Jeffentus
1029
55
675
223484
69
93921
117581
20
Robbie Atkinson
diables Rouges
1026
49
708
215145
67
106792
119877
21
Trevor Brenson
RJBs XI
1019
32
1019
14226
58
160270
125232
22
Luke Skidmore
bunchofslugs
1014
48
870
110914
69
93921
128934
23
Dave Ward
Pimp My Side
1008
52
904
81503
64
125759
133360
24
Dan Filer
ClubTropicanaDrinkFC
1005
42
978
30457
62
137560
135500
25
Ross Stearny
stearnpots barmyarmy
1003
48
885
97692
61
143323
136945
26
Bobby Peliza
bObbyDazzlers
1001
38
846
131808
60
149123
138296
27
Terry Buckingham
Real Madras
1000
52
852
126605
70
87442
139070
28
Anthony Ford
4 Dimensions
998
54
776
184361
57
165674
140449
29
Alex Taylor
leave-my-arse-a-lona
994
46
755
196198
72
74540
143204
30
Nikul Patani
Brown Bear United
992
46
992
23929
68
100446
144550
31
Ryan Addams
Fish fillet
991
66
669
224569
62
137560
145263
32
Redwan Elharrak
Real Talk
989
21
989
25277
54
180505
146609
32
Jon McLeish
Bayern Bru
989
43
893
90767
58
160270
146609
34
James Martin
Tourist Attraction
988
47
988
25735
66
113144
147296
35
David Hewitt
football
986
48
866
114375
59
154724
148571
36
Blake Walton
Walton Wonders
985
53
918
69986
58
160270
149217
37
Shaun Williams
The Galacticos
983
26
973
33054
55
175677
150569
38
Max Sheppard
Fred West Ham
982
58
822
151640
64
125759
151202
39
Aaron Hicks
Proud's Prodders
967
51
789
176255
58
160270
160478
40
Ross Williams
Tepee Town FC
961
39
912
74809
57
165674
164121
41
Tim Williams
TIMW_BRAP KILLAS
959
36
798
169990
65
119485
165324
41
Michael Magee
Mickey T FC
959
24
987
26161
60
149123
165324
43
Martyn Aeissame
Gratuitous FC
958
55
786
178268
56
170738
165934
43
Neil Williams
Lumpers and Kickers
958
31
846
131808
59
154724
165934
45
Ben Lawson
spunkin FC
952
39
917
70792
55
175677
169367
45
Louis Day
Spews Stars
952
33
952
45336
56
170738
169367
47
Mark Endicott
Real Madreadfull
948
54
707
215454
59
154724
171515
48
Ben Rowland
Atheist FC
934
41
795
172083
62
137560
178788
49
John Twinn
Pav FC
932
49
821
152477
58
160270
179807
50
Sam Lister
inter thevan
928
43
841
136170
59
154724
181785
51
William Rowe
Keefy's Krunchers
919
26
877
104755
69
93921
186072
52
Sam MartinRoss
Martin-Boss
917
35
579
233637
59
154724
187045
53
Luke Wyborn
The Wombles
916
51
707
215454
58
160270
187516
54
Richard Dulieu
Dyslexic CF
915
27
915
72426
50
198246
187998
55
Toby Dennett
Dennethinaikos
911
45
913
74039
44
220195
189816
56
Elliott Henderson
Barsenal
904
29
797
170659
48
206214
192949
57
Ashley Townsend
1 MANNING 1 CUP
902
43
585
233347
49
202280
193863
58
Daniel Ostridge
Ajax Treesdown
899
35
896
88236
48
206214
195215
59
Piers Dixon
Dixon Balls FC
896
55
875
106494
46
213481
196457
60
Patrick Grayson
real aycliffe
895
21
895
89079
56
170738
196873
61
smart les
lemon peng-win
894
30
894
89919
51
194072
197297
61
Danny Sharpe
Team Sharpey
894
30
894
89919
56
170738
197297
63
Dean Webster
Blues
890
34
821
152477
46
213481
198940
64
Matt Morris
Morris FC
887
37
887
95920
58
160270
200200
65
John Ryan
Obi – 1 Kanobi – 0
883
33
883
99479
59
154724
201799
65
Thomas Foley
Unbelievable Crisps
883
50
806
164124
51
194072
201799
67
Luke Henderson
Luke Ronald FC
871
36
786
178268
50
198246
206486
68
Christopher Davies
T Dogg's Ball Hoggs
855
33
739
203811
39
234194
212196
69
Charlie Hey
tiki taka jazz cats
852
14
852
126605
50
198246
213226
70
Anthony Ward
Park Ji Wonders
850
39
762
192511
49
202280
213961
71
Mohamed Hussein
Why Always Me FC
845
27
784
179555
42
226281
215612
72
James Blundell
Blundells boys
838
32
689
220378
53
185149
217938
73
Jamie Sadur
Skid Mark
832
24
860
119661
41
229079
219811
74
John Hawkins
Mmmmcustard
827
67
713
213538
49
202280
221291
75
Michael Sinfield
FC Scorgasm
826
29
826
148420
51
194072
221566
76
Daniel Haviland
Warriors
820
31
820
153290
34
244260
223252
77
James Roberts
WOOPWOOP United
816
25
783
180174
29
250547
224365
78
Daniel Guy
Dans witwickys
811
20
811
160298
34
244260
225760
79
Nick Randles
Quallo
805
13
805
164890
37
238636
227377
79
Christian Adofo
The Mandem
805
34
805
164890
50
198246
227377
81
Jack Hopwood
FC Kaiser
798
43
795
172083
37
238636
229240
82
Daniel Watson
SirBobWouldBeProud
791
19
762
192511
36
240659
230932
83
Nick Reid
OnOne United
789
23
789
176255
38
236493
231399
84
Maxwell Hughes
maxibon united
784
31
791
174892
40
231756
232550
85
Richard Gilbert
Queefstars
782
31
782
180803
36
240659
232976
86
Steve French
French FC
770
21
770
187920
34
244260
235423
87
Alex Crawshaw
Crawshaw's Commies
768
28
804
165560
45
216933
235833
88
Dave Bunker
Team Bunker
763
33
654
226989
46
213481
236833
89
Josh Watkins
bluesbrother
739
29
739
203811
30
249548
240952
90
Theodore Morgan
DangALangTime
734
26
734
205951
44
220195
241689
90
Mark Guy
butchys tanks
734
38
725
209465
41
229079
241689
92
Nestor Schischka
The Winning One
721
16
633
229657
27
252408
243476
93
Wes Holden
Green FC
715
16
715
212899
31
248373
244285
94
Tomn Pitts
Gareth Keenan Troops
713
21
713
213538
31
248373
244521
95
Nick Bourne
Greenham Royals
712
29
712
213887
37
238636
244656
96
James Tootill
BigDonFC
708
15
741
202904
22
255689
245118
97
Craig Abbs
Team abber
676
16
676
223267
30
249548
248297
98
David Armitage
Real Betties
651
11
651
227398
34
244260
250144
99
Matthew Hurley
12fort
619
11
619
230980
39
234194
252004
100
Tyler Casey
50 Shades Of Goals
597
10
602
232346
18
257289
252959