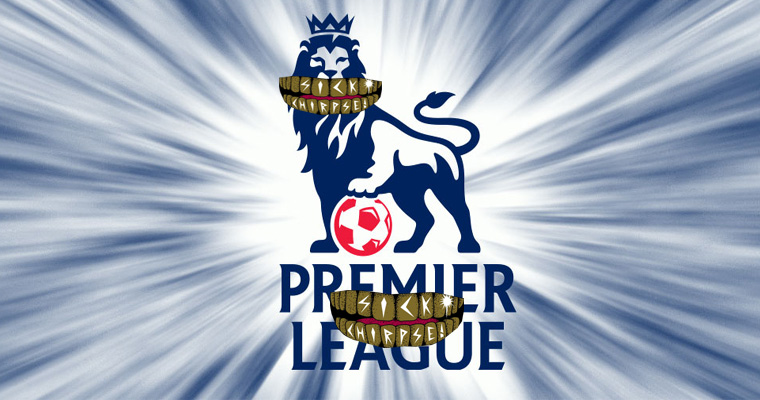 Week 25 didn't see many shocks in the old Sick Chirpse Fantasy League as the big score of the week went to now 4th placed Huw E's Dynamo Kebab who is now the front runner for this month's Manager Of The Month.  Other pretty good scores went to 48th placed Born-Again Mormon Ben Rowland and his Athiest FC and possible Blackburn Fan Lee Walsh and his Keansakunt who banged in a swift 84 to take him within touching distance of the top ten. A special if not slightly sarcastic dig must go towards Matthew Hurley's 12fort who have managed to pry themselves from the wooden spoon position for the first time in 23 weeks as Tyler Casey and his shithouse 50 Shades Of Goals stumble to the bottom.  If you wanna know how bad your team has to be to sink to the bottom – here is a little sample of the shower of shit Tyler thought might make a challenge for the title: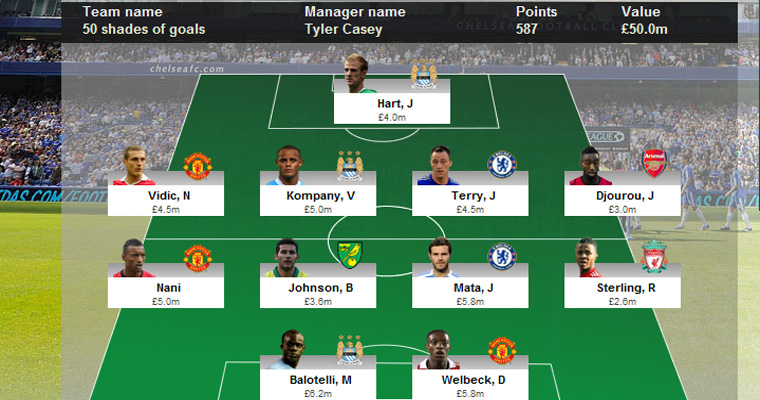 Shit right? Yeah. What a nonse.
Anyway, here are the results from Week 25:
Tue 29 Jan 2013 – Premier League
Wed 30 Jan 2013 – Premier League
Sat 2 Feb 2013 – Premier League
Sun 3 Feb 2013 – Premier League
The big shocks of the week came from QPR and Reading who did their best to put the shit up the rest of the garbage circulating around the relegation area. Julio Cesar proved that he may not have been that mental joining QPR as they held both Premier League Champion's Manchester City and Norwich to two goalless draws – with Cesar taking the plaudits for some fantastic goalkeeping displays. Reading came back in injury time once again courtesy of Big ALF as he netted two after coming off the bench – Le Fondre having now scored 11 in 14 games for the Royals. No other huge results stick out from the midweek or weekend fixtures except Chelsea being dogshit and Rafa being on his last legs surely – bring back Gus Poyet and Franco Zola – and Villa managing to put a cheeky three goals into the Toffees net away from home – typical Bentekkers.
BIG HITTERS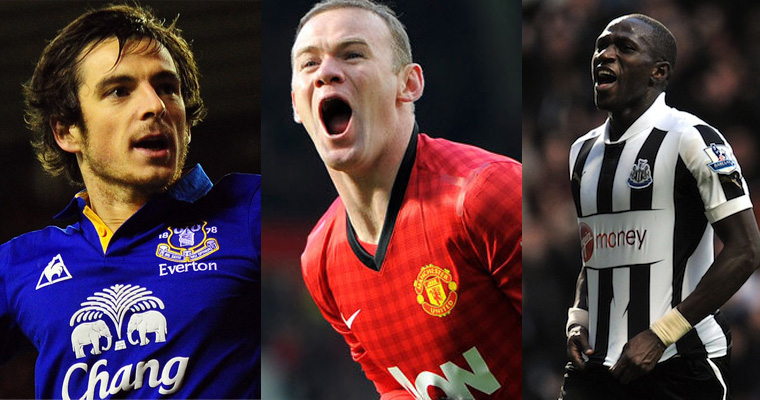 "Leighton Baines, I bet you think this song is about you, Leighton Baines, I bet you think this song is about you. Don't you! Don't you!" (To the tune of You're So Vain). As if Ashley Cole wasn't doing his damn hardest to get his 100th International cap tonight against Brazil, young Baines is still trying his best to win only his 17th cap for his country and one way of doing this is by getting a cheeky brace from left back for your club. Leighton clocked up a lovely little 12 points in the midweek game with two goals but failed to stop Villa knock three past the Toffees on Saturday despite grabbing a key contribution – 15 points for the week secures him as the highest scoring defender in the world of fantasy football at this moment in time.
Sometimes he's bruttish, other times he's angry but you can guarantee he is always gonna be ugly (and banging a granny in his spare time). It's been a mixed bag this year for England's talisman, but he looks to be coming out the other side as he's had the highest scoring week out of everyone in the fantasy football. With the only goal of the Fulham game to add to the two he hit past Southampton in midweek he secured 18 points and two victories for his club. He was denied a stone wall penalty in the first half against Fulham but he picked himself up and won the game for the reds to bring him to over ten goals in each of the past 9 Premiership seasons.
The final big hitter of the week is none other than Alan Pardew's new 1.8 million signing, Frenchman Moussa Sissoko. Sissoko was the real difference between the sides as he burned past the excellent Ashley Cole on several occasions, had more shots from open play than any other player on the weekend and scored two great goals to add to his assist in the week – 17 points in your f irst two games, not too shabby.
BIG SHITTER
[yframe url='https://www.youtube.com/watch?v=574AZBSvsIU']
"Prince Demba, Prince Demba, ridicule is nothing to be scared of."  Yeah, OK, he didn't have a bad game – and in fact he even tried to play on after Colloccini kicked him square on the snoz but the facts of the matter are that he looked like an utter wasteman after taking the kick and we just had to post these photos. He started Wednesday away at Reading warming the bench for the intolerable (Can You Hear The Drums) Fernando and things got a lot worst when he was welcomed back into the fold on Saturday away at St James Park thanks to the Argentinian tasked with marking him. After making his way through the Geordie defence and attempting to head in the rebound of his own shot Coloccini kicked him square in the snozzer (check the video out above). He still managed to bag 3 points for the week but screwed over everyone who stuck him in thinking he was the answer to their mid table fantasy football worries.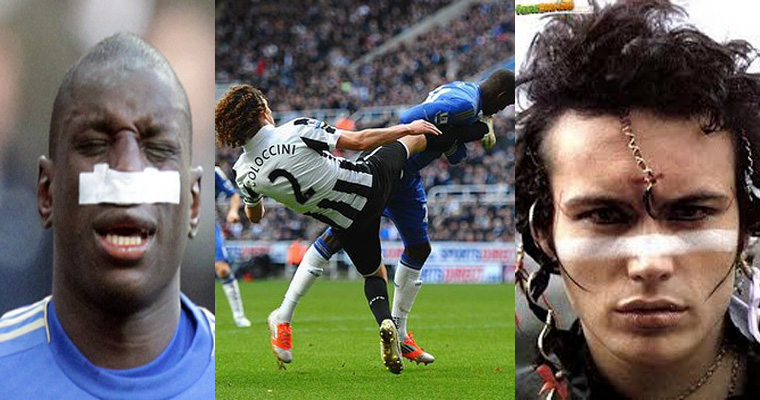 Here's whats coming up this weekend after the undoubted smashing England will be getting at the hands of Brazil:
Sat 9 Feb 2013 – Premier League
Tottenham

v

Newcastle

12:45

Chelsea

v

Wigan

15:00

Norwich

v

Fulham

15:00

Stoke

v

Reading

15:00

Sunderland

v

Arsenal

15:00

Swansea

v

QPR

15:00

Southampton

v

Man City

17:30
Sun 10 Feb 2013 – Premier League
Aston Villa

v

West Ham

13:30

Man Utd

v

Everton

16:00
Mon 11 Feb 2013 – Premier League
Liverpool

v

West Brom

20:00
Spurs will struggle at home to free scoring Newcastle but goals from Bale and a worldy from Lennon should see them off just about. Spurs win. Chelsea will be looking forward to playing Wigan as they manage to now and again smash 7 goals past them and Rafa could do that to avoid the sack. Chelsea big win. Norwich just about beat Fulham at home to try and claw their way out of the depths of the league. Stoke and Reading play out a horrific game. Draw. Sunderland cannot contain Theo Walcott on the back of his midweek heroics for England 1-2 to Arsenal. Swansea finally break Julio Cesar's will and Michu takes the plaudits – no one misses Danny Graham cos he's shit. Saints go ahead against Man City before the Sergio Aguero show kicks in and they take a pasting. Villa and West Ham play out a claret and blue filled affair but Bentekkers has an off day and Hammers struggle to an unlikely away win. Utd beat Everton but Fellaini gives Vidic some serious trouble. Liverpool put West Brom to bed courtesy of a Luis Suarez masterclass, Lukaku proves that he would be better off replacing Torres as he bangs another goal in.
Here's how the Sick Chirpse Fantasy League is looking you beauties, enjoy:
Sick Chirpse
League PIN: 8009937
POS
Manager
Team name
Total points
Week pts
Starting
XI pts
Starting
XI pos
Goals
Goal Pos
Overall Position
1
Shane Tremlin
Trems Trash
1133
78
857
98456
68
72453
14149
2
AlexanderMark Jones
Dunblane Massacres
1089
71
826
126672
81
10845
34120
2
Tom Shipley
Apocalypse Dudes
1089
79
946
30916
77
23000
34120
4
Huw E
Dynamo Kebab
1083
91
835
118465
65
93201
37822
5
Tom Sands
Prison Break FC
1070
71
852
103083
76
27063
46456
6
Peter Jones
Joner
1055
59
853
102143
66
86235
57679
7
Huw Barker
HavantGotAClueVille
1046
70
1049
2770
73
41818
64852
8
Johnny Callow
Room 362
1036
71
886
72922
65
93201
72973
9
Drew Walsh
Real SocieLAD
1030
76
935
37128
63
107164
77949
10
Ryan Williams
Dirty Buffalo
1017
74
864
92169
62
114214
88985
11
Emma Craig
The Only Way Is Emma
1012
60
832
121247
59
134326
93279
12
Lee Walsh
KeansaKunt
1009
84
770
172779
71
53393
95862
13
Nicky Greenhow
Boomerwanger
1007
77
725
199900
62
114214
97590
14
David Williams
Muffin stuffers
998
50
990
12946
69
65933
105328
15
Gavin Rapaport
Poo
995
78
872
85006
66
86235
107885
16
Billy Mclean
Barcemoaner
993
69
829
123986
70
59587
109588
17
Trevor Brenson
RJBs XI
987
65
987
13848
56
153370
114719
18
Matthew Stewart
FC Boosh
986
67
848
106711
63
107164
115580
19
Robbie Atkinson
diables Rouges
977
70
678
217662
63
107164
122926
20
Jeff Ingle
Jeffentus
974
74
657
222864
65
93201
125333
21
Alex Prince
Prince Boatengs
970
57
869
87625
67
79294
128574
22
Redwan Elharrak
Real Talk
968
82
968
20538
53
171359
130249
23
Luke Skidmore
bunchofslugs
966
75
842
112036
66
86235
131830
24
Bobby Peliza
bObbyDazzlers
963
51
822
130264
56
153370
134215
24
Dan Filer
ClubTropicanaDrinkFC
963
71
955
26318
58
140755
134215
26
Shaun Williams
The Galacticos
957
64
945
31474
53
171359
138931
27
Dave Ward
Pimp My Side
956
56
873
84152
60
127890
139679
28
Ross Stearny
stearnpots barmyarmy
955
63
859
96661
58
140755
140434
29
Terry Buckingham
Real Madras
948
64
836
117520
66
86235
145687
29
Alex Taylor
leave-my-arse-a-lona
948
70
728
198401
68
72453
145687
31
Jon McLeish
Bayern Bru
946
46
852
103083
53
171359
147123
31
Nikul Patani
Brown Bear United
946
75
946
30916
64
100217
147123
33
Anthony Ford
4 Dimensions
944
57
764
176999
52
176837
148583
34
James Martin
Tourist Attraction
941
79
941
33642
61
121095
150679
35
David Hewitt
football
938
79
845
109391
55
159556
152760
36
Michael Magee
Mickey T FC
935
54
952
27851
59
134326
154763
37
Blake Walton
Walton Wonders
932
75
895
65416
54
165597
156834
38
Neil Williams
Lumpers and Kickers
927
37
827
125784
57
147027
160206
39
Ryan Addams
Fish fillet
925
68
652
223907
56
153370
161473
40
Max Sheppard
Fred West Ham
924
63
808
142545
58
140755
162099
41
Tim Williams
TIMW_BRAP KILLAS
923
62
777
167602
61
121095
162723
42
Ross Williams
Tepee Town FC
922
44
880
77984
54
165597
163364
43
Louis Day
Spews Stars
919
55
919
47566
54
165597
165337
44
Aaron Hicks
Proud's Prodders
916
79
768
174178
52
176837
167265
45
Ben Lawson
spunkin FC
913
67
899
62234
52
176837
169122
46
Martyn Aeissame
Gratuitous FC
903
47
752
184776
52
176837
175121
47
Mark Endicott
Real Madreadfull
894
32
677
217959
54
165597
180139
48
Ben Rowland
Atheist FC
893
85
759
180338
60
127890
180698
48
William Rowe
Keefy's Krunchers
893
56
852
103083
66
86235
180698
50
Richard Dulieu
Dyslexic CF
888
63
888
71226
49
192078
183291
51
Sam Lister
inter thevan
885
35
829
123986
55
159556
184830
52
John Twinn
Pav FC
883
77
796
152542
54
165597
185904
53
Sam MartinRoss
Martin-Boss
882
59
567
233336
56
153370
186423
54
Elliott Henderson
Barsenal
875
56
770
172779
46
205633
189974
55
Patrick Grayson
real aycliffe
874
81
874
83235
55
159556
190505
56
Toby Dennett
Dennethinaikos
866
54
874
83235
40
227319
194336
57
Luke Wyborn
The Wombles
865
71
676
218230
53
171359
194783
58
smart les
lemon peng-win
864
45
864
92169
50
187119
195264
58
Daniel Ostridge
Ajax Treesdown
864
49
870
86801
46
205633
195264
58
Danny Sharpe
Team Sharpey
864
56
864
92169
55
159556
195264
61
Ashley Townsend
1 MANNING 1 CUP
859
33
576
232790
45
209738
197595
62
Dean Webster
Blues
856
63
803
146726
44
213638
198980
63
Matt Morris
Morris FC
850
70
850
104903
55
159556
201664
63
John Ryan
Obi – 1 Kanobi – 0
850
61
850
104903
58
140755
201664
65
Piers Dixon
Dixon Balls FC
841
39
861
94843
41
224198
205403
66
Charlie Hey
tiki taka jazz cats
838
45
838
115720
50
187119
206643
67
Luke Henderson
Luke Ronald FC
835
66
760
179687
47
201271
207815
68
Thomas Foley
Unbelievable Crisps
833
30
794
154227
47
201271
208622
69
Christopher Davies
T Dogg's Ball Hoggs
822
54
716
204051
38
232991
212738
70
Mohamed Hussein
Why Always Me FC
818
43
770
172779
40
227319
214227
71
Anthony Ward
Park Ji Wonders
811
38
734
195226
46
205633
216724
72
Jamie Sadur
Skid Mark
808
61
836
117520
39
230285
217774
73
James Blundell
Blundells boys
806
36
666
220857
51
182105
218452
74
Michael Sinfield
FC Scorgasm
797
55
797
151729
50
187119
221343
75
Nick Randles
Quallo
792
58
792
155835
37
235521
222908
76
Daniel Guy
Dans witwickys
791
62
791
156655
33
243870
223202
76
James Roberts
WOOPWOOP United
791
38
770
172779
28
250513
223202
78
Daniel Haviland
Warriors
789
37
789
158282
33
243870
223793
79
Daniel Watson
SirBobWouldBeProud
772
39
749
186698
35
240047
228522
80
Christian Adofo
The Mandem
771
81
771
172046
47
201271
228769
81
Nick Reid
OnOne United
766
48
766
175575
38
232991
230062
82
John Hawkins
Mmmmcustard
760
39
681
216821
44
213638
231573
83
Jack Hopwood
FC Kaiser
755
54
762
178368
34
242068
232740
84
Maxwell Hughes
maxibon united
753
51
761
178969
37
235521
233212
85
Richard Gilbert
Queefstars
751
51
751
185400
34
242068
233663
86
Steve French
French FC
749
64
749
186698
34
242068
234097
87
Alex Crawshaw
Crawshaw's Commies
740
25
773
170567
43
217392
236002
88
Dave Bunker
Team Bunker
730
39
635
226753
43
217392
238004
89
Josh Watkins
bluesbrother
710
38
710
206685
30
248279
241332
90
Theodore Morgan
DangALangTime
708
42
708
207511
41
224198
241630
91
Nestor Schischka
The Winning One
705
30
618
229067
26
252345
242092
92
Wes Holden
Green FC
699
43
699
210998
30
248279
242943
93
Mark Guy
butchys tanks
696
47
697
211699
38
232991
243375
94
James Tootill
BigDonFC
693
31
721
201851
22
255100
243770
95
Tomn Pitts
Gareth Keenan Troops
692
55
692
213307
31
246967
243893
96
Nick Bourne
Greenham Royals
683
74
683
216230
35
240047
245018
97
Craig Abbs
Team abber
660
39
660
222227
30
248279
247498
98
David Armitage
Real Betties
640
34
640
225994
34
242068
249119
99
Matthew Hurley
12fort
608
60
608
230184
39
230285
251219
100
Tyler Casey
50 Shades Of Goals
587
34
592
231633
18
256793
252316