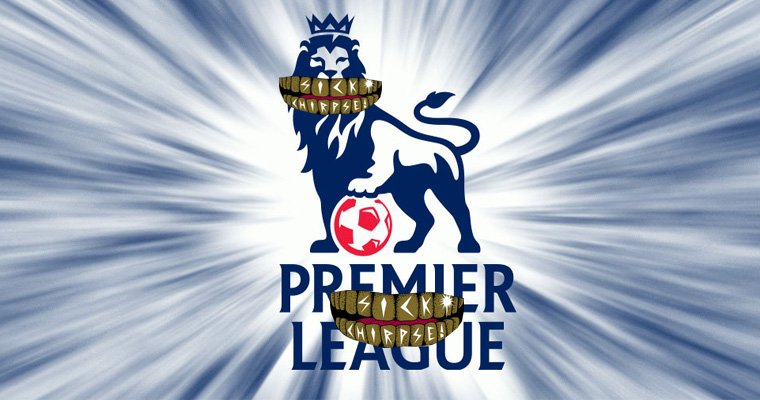 Week 16 has seen a couple of teams begin to make a charge on the top 5/10 respectively, however, it seems as if Week 17 the big points were scored all over the park. I think it's pretty easy to separate those who had a good week from those who didn't and the difference is named Santi Cazorla. Rich Dulieu's Dyslexic CF rolled up to 23rd with a cheeky 57 points, with Alex Taylor's Leave-My-Arse-A-Lona hitting a solid 60 points to take them up to 43rd – however – down in 73rd but apparently not out is Luke Wyborn's The Wombles who hit a mighty 62 points to make him the manager of the week. If he has another week like this he might even break into the top fifty and you never know with the Christmas period coming up as points come thick and fast.
No huge suprises this week as Newcastle knock a cheeky goal past the big shitter of last week Joe Hart – however Man City do run riot and look good money to stick another 3 past Reading at the Etihad this weekend. Liverpool manage to lose at home again even though they were 1/3 to win it – ironic as they lost by that same scoreline thanks to Bentekkers. Man Utd did indeed silence Sunderland's resurgence. Norwich pull off a well-fought win against Wigan. West Brom and West Ham play out a stinker of a 0-0 draw – DID NOT SEE THAT COMING. Michu doesn't score against Spurs – the world must be coming to and end. QPR finally win – which is mental but deserved thanks to a Taarabt masterclass. Everton fail to beat Stoke due partly to Fellaini trying to fvck Shawcross throughout the game.
Arsenal and Reading have another thriller and Walcott finally gets a game up-front and does all right. All round bag of shit for predictions then last week…
Here's the results from the weekend's football:
Sat 15 Dec 2012 – Premier League
Sun 16 Dec 2012 – Premier League
Mon 17 Dec 2012 – Premier League
BIG HITTERS: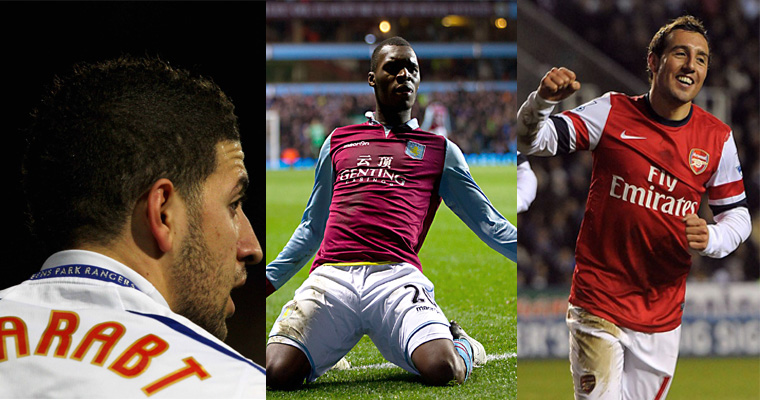 A couple of boys could've made the big hitter margin of today's article to be honest with 10 players making it into double figures with their points. The first pick of the bunch is Abel "Fruitcake" Taarabt – although the first of his two goals was certainly deflected in a huge way that should not take away from the fact that this boy did his best to steer QPR to their first victory of the season. He shone brightly in the Championship and has shown glimmers of that over the past two years but hasn't really lived up to his legend as the man who was nearly bought by PSG a year ago. With two goals and a well earned 11 points for his week's work I think that anyone who had him in their team will be as happy as old 'arry was. Important to note that next time QPR are in a London derby it might be worth popping him in as 5 out of his 6 Premiership goals have come in derby games.
Just when you thought Bentekkers couldn't get any better – the man keeping Darren "Goal Machine" Bent out of the team does it again – and this time convincingly away at Anfield. A game pegged as a sure-fire win for Brendan Roger's Liverpool was turned on its head with two goals and a beautiful back-heeled assist from the 22 year-old who notched up an impressive 14 points for the week – not bad for one of the lowest priced strikers out there.
Finally, another player battling for the title of buy of the season as Santi Carzola does it again – this time with three fine goals and an assist to boot. Instrumental in Arsenal's 5-2 thrashing of Reading on Monday night and recuer of many of the fantasy league teams this week with 20 points just for himself. With the next game being an early kick off away at Wigan the real question is will he be silenced again or will he add gravity to his all ready soaring acclaim.
BIG SHITTER: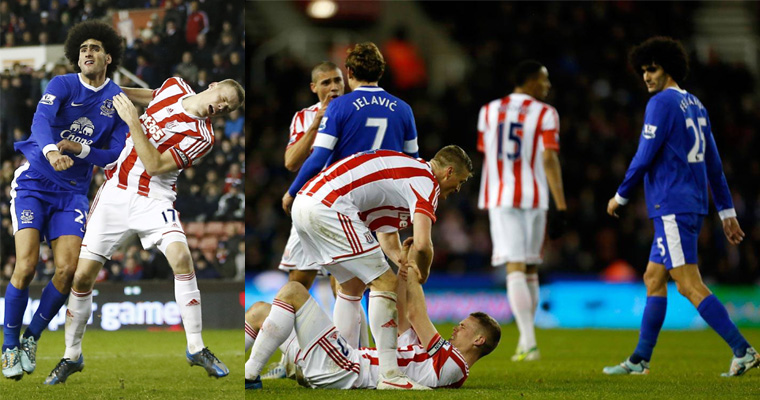 The saviour of so many fantasy league sides this year and the man apparently on Roman Abramovich's New Year wish-list to name one of the many admirers – however – this week he had a shitter. Although the majority of football fans out there enjoyed watching Shawcross get a bit of a pasting after the first elbow it became a bit much when Fellaini decided to also headbutt him and punch him in the face on some separate occasions. Even David Moyes came out afterwards and said he was mental. I only just put him in my side this week for Hazard and he's all ready been banned for 3 games starting this week – so if you got him in you might wanna send him packing until the New Year as he is guaranteed to miss the West Ham, Wigan and Chelsea games. If you didn't happen to catch the flying Belgian nutter in action here's a little clip of him doing what apparently he now does best (P.S. you gotta love the cheeky glance he gives to check the ref ain't looking):
[yframe url='https://www.youtube.com/watch?v=dtyQRmnA1IU']
Here's what's coming up this weekend:
Sat 22 Dec 2012 – Premier League
Wigan v Arsenal 12:45
Man City v Reading 15:00
Newcastle v QPR 15:00
Southampton v Sunderland 15:00
Tottenham v Stoke 15:00
West Brom v Norwich 15:00
West Ham v Everton 15:00
Liverpool v Fulham 17:30
Sun 23 Dec 2012 – Premier League
Swansea v Man Utd 13:30
Chelsea v Aston Villa 16:00
Arsenal have got to continue this run and do away with Wigan away but not by the same stretch as City do Reading at home – expect goals. Newcastle and QPR will battle it out and although Harry will have them in good spirits I can't see the Hoops defence keeping Ba at bay – draw. Saints will sneak a win courtesy of Rickie Lambert – cue Martin O'Neil cutting a disgruntled figure on the sideline. Spurs will not succumb to anti-football and win again with Bale back in the team. Norwich put an end to their winning run with a draw away at the Hawthorns. Everton try and try without Fellaini up there but have to settle for a point away at Upton Park thanks to Kevin Nolan scoring, again. Worst home team ever VS worst away team ever sees the Liverpool game end in a 0-0 draw – Suarez hits the post 16 times. Swansea come out fighting against Utd and take the lead only for RVP to switch it on – Utd win. Chelsea do their best to silence Bentekkers and the boys – just about trudging out a 2-1 win.
Here's the league as it stands then. Enjoy:
Sick Chirpse
League PIN: 8009937
POS
Manager
Team name
Total points
Week pts
Starting
XI pts
Starting
XI pos
Goals
Goal Pos
Overall Position
1
Tom Shipley
Apocalypse Dudes
716
45
599
20134
54
1604
6796
2
Tom Sands
Prison Break FC
698
46
574
38976
49
9083
12414
3
Shane Tremlin
Trems Trash
668
22
504
126223
36
105743
29674
4
AlexanderMark Jones
Dunblane Massacres
662
52
472
167383
45
25779
34459
5
Huw Barker
HavantGotAClueVille
660
37
673
1097
47
15926
36177
6
Huw E
Dynamo Kebab
656
50
516
109340
37
94879
39750
7
Luke Skidmore
bunchofslugs
653
28
532
87245
46
20427
42664
8
Gavin Rapaport
Poo
642
25
518
106532
40
64343
53845
9
Johnny Callow
Room 362
639
51
555
58520
37
94879
57160
10
Emma Craig
The Only Way Is Emma
635
38
540
76590
36
105743
61624
11
Alex Prince
Prince Boatengs
630
35
534
84511
43
38937
67303
12
Jeff Ingle
Jeffentus
622
36
404
219466
40
64343
76980
13
Dave Ward
Pimp My Side
620
30
550
64316
39
74113
79460
14
Terry Buckingham
Real Madras
617
49
512
114873
40
64343
83195
15
David Williams
Muffin stuffers
616
18
576
37159
39
74113
84408
16
Trevor Brenson
RJBs XI
609
37
609
14896
33
138069
93330
17
Drew Walsh
Real SocieLAD
604
43
549
65449
36
105743
99673
17
Nikul Patani
Brown Bear United
604
38
604
17372
43
38937
99673
19
Matthew Stewart
FC Boosh
600
18
501
130301
38
84336
104685
20
Ben Lawson
spunkin FC
599
40
542
74030
35
116590
105952
21
James Martin
Tourist Attraction
598
33
598
20706
36
105743
107221
21
Bobby Peliza
bObbyDazzlers
598
43
545
70278
37
94879
107221
23
Richard Dulieu
Dyslexic CF
597
57
597
21303
33
138069
108494
24
Anthony Ford
4 Dimensions
596
35
450
189695
35
116590
109705
25
Peter Jones
Joner
595
39
514
112087
35
116590
110949
26
Michael Magee
Mickey T FC
592
26
584
30514
35
116590
114792
27
Billy Mclean
Barcemoaner
589
49
467
172864
40
64343
118587
28
Mark Endicott
Real Madreadfull
588
20
458
182148
35
116590
119826
29
Ross Stearny
stearnpots barmyarmy
587
41
549
65449
31
159151
121100
30
Redwan Elharrak
Real Talk
583
53
583
31257
34
127356
126036
31
Ryan Williams
Dirty Buffalo
582
41
497
135750
33
138069
127234
32
Nicky Greenhow
Boomerwanger
581
30
412
215893
34
127356
128412
33
Neil Williams
Lumpers and Kickers
576
43
522
100922
35
116590
134499
34
Robbie Atkinson
diables Rouges
575
29
430
205626
35
116590
135718
35
Ross Williams
Tepee Town FC
571
45
594
23159
32
148645
140416
36
Ryan Addams
Fish fillet
569
25
420
211735
33
138069
142756
36
Jon McLeish
Bayern Bru
569
53
516
109340
30
169060
142756
38
Lee Walsh
KeansaKunt
565
24
400
221013
43
38937
147396
39
Dan Filer
ClubTropicanaDrinkFC
563
42
563
49698
31
159151
149672
40
Daniel Ostridge
Ajax Treesdown
562
51
571
41702
30
169060
150771
41
Blake Walton
Walton Wonders
561
24
587
28210
29
178694
151838
41
Thomas Foley
Unbelievable Crisps
561
29
513
113466
32
148645
151838
43
Alex Taylor
leave-my-arse-a-lona
559
60
450
189695
40
64343
154017
44
Louis Day
Spews Stars
556
57
556
57311
35
116590
157220
45
William Rowe
Keefy's Krunchers
552
20
524
98129
38
84336
161465
46
Ashley Townsend
1 MANNING 1 CUP
550
34
346
232705
34
127356
163587
46
Patrick Grayson
real aycliffe
550
41
550
64316
33
138069
163587
48
Martyn Aeissame
Gratuitous FC
548
19
453
186920
28
187731
165672
49
Ben Rowland
Atheist FC
546
29
470
169595
36
105743
167629
49
Tim Williams
TIMW_BRAP KILLAS
546
47
469
170691
36
105743
167629
51
smart les
lemon peng-win
545
28
545
70278
30
169060
168620
52
James Blundell
Blundells boys
543
28
464
176109
34
127356
170539
52
Sam MartinRoss
Martin-Boss
543
43
336
233599
37
94879
170539
54
Sam Lister
inter thevan
542
41
518
106532
32
148645
171548
55
Charlie Hey
tiki taka jazz cats
536
29
536
81774
33
138069
177505
56
Shaun Williams
The Galacticos
534
38
554
59636
25
211491
179368
57
Elliott Henderson
Barsenal
533
45
466
173891
28
187731
180290
58
David Hewitt
football
530
29
508
120572
29
178694
183038
59
John Twinn
Pav FC
527
34
500
131684
32
148645
185561
60
Piers Dixon
Dixon Balls FC
523
16
589
26667
24
217995
188923
61
Max Sheppard
Fred West Ham
522
43
465
174985
30
169060
189767
62
Nick Randles
Quallo
519
26
519
105162
20
237737
192251
63
Toby Dennett
Dennethinaikos
517
21
555
58520
20
237737
193839
63
John Ryan
Obi – 1 Kanobi – 0
517
37
517
107925
31
159151
193839
65
Christopher Davies
T Dogg's Ball Hoggs
514
17
435
202063
24
217995
196154
66
Anthony Ward
Park Ji Wonders
511
29
484
152810
28
187731
198327
67
Dean Webster
Blues
510
26
493
141053
26
204114
199050
68
Michael Sinfield
FC Scorgasm
509
34
509
119202
32
148645
199798
69
Mohamed Hussein
Why Always Me FC
506
34
474
165013
22
229179
202019
69
Danny Sharpe
Team Sharpey
506
45
506
123402
30
169060
202019
71
Aaron Hicks
Proud's Prodders
505
32
492
142336
25
211491
202748
72
Matt Morris
Morris FC
500
16
500
131684
27
196144
206133
73
Luke Wyborn
The Wombles
497
62
400
221013
29
178694
208089
74
James Roberts
WOOPWOOP United
483
27
491
143766
16
248550
216552
75
Jamie Sadur
Skid Mark
480
28
484
152810
24
217995
218169
76
Daniel Haviland
Warriors
478
33
478
160155
18
244073
219198
77
Luke Henderson
Luke Ronald FC
476
14
463
177184
26
204114
220185
77
Maxwell Hughes
maxibon united
476
35
492
142336
23
223916
220185
79
Alex Crawshaw
Crawshaw's Commies
474
19
466
173891
28
187731
221208
80
Daniel Guy
Dans witwickys
471
17
471
168500
19
241175
222693
81
Nick Reid
OnOne United
469
17
469
170691
23
223916
223608
81
Daniel Watson
SirBobWouldBeProud
469
17
430
205626
20
237737
223608
83
Richard Gilbert
Queefstars
464
33
464
176109
23
223916
225860
84
Christian Adofo
The Mandem
463
42
463
177184
28
187731
226285
85
John Hawkins
Mmmmcustard
452
14
443
195889
26
204114
230756
85
Nestor Schischka
The Winning One
452
23
425
208843
16
248550
230756
87
James Tootill
BigDonFC
450
32
424
209409
17
246501
231503
88
Dave Bunker
Team Bunker
449
24
336
233599
31
159151
231872
89
Jack Hopwood
FC Kaiser
441
23
464
176109
16
248550
234599
90
Wes Holden
Green FC
433
38
433
203491
19
241175
237093
91
Josh Watkins
bluesbrother
432
16
432
204244
19
241175
237408
92
David Armitage
Real Betties
430
34
430
205626
22
229179
237958
93
Craig Abbs
Team abber
429
25
429
206308
21
233777
238250
94
Steve French
French FC
427
29
427
207627
17
246501
238801
95
Tomn Pitts
Gareth Keenan Troops
426
41
426
208230
20
237737
239054
96
Theodore Morgan
DangALangTime
418
28
418
212868
24
217995
241039
97
Mark Guy
butchys tanks
403
15
406
218618
23
223916
244068
98
Tyler Casey
50 Shades Of Goals
375
6
375
228228
12
253410
248041
99
Nick Bourne
Greenham Royals
361
23
361
230735
17
246501
249453
100
Matthew Hurley
12fort
345
31
345
232799
22
229179
250705