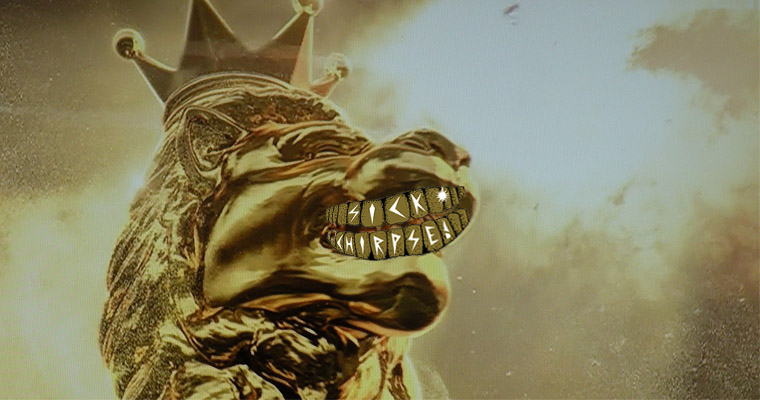 Yeah, OK, there is more football on tonight I understand that but we thought we'd bosh an article out and give you your Sick Chirpse Fantasy Football fix twice in one week. Don't say we don't do anything for you.
RDM's sacking gave Tony Fernandes the opportunity to send Mark Hughes packing before the weekend's fixtures had begun, confirming Harry Redknapp as the new manager, just not in time for the trip to Manchester. Saturday's football brought no real points for anyone as RVP didn't bag any goals and no one in the history of football has ever even considered drafting in Johnny Evans for their fantasy football team – but Sunday did a lot to separate the men from the boys. Mention goes to Shane Tremlin's Trems Trash as they score a handy 44 points to take them to 3rd and within 3 points of Tom Sand's Prison Break FC on 516. Drew Walsh's Real SocieLAD and H.E's Dynamo Kebab come in with a cheeky 45 points to take them into the top 10 and 20 respectively. However, the top boy of the week is M Stewart and his FC Boosh who tallied up 47 points this week.
Here's how the Premiership played out on the weekend:
Sat 24 Nov 2012 – Premier League
Sun 25 Nov 2012 – Premier League
BIG HITTERS: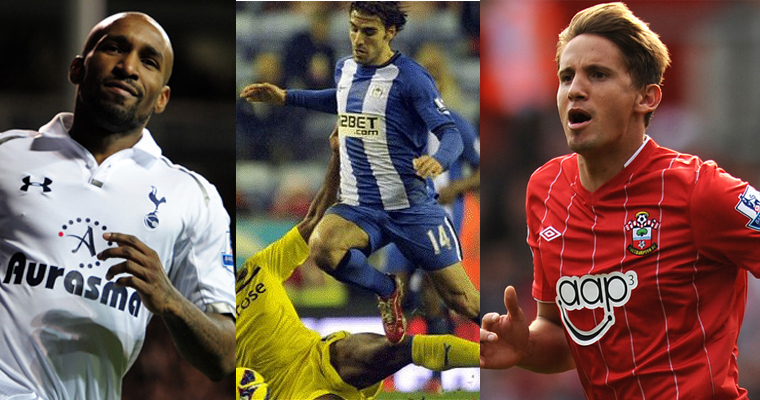 Jordi Gomez really made a weekend of it. A sterling performance, a perfect hat-trick and he also saved the blushes of his teammate Ali Al-Habsi for the most part. Gomez is lucky enough to join the ranks of the phenomenal footballing talents of Marcus Bent and Henri Camara as one of the only three Wigan Athletic players to ever score a hat-trick in the Premier League. All great finishes and enough to lift the Lactics five points clear of the relegation zone as he hit a total of 17 points this week as opposed to the 7 he has managed in the entirety of the season leading up to this. Here's a cheeky little clip of the little man completing the feat of a perfect hat-trick:
[yframe url='http://www.youtube.com/watch?v=_Fx_30EfSKU']
Gaston Ramirez also did his best to replicate the form he showed in the Olympics last Summer that forced Southampton into breaking their previous transfer record to bring him in – Adkins' Saints beat Newcastle 2-0 on Pardew's return to his previous club. Ramirez took the bull by the horns and was the centre of the majority of the Saint's creative display as he shone in the Southampton number 10 role. A goal and an assist go some way towards justifying the huge fee paid by Southampton and undoubtedly justifying his tiny fantasy league price tag of 3.6 million with his 9 points for this week.
With Adebayor warming the bench and getting used to the splinters after his appauling big shitter of a performance last week – Jermain Defoe had to take up the goal-scoring duties alone. Defoe scored either side of the break to sink his former club, West Ham, taking his total against his old club to 6 goals in 7 starts for Spurs. Defoe's two goals and hefty fantasy football points total of 11 for the week and 70 for the season so far wasn't enough to silence the Hammers fans who chanted "VIVA LAZIO" in an attempt to anger the Spurs faithful as they ran out 3-1 winners at White Hart Lane. I'm sure that little bit of horrible chanting was the least of Mark Clatterburg's worries as he did his best as 4th official in his first game back after being branded a racist by John Obi Mikel.
BIG SHITTERS: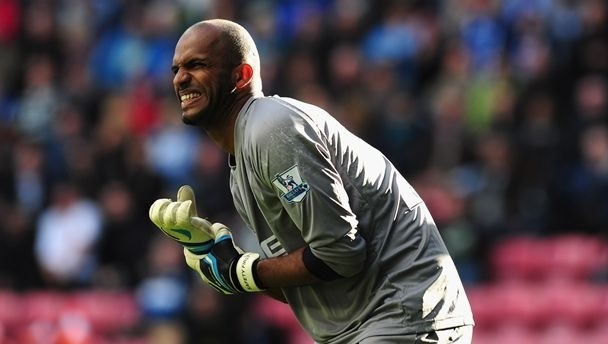 Sunderland let 4 goals slip through at home, Arsenal didn't manage to score away at Villa Park, however, all of this pales into insignificance through one simple view of what is arguably the worst goalkeeping blunder since Tim Flowers VS Liverpool. Wigan had faught hard all day at home to a tiresome Reading team and were leading 2 goals to 1 when the 80 minute rolled around and so did the Lactic's stopper after he fumbled what was arguably the simplest catch ever.
[yframe url='http://www.youtube.com/watch?v=fJ657-3VIps']
The Omanian had his blushes spared in the end escaping the draw thanks to the help of Jordi Gomez's hat-trick and only ending up with -2 fantasy football points but he's certainly done himself no favours in the lead up to their home match against Man City on Wednesday. Bottom line is get Aguero and Tevez in your team ASAP.
The games coming up look like this:
Tue 27 Nov 2012 – Premier League
Wed 28 Nov 2012 – Premier League
Chelsea v Fulham 19:45
Everton v Arsenal 19:45
Southampton v Norwich 19:45
Stoke v Newcastle 19:45
Swansea v West Brom 19:45
Tottenham v Liverpool 19:45
Man Utd v West Ham 20:00
Wigan v Man City 20:00
Predictions are as follows:
Redknapp instills a bit of confidence in the Rangers boys but fails to win during his first game with the club as old pal Martin O'Neil holds them to a score draw. Villa and Reading battle away to a draw in the Midlands as Darren Bent doesn't get a start again but comes off the bench to bag one. Rafa Benitez (Rafa Out!) steers his Chelsea team to victory in the West London derby as Everton turn over an otherwise disappointing Arsenal team 2-1. Southampton continue their winning ways thanks to a brace from none other than Rickie Lambert. Stoke grind out a draw at home to Newcastle who still can't find their goalscoring boots. Baggies battle hard at the Brittania Stadium but Michu silences the travelling fans in a 2-2 thriller. Spurs see Liverpool off despite a Luis Suarez wonder strike. Utd tear West Ham a new one after going 1-0 to a Carroll goal before half time. Fergie unleashes the hair dryer and they come out 3-1 winners. Again. Finally Al-Habsi has another torrid game after his big shitter on the weekend and Aguero and Tevez ruin Wigan 0-3.
Here's how the league stands going into the midweek fixtures:
Sick Chirpse
League PIN: 8009937
POS
Manager
Team name
Total points
Week pts
Starting
XI pts
Starting
XI pos
Goals
Goal Pos
Overall Position
1
Tom Shipley
Apocalypse Dudes
541
16
455
26577
39
1126
8436
2
Tom Sands
Prison Break FC
516
28
452
29532
32
20367
22110
3
Shane Tremlin
Trems Trash
513
44
392
119263
24
120170
24528
4
Huw Barker
HavantGotAClueVille
511
35
521
1012
34
10223
26240
5
Gavin Rapaport
Poo
506
26
420
71156
31
27731
30879
6
Luke Skidmore
bunchofslugs
491
28
409
89482
31
27731
48148
7
Huw E
Dynamo Kebab
490
45
408
91168
24
120170
49456
7
Alex Prince
Prince Boatengs
490
26
424
64979
29
47554
49456
9
Johnny Callow
Room 362
486
29
441
41486
25
104222
54667
10
Emma Craig
The Only Way Is Emma
481
35
431
54527
24
120170
61700
10
Michael Magee
Mickey T FC
481
35
483
8436
28
59973
61700
12
Dave Ward
Pimp My Side
471
26
437
46475
27
73717
77023
13
Trevor Brenson
RJBs XI
469
25
469
15637
24
120170
80195
14
Drew Walsh
Real SocieLAD
465
45
430
55935
25
104222
86806
15
James Martin
Tourist Attraction
463
44
463
19942
23
136546
90100
16
Matthew Stewart
FC Boosh
460
47
407
92990
26
88681
95077
17
Jeff Ingle
Jeffentus
457
22
335
200707
25
104222
100148
17
Nikul Patani
Brown Bear United
457
41
457
24841
30
36744
100148
19
AlexanderMark Jones
Dunblane Massacres
455
29
347
187865
26
88681
103552
20
Redwan Elharrak
Real Talk
450
25
450
31500
24
120170
112013
20
Terry Buckingham
Real Madras
450
29
395
114020
26
88681
112013
22
Bobby Peliza
bObbyDazzlers
448
30
394
115811
25
104222
115372
22
Mark Endicott
Real Madreadfull
448
33
331
204291
25
104222
115372
24
David Williams
Muffin stuffers
447
29
456
25666
25
104222
117011
24
William Rowe
Keefy's Krunchers
447
22
429
57416
30
36744
117011
26
Charlie Hey
tiki taka jazz cats
446
27
446
35797
29
47554
118652
26
Ross Stearny
stearnpots barmyarmy
446
23
431
54527
23
136546
118652
28
Anthony Ford
4 Dimensions
444
34
346
189041
23
136546
121919
29
Nicky Greenhow
Boomerwanger
440
28
320
212931
23
136546
128425
30
Peter Jones
Joner
439
39
395
114020
22
152202
130066
30
Ben Lawson
spunkin FC
439
27
423
66549
24
120170
130066
32
Robbie Atkinson
diables Rouges
437
31
340
195689
24
120170
133344
32
Ryan Addams
Fish fillet
437
29
309
219487
23
136546
133344
32
smart les
lemon peng-win
437
23
437
46475
24
120170
133344
35
Dan Filer
ClubTropicanaDrinkFC
433
29
433
51768
22
152202
139651
36
Neil Williams
Lumpers and Kickers
432
20
381
138228
25
104222
141187
37
Piers Dixon
Dixon Balls FC
430
28
463
19942
21
167217
144343
37
Ryan Williams
Dirty Buffalo
430
36
382
136508
21
167217
144343
37
Richard Dulieu
Dyslexic CF
430
25
430
55935
20
181213
144343
40
Thomas Foley
Unbelievable Crisps
425
31
373
151470
23
136546
151815
41
Blake Walton
Walton Wonders
424
35
435
49097
19
194071
153267
41
Daniel Ostridge
Ajax Treesdown
424
21
419
72735
22
152202
153267
41
Billy Mclean
Barcemoaner
424
24
377
144943
25
104222
153267
44
Tim Williams
TIMW_BRAP KILLAS
422
21
371
154659
26
88681
156203
44
Jon McLeish
Bayern Bru
422
39
401
103528
20
181213
156203
46
James Blundell
Blundells boys
421
14
357
175264
24
120170
157591
47
Ben Rowland
Atheist FC
419
22
360
171215
25
104222
160419
48
Ross Williams
Tepee Town FC
418
28
421
69577
20
181213
161890
49
Shaun Williams
The Galacticos
415
31
422
68064
17
215405
166011
50
Martyn Aeissame
Gratuitous FC
414
35
377
144943
18
205395
167381
51
Patrick Grayson
real aycliffe
413
38
413
82578
21
167217
168743
52
Elliott Henderson
Barsenal
406
19
369
157808
21
167217
177912
53
Sam MartinRoss
Martin-Boss
405
18
278
230263
24
120170
179165
54
Nick Randles
Quallo
404
46
404
98186
15
231068
180366
54
Anthony Ward
Park Ji Wonders
404
24
369
157808
21
167217
180366
56
Lee Walsh
KeansaKunt
403
27
303
222391
27
73717
181620
57
Louis Day
Spews Stars
401
36
401
103528
22
152202
184049
58
Toby Dennett
Dennethinaikos
395
32
437
46475
16
224008
190865
58
Dean Webster
Blues
395
38
365
163824
20
181213
190865
60
Matt Morris
Morris FC
390
28
390
122740
20
181213
196055
60
Ashley Townsend
1 MANNING 1 CUP
390
31
276
230693
22
152202
196055
60
David Hewitt
football
390
42
390
122740
19
194071
196055
63
Christopher Davies
T Dogg's Ball Hoggs
388
30
318
214283
17
215405
197953
63
John Ryan
Obi – 1 Kanobi – 0
388
24
388
126308
20
181213
197953
63
Aaron Hicks
Proud's Prodders
388
34
386
129720
19
194071
197953
66
Mohamed Hussein
Why Always Me FC
387
21
355
177960
16
224008
198904
67
Daniel Guy
Dans witwickys
385
27
385
131423
16
224008
200750
68
Sam Lister
inter thevan
384
34
389
124539
18
205395
201655
69
Alex Taylor
leave-my-arse-a-lona
382
31
340
195689
24
120170
203416
70
Alex Crawshaw
Crawshaw's Commies
379
19
356
176586
22
152202
206092
71
Jamie Sadur
Skid Mark
378
39
372
153061
19
194071
206987
71
Nick Reid
OnOne United
378
33
378
143271
20
181213
206987
73
John Twinn
Pav FC
375
39
374
149926
18
205395
209483
73
Max Sheppard
Fred West Ham
375
30
344
191338
19
194071
209483
75
Danny Sharpe
Team Sharpey
373
27
373
151470
20
181213
211089
75
Luke Henderson
Luke Ronald FC
373
23
355
177960
21
167217
211089
77
Michael Sinfield
FC Scorgasm
372
28
372
153061
20
181213
211909
77
Daniel Haviland
Warriors
372
31
372
153061
14
236821
211909
79
James Roberts
WOOPWOOP United
366
36
380
139894
11
247704
216285
80
Daniel Watson
SirBobWouldBeProud
365
22
326
208487
14
236821
216988
80
Maxwell Hughes
maxibon united
365
25
382
136508
17
215405
216988
82
Richard Gilbert
Queefstars
362
22
362
168309
18
205395
219023
83
Christian Adofo
The Mandem
358
24
358
173927
21
167217
221606
84
James Tootill
BigDonFC
355
38
349
185526
13
241427
223391
85
Luke Wyborn
The Wombles
347
19
313
217298
17
215405
227779
86
Mark Guy
butchys tanks
341
28
338
197776
20
181213
230805
86
Nestor Schischka
The Winning One
341
32
327
207700
11
247704
230805
86
Jack Hopwood
FC Kaiser
341
28
333
202522
14
236821
230805
89
John Hawkins
Mmmmcustard
339
35
329
206013
18
205395
231697
89
Josh Watkins
bluesbrother
339
19
339
196741
14
236821
231697
91
Dave Bunker
Team Bunker
334
13
258
233408
22
152202
233825
92
Steve French
French FC
332
35
332
203423
13
241427
234624
93
Craig Abbs
Team abber
327
17
327
207700
17
215405
236556
94
David Armitage
Real Betties
313
34
313
217298
15
231068
240970
95
Tomn Pitts
Gareth Keenan Troops
309
37
309
219487
12
244989
242032
96
Tyler Casey
50 Shades Of Goals
306
22
306
220981
9
251231
242761
97
Theodore Morgan
DangALangTime
304
29
304
221941
18
205395
243219
98
Wes Holden
Green FC
303
24
303
222391
13
241427
243454
99
Nick Bourne
Greenham Royals
270
29
270
231726
10
249763
248652
100
Matthew Hurley
12fort
245
19
245
234619
14
236821
250828