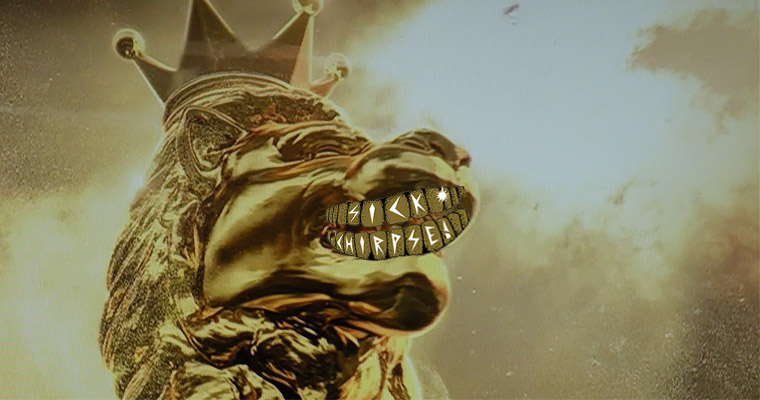 So it's been an absolute age since we updated you on how the Sick Chirpse Fantasy Football League is going – in fact we haven't done an update since Week 17 which was the last time my team did any good to be honest – not that this is the reason. Anyway over the Christmas period there have been a couple of turn ups for the books as well as a couple of teams being brought back down to Earth.
Villa have gone from the dizzy heights of people actually saying that they could stay up to losing 8-0 to Chelsea, 4-0 to Spurs and 3-0 to Wigan. QPR have managed to lose 3-0 at home to Liverpool then beat Chelsea 1-0 a week later but the big story of the Winter break is that Man Utd have gone through it almost unscathed as they sit pretty 7 points clear of Manchester City.
A couple of teams have recorded an absolute landslide of points in the period of week 18 to week 22 and there has been an almighty shift in power at the top of the league. The week leaders looked like this – Week 18 seen Luke Wyborn bag himself 62 points, Week 19 went the way of Peter Jones' Joner with 83 points, Drew Walsh's Real SocieLAD bagged 98 in week 20, Dan Filer's ClubTropicanaDrinksFC rolled out with 105 in week 21 but were joined by Jack Hopwood's FC Kaiser on 105, and last week Peter Jones' Joner clocked in another high scoring 68 to take him within touching distance of the top three in 4th place.
Double props going the way of Jones as well as he got himself the Manager Of The Month for December managing to beat little old me in second place, wanker.
Back to basics – here's the results from the weekend:
Sat 12 Jan 2013 – Premier League
Sun 13 Jan 2013 – Premier League
XMAS BIT HITTERS: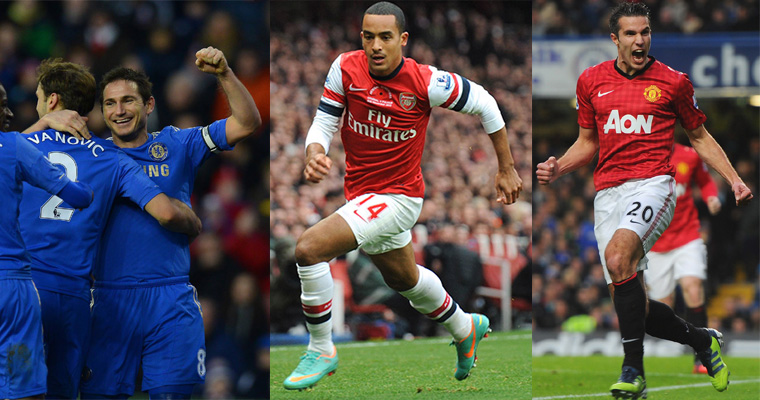 It's been a pretty productive couple of weeks for Super Frank as he has taken himself from the depths of no contract hell at Stamford Bridge to guaranteeing more than a few fans wanting to snap him up for their club when June comes along. With 5 goals in his last 5 games for Chelsea as well as now being Chelsea official second highest scorer ever with 193 goals you can pretty be sure that he is in for a great season so it might be time to get him in. Theo has found himself knocking together a swift 47 points in the last 6 week period not to mention hitting 23 of those in Week 20 against Newcastle. As predicted here on Sick Chirpse, Wenger has finally seen the light as he did with Thierry and RVP and has stuck little Theo up top. At a cheeky 4.3 million why is he not all ready in your team? Finally, the man, the myth, the legend, Robin Van Persie. The highest valued player in the league at 7 million in cold hard cash he has scored 62 points in the last 6 week period and is a cut above anyone else – basically if you don't have him you won't find yourself in the top 10 come the end of the season. Simple. The bloke just scores goals for fun.
XMAS BIG SHITTERS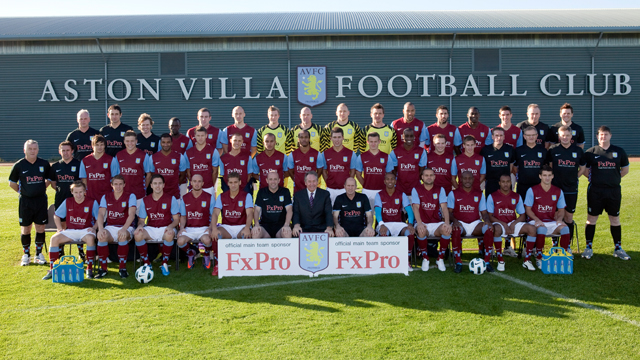 Not for the first time and surely not for the last time we are going to have to single out Aston Villa Football Club as the big shitter of Xmas. Not since Week 5 have we bothered mention Aston Villa as it's just boring as they are absolute shit but let's have another pop at them. Since Week 17 they have only managed to win one game out of 7 and that was at home in the FA Cup to a Championship team, they also managed to let in 22 goals in those 7 games including an 8-0 spanking by Chelsea. Possibly the most embarrassing thing that has also had no effect on the fantasy football league was when they were beaten 3-1 by League Two Bradford. As we said though – it isn't funny talking about Villa is it so let's have a quick chat about old John Walters who managed to prove that life isn't always easy as a Premiership footballer as he took an unbeaten at home Stoke side and helped Chelsea wipe the floor with them. Two own goals, kicked the ball in his own face and missed a penalty that is still travelling somewhere over South America.
Here's a video of John Walters' ass dropping up massively – what a prat:
[yframe url='http://www.youtube.com/watch?v=XYxvxxSg4vg']
[yframe url='http://www.youtube.com/watch?v=rum8L2IsUHQ']
Here's what is coming up in the fantasy league world and don't forget that the FA Cup counts towards your points folks:
Wed 16 Jan 2013 – FA Cup
Arsenal v Swansea 19:30
Man Utd v West Ham 20:05
Wed 16 Jan 2013 – Premier League
Chelsea v Southampton 19:45
Sat 19 Jan 2013 – Premier League
Liverpool v Norwich 15:00
Man City v Fulham 15:00
Newcastle v Reading 15:00
Swansea v Stoke 15:00
West Ham v QPR 15:00
Wigan v Sunderland 15:00
West Brom v Aston Villa 17:30
Sun 20 Jan 2013 – Premier League
Chelsea v Arsenal 13:30
Tottenham v Man Utd 16:00
Mon 21 Jan 2013 – Premier League
Southampton v Everton 20:00
Here is what the league looks like after the weekend's fixtures then with Trem's Trash making their way to the top for the first time…good luck chirpsers.
Sick Chirpse
League PIN: 8009937
POS
Manager
Team name
Total points
Week pts
Starting
XI pts
Starting
XI pos
Goals
Goal Pos
Overall Position
1
Shane Tremlin
Trems Trash
949
62
717
107252
55
86948
18292
2
Tom Shipley
Apocalypse Dudes
939
42
802
31495
69
8561
23189
2
Tom Sands
Prison Break FC
939
31
773
52566
67
13915
23189
4
Peter Jones
Joner
915
68
736
87315
56
79029
39022
5
Huw E
Dynamo Kebab
911
45
715
109435
55
86948
42076
6
AlexanderMark Jones
Dunblane Massacres
908
52
671
153724
65
21245
44570
7
David Williams
Muffin stuffers
894
58
845
11889
60
48829
56679
8
Huw Barker
HavantGotAClueVille
892
38
912
1446
62
36480
58480
9
Johnny Callow
Room 362
882
46
782
45433
56
79029
68175
10
Drew Walsh
Real SocieLAD
877
48
779
47720
54
95174
73161
11
Emma Craig
The Only Way Is Emma
874
38
726
97785
53
103337
76168
12
Ryan Williams
Dirty Buffalo
857
62
710
114667
52
111389
93394
13
Lee Walsh
KeansaKunt
854
67
626
189925
61
42534
96471
14
Alex Prince
Prince Boatengs
851
54
744
79300
57
71150
99530
15
Matthew Stewart
FC Boosh
849
54
716
108347
56
79029
101530
16
Trevor Brenson
RJBs XI
847
44
847
11280
48
142873
103454
17
Dave Ward
Pimp My Side
846
48
767
57802
54
95174
104474
18
Gavin Rapaport
Poo
843
43
737
86280
54
95174
107538
19
Robbie Atkinson
diables Rouges
842
59
618
195053
53
103337
108555
20
Michael Magee
Mickey T FC
836
26
849
10718
50
127347
114599
21
Nicky Greenhow
Boomerwanger
835
53
594
207988
48
142873
115598
22
Bobby Peliza
bObbyDazzlers
832
61
705
119837
51
119427
118540
22
Billy Mclean
Barcemoaner
832
39
666
158354
59
55828
118540
24
Jeff Ingle
Jeffentus
831
39
529
227314
55
86948
119552
25
Luke Skidmore
bunchofslugs
830
39
736
87315
55
86948
120561
26
Ross Stearny
stearnpots barmyarmy
826
39
744
79300
49
135204
124592
27
Dan Filer
ClubTropicanaDrinkFC
821
44
810
26803
48
142873
129469
28
Anthony Ford
4 Dimensions
816
42
652
170467
45
164500
134161
29
Mark Endicott
Real Madreadfull
810
54
576
215447
51
119427
139638
30
Redwan Elharrak
Real Talk
809
39
809
27343
44
171139
140574
30
Ryan Addams
Fish fillet
809
48
551
222757
49
135204
140574
32
James Martin
Tourist Attraction
808
45
808
27967
50
127347
141487
33
Alex Taylor
leave-my-arse-a-lona
805
32
634
184481
57
71150
144138
34
Jon McLeish
Bayern Bru
804
42
727
96692
46
157581
144991
34
Martyn Aeissame
Gratuitous FC
804
55
646
175386
47
150406
144991
36
Ross Williams
Tepee Town FC
800
33
749
74342
48
142873
148452
36
Neil Williams
Lumpers and Kickers
800
27
699
125978
49
135204
148452
38
Terry Buckingham
Real Madras
798
35
700
124963
53
103337
150100
39
Louis Day
Spews Stars
793
52
793
37473
50
127347
154195
39
David Hewitt
football
793
40
731
92473
47
150406
154195
41
Max Sheppard
Fred West Ham
792
58
648
173813
50
127347
155043
41
Shaun Williams
The Galacticos
792
45
797
34773
41
189553
155043
43
Nikul Patani
Brown Bear United
788
32
788
41046
53
103337
158264
44
Sam Lister
inter thevan
783
52
721
102909
49
135204
162259
45
William Rowe
Keefy's Krunchers
780
32
746
77301
57
71150
164522
46
Ben Lawson
spunkin FC
779
32
750
73397
45
164500
165306
47
Tim Williams
TIMW_BRAP KILLAS
772
38
674
150871
51
119427
170337
48
Thomas Foley
Unbelievable Crisps
764
42
671
153724
45
164500
175884
49
Blake Walton
Walton Wonders
763
38
759
65028
43
177504
176527
50
Sam MartinRoss
Martin-Boss
754
32
467
233691
50
127347
182256
51
Ashley Townsend
1 MANNING 1 CUP
750
42
481
232757
42
183665
184723
52
Aaron Hicks
Proud's Prodders
747
34
669
155578
41
189553
186580
53
Piers Dixon
Dixon Balls FC
746
49
778
48525
37
210341
187177
54
Charlie Hey
tiki taka jazz cats
742
25
742
81245
44
171139
189526
55
Toby Dennett
Dennethinaikos
739
38
767
57802
34
223063
191261
56
John Twinn
Pav FC
738
33
656
167185
45
164500
191863
57
Ben Rowland
Atheist FC
735
38
611
199236
49
135204
193558
58
Richard Dulieu
Dyslexic CF
734
27
734
89379
39
200457
194074
58
James Blundell
Blundells boys
734
57
609
200361
47
150406
194074
60
smart les
lemon peng-win
733
39
733
90386
41
189553
194617
61
Elliott Henderson
Barsenal
731
19
664
160171
37
210341
195713
62
Danny Sharpe
Team Sharpey
729
43
729
94561
44
171139
196749
63
Patrick Grayson
real aycliffe
728
35
728
95606
43
177504
197275
64
Dean Webster
Blues
727
48
698
127007
39
200457
197806
65
Daniel Ostridge
Ajax Treesdown
724
23
737
86280
38
205566
199368
66
Anthony Ward
Park Ji Wonders
716
39
659
164572
42
183665
203371
67
Luke Henderson
Luke Ronald FC
706
38
628
188585
38
205566
208089
68
Luke Wyborn
The Wombles
703
37
547
223715
43
177504
209457
69
Matt Morris
Morris FC
700
21
700
124963
44
171139
210786
70
Christopher Davies
T Dogg's Ball Hoggs
696
46
595
207487
31
233310
212496
70
John Ryan
Obi – 1 Kanobi – 0
696
38
696
128997
43
177504
212496
72
Mohamed Hussein
Why Always Me FC
694
42
655
167990
33
226823
213343
73
Jamie Sadur
Skid Mark
684
25
706
118766
32
230210
217309
74
Michael Sinfield
FC Scorgasm
679
22
679
146048
41
189553
219162
75
Daniel Haviland
Warriors
676
24
676
148930
27
243330
220284
76
Nick Randles
Quallo
674
10
674
150871
29
238790
221023
77
Daniel Guy
Dans witwickys
672
38
672
152699
29
238790
221728
78
Alex Crawshaw
Crawshaw's Commies
671
48
657
166370
41
189553
222069
78
Daniel Watson
SirBobWouldBeProud
671
44
621
193156
30
236247
222069
80
John Hawkins
Mmmmcustard
669
44
579
214335
40
195223
222735
81
James Roberts
WOOPWOOP United
668
28
657
166370
23
249720
223066
82
Maxwell Hughes
maxibon united
655
40
669
155578
34
223063
227333
83
Richard Gilbert
Queefstars
653
29
653
169645
31
233310
227924
84
Nick Reid
OnOne United
652
27
652
170467
32
230210
228229
85
Jack Hopwood
FC Kaiser
637
27
647
174593
27
243330
232420
85
Christian Adofo
The Mandem
637
34
637
182284
39
200457
232420
87
Nestor Schischka
The Winning One
631
40
559
220636
24
248425
233922
87
Dave Bunker
Team Bunker
631
40
503
230770
41
189553
233922
89
Steve French
French FC
616
36
616
196224
26
245261
237368
90
Theodore Morgan
DangALangTime
614
45
614
197480
38
205566
237799
91
Mark Guy
butchys tanks
606
35
585
212008
34
223063
239371
92
James Tootill
BigDonFC
604
39
613
198062
20
252773
239762
93
Josh Watkins
bluesbrother
596
32
596
207000
24
248425
241172
94
Tomn Pitts
Gareth Keenan Troops
591
27
591
209403
26
245261
242026
95
Wes Holden
Green FC
589
23
589
210303
26
245261
242364
96
Craig Abbs
Team abber
572
22
572
216760
26
245261
244838
97
David Armitage
Real Betties
560
11
560
220356
29
238790
246294
98
Nick Bourne
Greenham Royals
550
45
550
222996
26
245261
247357
99
Tyler Casey
50 Shades Of Goals
506
35
511
229867
15
255592
250915
100
Matthew Hurley
12fort
476
15
476
233119
28
241160
252429