The first two weeks of the Sick Chirpse Fantasy Football League have flown by and it is about time for the first lowdown of the season.
A couple of shocks in the first weekend with a couple of unsuspected away victories with Villa beating the Gunners with their cheeky brand of counter attack, the Saints trumping the Baggies at the Hawthorns by a goal to nil, Spurs doing a number on Palace via a Soldado debut pen – even Fulham managed to beat the odds and their terrible reputation away from home. Our only opening day draw came courtesy of Norwich and Everton with a highly contested 2-2. Liverpool played out a bore 1-0 over Stoke, Hammers and Chelsea welcomed newly promoted Cardiff and Hull respectively with 2-0 victories as Man City set Newcastle back to the stone ages with a convincing win. An extra midweek game was order of the day for Chelsea who are not in action this weekend due to the European Super Cup and they seen off Villa with a 2-1 win to take them top of the Prem with 18 other teams having that game in hand.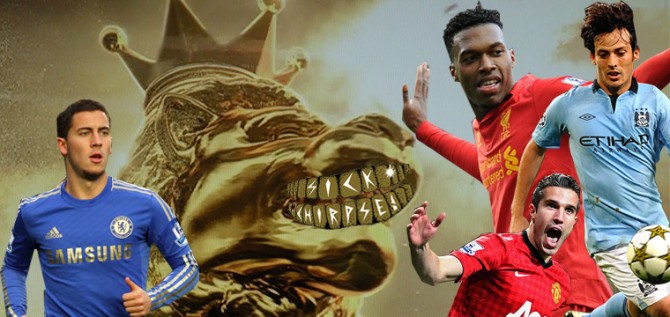 Opening Weekend Saturday : 17/18/19th August
Liverpool 1-0 Stoke
Arsenal 1-3 Aston Villa
Norwich 2-2 Everton
Sunderland 0-1 Fulham
West Brom 0-1 Southampton
West Ham 2-0 Cardiff
Swansea 1-4 Man Utd
Crystal Palace 0-1 Tottenham
Chelsea 2-0 Hull
Man City 4-0 Newcastle
Wed 21 Aug 2013 – Premier League
Sat 24 Aug 2013 – Premier League
Sun 25 Aug 2013 – Premier League
Mon 26 Aug 2013 – Premier League
Arsenal upset their own fans with a splice of good fortune away at rivals Fulham as they won 3-1. Martinez's not so new-look Everton could only muster a 0-0 draw vs West Brom. Hull somehow managed to beat Norwich 1-0 despite proving against Chelsea that they were absolute toilet. Newcastle further confirmed that unless they sign Demba Ba asap that they are in a lot of trouble with a 0-0 draw with West Ham at St James' Park. Southampton and Sunderland played out a draw. Stoke beat Palace courtesy of Charlie Adam who is still trying to convince the world that he deserves to professionally play football – good luck you vile rabbit faced bitch. Studge grabbed another goal for Liverpool making him their only Prem goal scorer after two games as they beat Villa away. Big upset of the weekend came courtest of Cardiff who welcomed Premier League football back to the Bluebirds' fans for the first time in 50 years with a 3-2 win. Spurs notched another 1-0 against Swansea who are now sat at the bottom of the Prem as Morinho's Chelsea settled for a 0-0 draw against United in order to keep them busy at the top of the Prem.
BIG HITTERS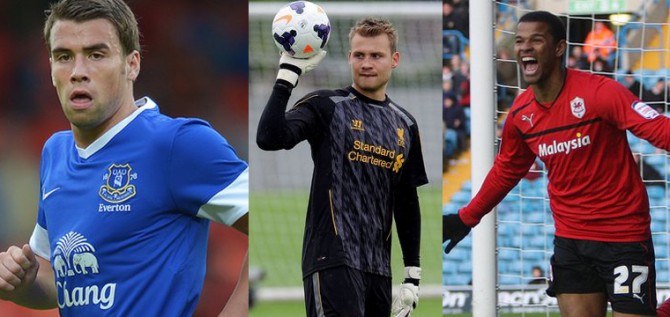 Bentekkers is in the goals again. Ivanovic is enjoying himself whilst thinking he's playing right wing. RVP is doing his usual – which you'd expect for 8 mil…So many players to choose from in the opening two weeks of the season – especially with Chelsea and Villa both playing three games but its more about who has shown the early legs for the money isn't it? With everyone sweating on whether or not to part with 4.7 million for the high scoring Leighton Baines it seems that the majority of us forgot about the other full back plying his trade at the Toffees, Seamus Coleman, at a cool 3.5 million. With a goal and assist in his opening game and a clean sheet in his second, Coleman is looking the best return on your money for a defender so far in. With his opening day penalty and double saving heroics, Simon Mignolet has all ready done enough to earn a place in a huge number of fantasy football teams this season. 17 points in two games puts him right at the top of the wanted list despite being 5th in the goalkeeping price list. The other lad that we have to mention before he gets injured and is out for another 2 years is ex-United boy Fraizer Campbell. All thanks to Zabaleta's asshole dropping out the 25 year-old Englishman may even be on his way to an International call up. The first ever brace he has scored up in the English Premier League and hopefully this won't be the last with a game this weekend against Everton at home.
BIG SHITTERS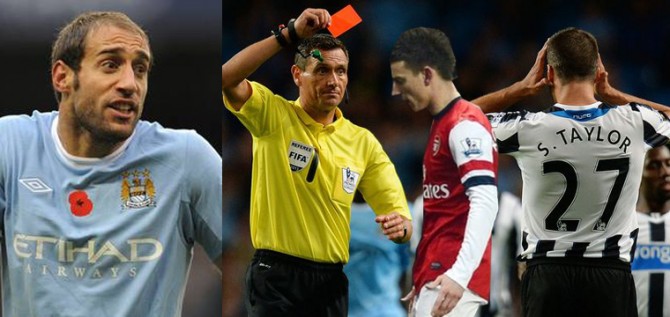 There were a couple of diabolical performances in the last two weeks and I suppose it's only right to start with the man who single handedly was attempting to take Manchester's blue side out of the title race. Whilst 1-0 and cruising thanks to a goal from Edin Dzeko City allowed Cardiff winger Kim to sneak into the area and set up Cambpell for a near post drive – Hart managed to save before Gunnarsson pounced on the rebound. This was the beginning of the end as from two corners in the next 25 minutes Campbell made it 2 and 3-1. On both occasions Zabaleta failed to keep the 5″11 number ten at bay as he beat him in the air twice, including once with his shoulder. The other howlers include Koscielny's opening day massacre of his own soul as he was seen to get yellow carded twice for some stupid challenges as he helped his team lose at home to an Aston Villa team who were happy to just counter. The idiot bus also took some time to pick up Newcastle United's Taylor during their 4-0 drumming by first week show stopper Man City. Taylor's petulant swipe at Aguero was met with boo's from the fans and an expected red card as Newcastle booked their place at bottom of the league after the opening weekend despite Tim Krul's best efforts.
This weekend's fixtures are looking like this:
Sat 31 Aug 2013 – Premier League
Man City v Hull 12:45
Cardiff v Everton 15:00
Newcastle v Fulham 15:00
Norwich v Southampton 15:00
West Ham v Stoke 15:00
Crystal Palace v Sunderland 17:30
Sun 1 Sep 2013 – Premier League
Liverpool v Man Utd 13:30
West Brom v Swansea 13:30
Arsenal v Tottenham 16:00
Man City will trounce Hull Tigers on the back of their mauling at Cardiff. Cardiff will not repeat the feat against Everton who will manage a draw. Newcastle won't be able to keep Darren Bent quiet and Fulham will somehow sneak ANOTHER away win. Norwich are held to a draw by the Saints. West Ham just sneak the win against Stoke. Sunderland fight out a draw as people start to worry to Paulo Di Canio can handle the big time. Studge grabs a goal for Liverpool but RVP helps United snatch a 2-1 victory. Baggies struggle against the Swans at home as Michu comes back to life. Thanks to some Walcott and Giroud magic Spurs finally admit they've got nothing without Bale and admit defeat.
The league's on the next page bitches but it's only week two so don't get a hard on. Sick Chirpse.