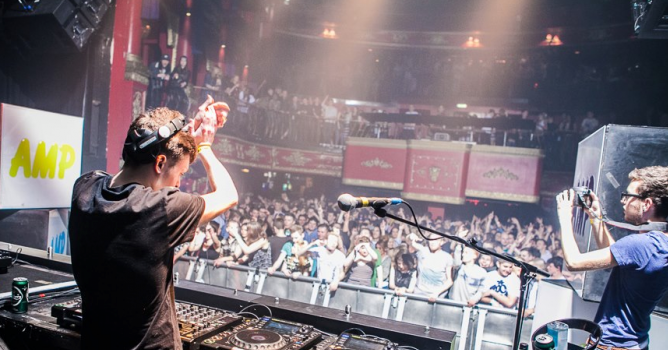 We're throwing a big party at the end of May to celebrate the universal fucking off of exams. (Full details)
Whether you've just finished your finals at the end of a 13 year medical degree at Manchester University, or you're pretty confident you've nailed that coveted Level 1 Plastering Diploma spot at Stockport College, we all share the same little "fuck yeah" to ourselves when we step out of that exam hall.
In an attempt to bring all of your smug grins and worriless swaggers together we wanted to arrange for everyone to get down to the Urmston Hotel to join in with the Smartphone Quiz Party because it's "so simple to play and loads of fun and it has a buzz and a really lively atmosphere that a regular pub quiz just doesn't have." They really mean it when they say, "It not garlic bread but it is the future and it's here now so pop along and be part of tomorrow's world today!"
But then we realised that it's all played on Wi-Fi and we got all bummed out because Lazer Horse goes a bit mental around Wi-Fi so one of us would have to tell him not to come and no one wanted to step up.
So we're switching to plan B instead — presenting a bunch of our favourite DJs and producers right now for you all to enjoy at the Deaf Institute. Still trying to unite all walks of Chirpse life, we've booked a load of guys representing all different styles of party music. Naked Swing and We Are Wolves are gonna be filling the bar with hip-hop all night while Letrekk and Tom Vernazza are gonna be having a house vs. disco fist fight in the basement (oh shit, I'm not supposed to talk about that).
Up in the attic Tâches will be blasting his awesome, weird garage/house kinda sound before DJ Q spins his raw, punchy and unmistakably British 2-step and bassline.
But sandwiched between them is gonna be Shift K3y. I'm not gonna lie, I hadn't actually heard about this guy before Tourist told me he'd booked him, but it turns out that was completely down to my ignorance and nothing to do with this guy being small-time. In fact, he's sort of blowing up right now. Borgore started backing him towards the end of last year, but in the past few months he's started flying.
Annie Mac presented this naughty little number to the world in January:
[soundcloud url="http://api.soundcloud.com/tracks/76797401″ params="" width=" 100%" height="166″ iframe="true" /]
Before Mistajam picked him up and plonked him on his prime time Radio 1/1Xtra show. Completely unfazed by being thrown onto the big stage so quickly, he came up with 25 minutes of seamlessly weaved carnage:
[soundcloud url="http://api.soundcloud.com/tracks/86638530″ params="" width=" 100%" height="166″ iframe="true" /]
Then he made this. Can I get a "viiibesss"?
[soundcloud url="http://api.soundcloud.com/tracks/81900355″ params="" width=" 100%" height="166″ iframe="true" /]
So in like 6 months he's gone from being given an hour by his mum before he has to plug in his headphones so she can go to bed, to being given an hour by Speakerbox to fill the floor for Benga:
[yframe url='http://www.youtube.com/watch?v=lx6SKrpRHbg']
Here are some links to his Facebook, Twitter and Soundcloud.
May 30th is shaping up to be pretty big. Grab your £5 ticket here: http://www.skiddle.com/whats-on/Manchester/The-Deaf-Institute/SICK-CHIRPSE-presents-DJ-Q-SHIFT-K3Y-TCHES/11874096/