Shia LaBeouf is set to star as a psychotic tax collector for a crime lord in upcoming crime thriller 'The Tax Collector', which requires him to look like a bit of a lunatic. But instead of just working with a make-up artist to achieve this, Shia has gone all-in on the role and got a massive number of crazy tattoos all over his chest and belly.
Featured Image VIA
Shia labeouf gets tattoos from his upcoming role in the movie The Tax Collector actually tattooed on him foreal , is he one of the most downest actors of all time pic.twitter.com/6lkGDcL5fS

— Comeoutsidefoo (@Comeoutsidefoo_) July 8, 2020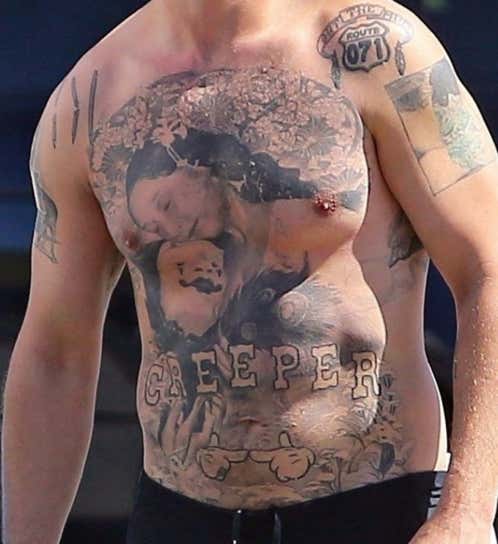 Wow. Call me crazy but I think Shia LaBeouf might regret getting the word 'Creeper' permanently tattooed across his stomach one day? Also why are there a pair of Mickey Mouse hands pointing to his belly button? And is that the Mona Lisa hugging a panda or something? I don't know but I guess we shouldn't be surprised considering he has a history of doing this stuff (Via Metro):
Shia previously got tattooed during the filming of American Honey, although that wasn't for a character. The Disturbia actor got 12 tattoos at various tattoo parlours with the rest of the cast, including tattoos of Missy Elliott on his knees – which annoyed the director greatly as Shia kept showing up to set with different inkings at different parts of the movie. 

But perhaps the most commitment he's shown to a role – on par with his chest illustrations – was when the lengths he went to for his role as a soldier in 2014's Fury. To play WW2 soldier Bible, Shia slashed his own face and got a tooth removed for the height of authenticity. His co-star Logan Lerman told GQ: 'We were in make-up and they were putting cuts on Shia and I said, "Yeah, yeah, it looks good". And Shia was like, "No it doesn't look real".
Slashing his own face, getting a tooth removed, getting his entire body tattooed… say what you want about Shia LaBeouf but don't ever say he gives anything less than 100% to his movie roles. I mean this guy is as committed as it gets.
The movie looks pretty cool too. Here's the trailer:
To meet the lad who got punched in the face by a stranger because he looks like Shia LaBeouf, click HERE. Unlucky.