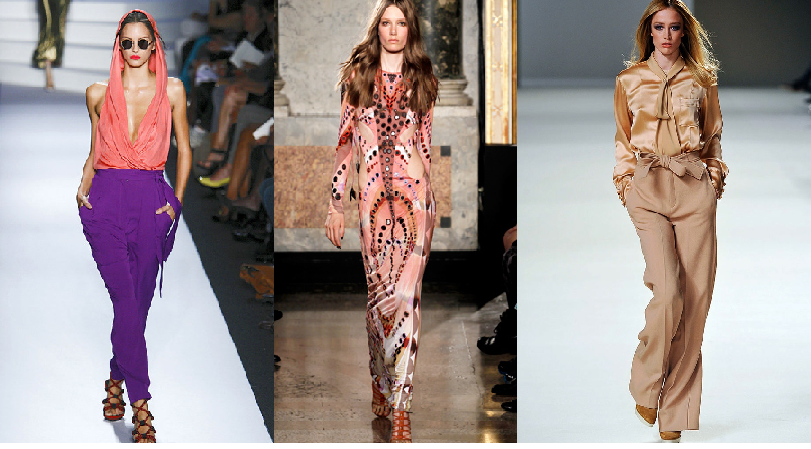 If you thought that the new season was going to be about a whole new era, well you were right, and wrong.
For autumn / winter 2011 the seventies look will be taken to another level, and other era's following suit include the 60s mod and 40s lady. We thought it was just a fluttering crush, but now 70s style has gotten the better of us and suddenly colour clashing, wide-legged trousers and silk blouses has become a full-blown love affair. It's bold, hippy aesthetic has greatly influenced the fashion industry and 2011's modern take on the trend makes this one of the most exciting fashion breakthrough's we've had in a long time займ на карту мгновенно круглосуточно.
Black is out and colour is in, be as daring as you wish but no one will blink an eye at your purple trousers and emerald shirt. Co-ordinating colours can be seen as boring this season as vivid hues should be worn paired with only the most clashing shades.
Opt for jewel toned silk blouses paired with split, wide-legged trousers, giant-platforms and a fur coat for that ultra glamorous 70s look. For evening it is time to really dress up, crochet dresses, paisley prints and sleek 70s jumpsuits will ensure you're well ahead of the rest of the style pack. If this all sounds a tad scary to you then don't falter, because trusty denim is an easy way to incorporate the 70s look into your style.
Pair high-waisted bootleg jeans with a pussybow blouse, a smart blazer and fringe bag for an easy way to style this look. For inspiration on the new seventies trend, please don't bring out your Saturday Night Fever dvd. This look is a lot more sophisticated and even polo-necks are to be the epitome of fashion this season.
Check out some of the latest seventies inspired collections on vogue.com from designers Diane Von Furstenberg and Pucci, who have nailed this awesome look.
Follow me on Twitter: @lisaboyle2009
Follow Sick Chirpse on Twitter: @sickchirpse