'Donnie Darko' is just one of those cult movies that everyone seems to absolutely love, regardless of when and where they managed to view it. There's just something about its weird and offbeat storyline that doesn't really make any sense but is completely captivating nonetheless.
Featured Image VIA
So I'm sure that many of us will be excited about the potential for a sequel to the iconic movie that original director Richard Kelly has recently been quoted as working on. Speaking to HMV about the reissue, he had the following to say about it:
I think there's something much bigger and more ambitious to do in that universe. It's big and expensive and I think there's time to get to that.

I want to make sure we've got the budget to do it justice and not to compromise anything. Another story in this world needs resources and we need to have that in place.

I need to get my next film out of the gate and then we can go back and look at it.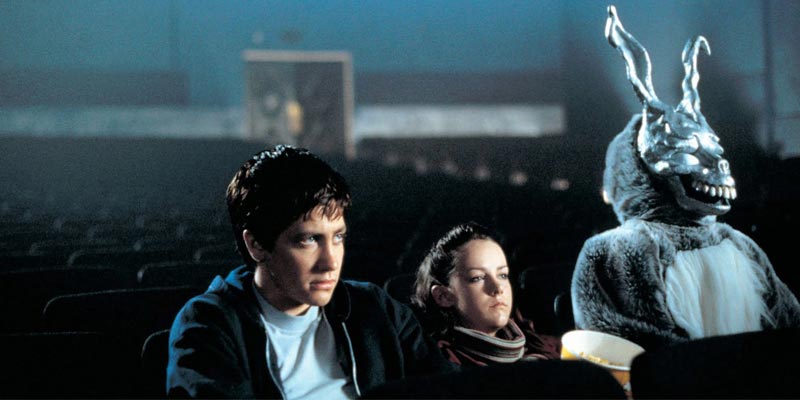 Well, it doesn't sound like it's going to happen anytime soon, but hey, at least he's working on it and has some ideas.
Of course, there was actually a sequel to the movie called 'S. Darko' focussing on Donnie's sister that had absolutely nothing to do with the original movie, but Richard Kelly wasn't involved with that so we can just discount it. Having said that, it seems unlikely that Jake Gyllenhaal, Jena Malone and Seth Rogen (yeah he was in 'Donnie Darko', crazy huh?) might return for this sequel 20 years after the original. We'll have to wait and see.
I've also got to say that I went to see 'Donnie Darko' at the cinema recently because of the reissue, and despite the fact that I loved it back when I was 17, this time round I thought it was absolute dogshit, so I'm not exactly in any rush to catch a sequel. Sorry to be a bummer. That soundtrack though.
Having said that, if you still want to get hyped on 'Donnie Darko', check out the trailer to the recent reissue.