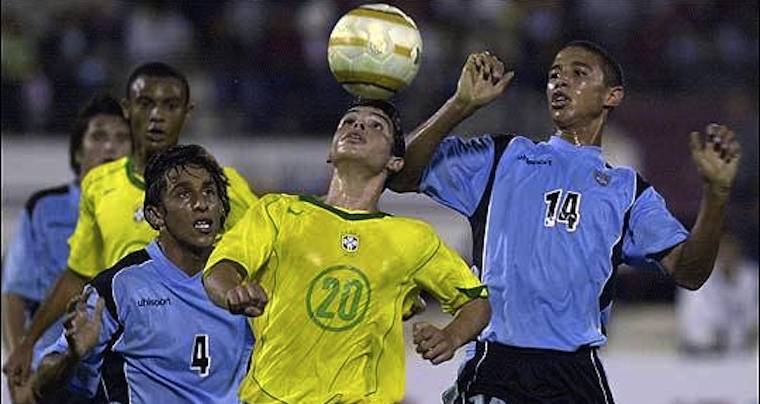 So about six years ago I think – maybe even longer because I remember talking to my bud Pad about it and I haven't really talked to him that much since I left school, and that was about 8 years ago – there was a big fuss made about this young Brazilian called Kerlon who had perfected a new special move in football called the Seal Dribble. Basically he would flick the ball up on his head and bounce it on his head as he ran forward, kinda like a seal would balance a ball and bounce it on his nose, hence the name the Seal Dribble. Back whenever this was we didn't have sites like 101 Great Goals so when it was on the BBC website it was a pretty big deal and a bunch of people were going crazy about it, saying Kerlon was the next big thing and that he was coming to Manchester United and would be destroying Sol Campbell pretty soon with the Seal Dribble. Here's a video of Kerlon doing the Seal Dribble back in the day and getting fucked up by some Brazilian defenders who just can't handle it:
[yframe url='http://www.youtube.com/watch?v=LYlqql38XkY']
Of course none of those things happened and Kerlon never came to Manchester United although he did have spells at Inter Milan and Ajax although he never managed to make a first team appearance for either of them. In fairness to the guy though it seems as though his career has been hampered by chronic knee problems that have really limited his effectiveness because apparently other than the Seal Dribble he was actually a pretty useful player.
He's now re-emerged in the Japanese 2nd division playing for Fuijeda MYFC and is still trying to do the Seal Dribble, only now he can't do it and just falls over like an idiot. I originally saw the video and thought Kerlon was just some idiot wonderkid like Freddy Adu or Collins John who was really hyped up at a young age but failed to make it just because they didn't try hard enough or were idiots or got wasted all the time, but I kinda feel a bit sorry for him now considering the issues with his knee and I think it's cool he's still trying to make it, even if that means going to Japan to play in the second division. I mean even if he was really crappy I would be pretty stoked if the guy who created the Seal Dribble signed for Birmingham.
So yeah fair play to him, let's hope he gets a bit better than the video below and we finally do get to see Kerlon and the Seal Dribble in the Premiership. Or at least the Championship.
[yframe url='http://www.youtube.com/watch?v=hBr2zhCiniY']