Being a teenager and figuring out how to have sex for the first time is awkward enough as it is, so I doubt anyone needs their school handing out leaflets with 101 alternatives to having sex that include stuff like sucking each other's toes and proposing marriage instead.
Images VIA 
This is the strange route that Shevington High School in Wigan has decided to go down though, with a leaflet labelled 101 Ways To Show Someone You Love Them Without Having Sex distributed to all children aged between 13 to 15. The bizarre suggestions within the leaflet suggested the following:
Suck their toes
Propose marriage
Drive for two hours to see them for one
Nibble their ears
Buy them some nice underwear
Walk a thousand miles for one of their smiles
Each suck one end of a long piece of spaghetti
Go on a loveboat
Buy them a piece of the moon
Tell them they are beautiful even if they look rough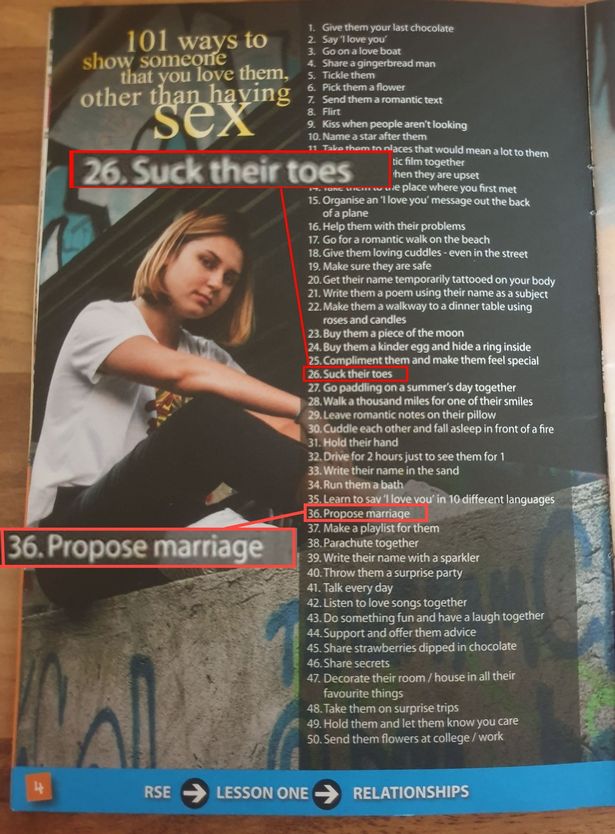 I mean I just don't get what they're trying to do here because none of it really makes sense. The list either seems to be full of activities that are definitely going to lead to sex – sucking their toes, buying them nice underwear, nibbling their ears – or ones that are completely weird and impractical that don't make any sense at all – buy them a piece of the moon, drive for two hours to see them (they can't even drive dumbass) and proposing marriage?!?!?. Just really really weird from them isn't it?
One man who seems to have overreacted slightly to the leaflet is 35 year old Carl, who wasn't happy about his 14 year old daughter receiving the leaflet. Here's what he had to say:
I was bewildered. I understand children need to be made aware of the world, but should we really be promoting fetishes in Year Nine? I don't think so.

The first thing that stood out was 'suck their toes'. That's quite niche.

There were some [ideas] I was really shocked at. I don't think they've hit the target demographic. There is no way I think a 14-year-old should be reading this.

When I spoke to my daughter I said 'you do know this isn't the only way to do things?'

Surely they can just enjoy each other's company. They can go for walks, watch a film, go to Burger King, go to the park.

There's tons of things she can do that don't involved getting someone's big toe in her mouth.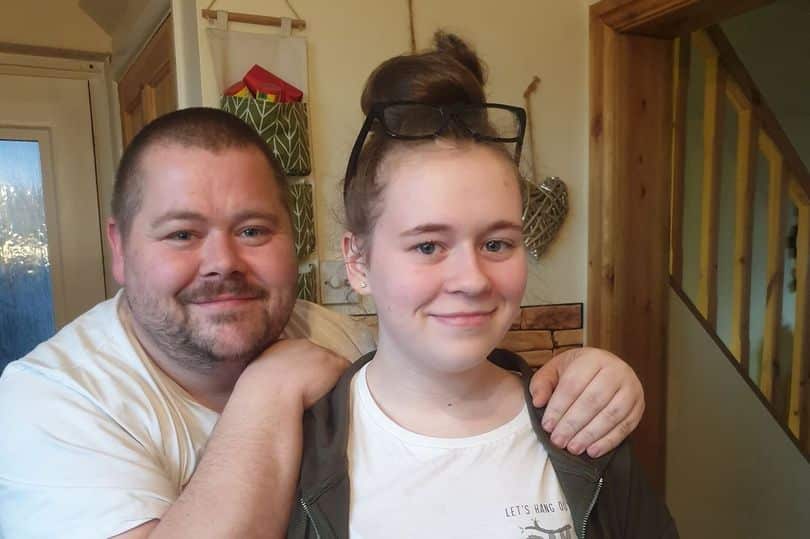 I mean he's kind of right isn't he, but he's also come across as one of the most vanilla men of all time if he thinks sucking toes is too naughty for his horny 14 year old daughter. Newsflash – she's probably already had sex dude and been sucking toes left right and centre, alongside a bunch of the rugby team's dicks as well. We are in Wigan after all.
As for the leaflet itself, it's more just completely misjudged, cringeworthy and embarrassing – almost like it was an idea written by a virgin or at least someone who had never experienced teenage romance? – rather than sexy and scandalous or anything. Surprised nobody in the school realised it was a bad idea before it went out really and surprised anyone thought that horny teenagers would react with anything other than contempt and laughter too. What a joke.
Best part of all this though is Carl's hopes for his 14 year old daughter's love life. Trips to Burger King and the park down in Wigan sound absolutely lush, don't they?
For more sex, check out the ten most disgusting sex acts according to Urban Dictionary. Surprisingly sucking toes isn't on there.