The action of you physically clicking through to read this article is pretty worrying – even if you are here just to kill time at the bus stop or procrastinate doing your work – it means you have momentarily completely rejected the idea of ever having a meaningful romantic relationship with another human being and that right now getting hitched to an animal genuinely seems like a better option. If you merely ventured here in disbelief to see evidence that some lonely sods do in fact get hitched to their pets or got here by accident, fair play. Of course dating can be exhausting and awful but do you really want to associated with the hopeless wrecks from the testimonial pages of marryyourpet.com?
It's obvious from even the obnoxiously kitschy landing page of marryyourpet.com that it is desperately need of a revamp.  The homepage esquires as to whether the visitor would be interested in taking part in a BBC2 documentary to be aired in 2005, the latest entry on the stomach-churning testimonials page dates back to October 2004 and if you squint the corners appear to be gathering e-dust (although that could just be my detestably dirty laptop screen). Maybe this is a good sign, perhaps demand for a good old fashioned pet wedding has declined enough for the site to be completely abandoned forever.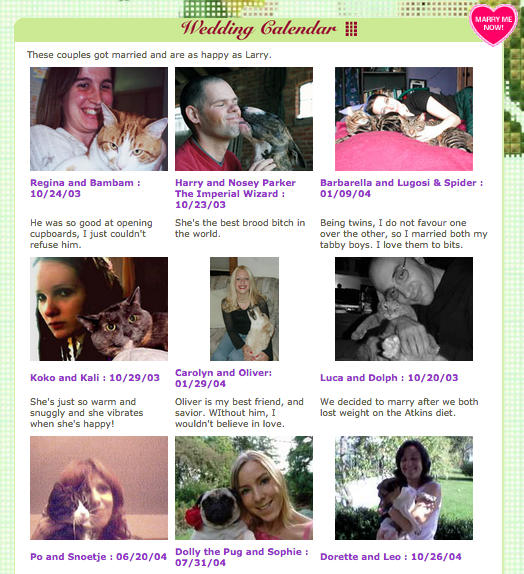 For the same cost as a medium pizza, you could happily be on your way to a life filled with people muttering behind your back. The full upgraded package can be yours for the bargain price of two hundred euros and it includes an official marriage certificate, a particularly ugly t-shirt that's as bad-looking as the website and an equally abhorrent personalised wall plaque to proudly declare your weirdness to anyone who unfortunately enters your home. If any of your friends are seeming particularly lonesome or you're suspecting that they've been eying up that stray down their street, there's always the option to generously gift them a marriage to an animal of their choosing. This would also make a great present for nobody ever.
As with any marriage, there's a lot to think about before taking the plunge but luckily the website offers guidance in the form of Agony Aunt Adrian who answers a plethora of wedlock-related questions including the classic "can I marry a pet if I'm already married to a human?" and "how should I pop the question?". Interestingly enough there's also a page to file for divorce just in case your dog decides to elope with the postman or your cat leaves your for an older woman.
https://www.youtube.com/watch?v=6Q8S7351YWQ
Making the already soul-eroding issue of pet marriage that little bit more horrible with the aid of a computerised voiceover – this video montage introduces us to one of the hopeless examples from the website, Barbarella Buchner, a 48-year-old web designer who lives in Lanzarote. Instead of having a bit of cry and going on the rebound like everyone else, Buchner decided it would be a good idea to wed her two pet cats back in 2004 following a split from her former partner of seven years. The trio celebrated their ten year anniversary at the end of last year, presumably honouring the occasion with a tin of tuna and a screening of Garfield.
We know that Beyoncé said that if you like something then you should put a ring on it but in this case we're going to choose to ignore the inescapable pop diva because we're pretty certain that even she would turn her nose up at marrying into a different species. Unless you're the woman from the critically acclaimed Bee Movie, we're unsure as to why anyone would ever want the lifetime embarrassment associated with being espoused to anything non-human, although if you're still considering it maybe you should pick up some tips from this guy who has been screwing around with horses for a couple of decades or have a look at what your monstrous offspring could potentially look like.