Not only do we have Task Force Black stepping it up in the fight against ISIS, but the SAS has now revealed that they've set up a quad bike squad to attack the organisation. They basically drive around the desert with sniper rifles and heavy machine guns killing a whole bunch of ISIS members in what they've imaginatively named 'quad bike ambushes'.
The raids have been going on for the last four weeks and defence sources are saying that they're killing up to eight members of ISIS a day, which sounds like pretty good going to us. It had previously been thought that the SAS was just functioning in a recon capacity over there, but it seems in the last few weeks that they've been dropped into the area via RAF Chinook helicopters to help fight the enemy.
Enemy locations are scouted out using drones – turns out drones useful for something other than making really good recordings of firework displays – and the SAS men are then dropped in with their quad bikes that are fitted with machine guns in order to attack, usually during the night. Apparently the missions have been happening on an almost daily basis in the last month and have been so successful that the troops have been forced to get a full restock of machine gun and sniper rifle ammo.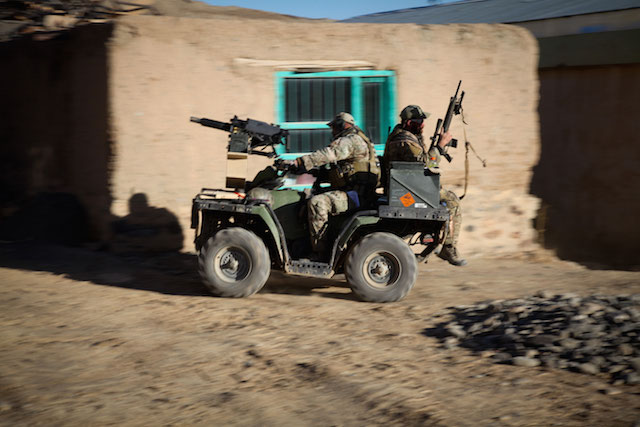 They've been targeting ISIS's main supply routes in West Iraq, as well as strategic checkpoints that the terrorists have set up in order to extort money from local drivers and conduct kidnappings. The intention of the raids is to degrade ISIS's fighting ability ahead of a spring offensive from 20,000 Iraqi and Kurdish troops – the SAS are also helping to train these guys.
Here's what an SAS sources said about the raids:
Our tactics are putting the fear of God into IS as they don't know where we're going to strike next and there's frankly nothing they can do to stop us

We're degrading their morale. They can run and hide if they see planes in the sky but they can't see or hear us. Using so many snipers takes the fear factor to another level too; the terrorists don't know what's happening. They just see their colleagues lying dead in the sand.
I guess that's modern warfare for you ladies and gentleman. It really is take no prisoners.