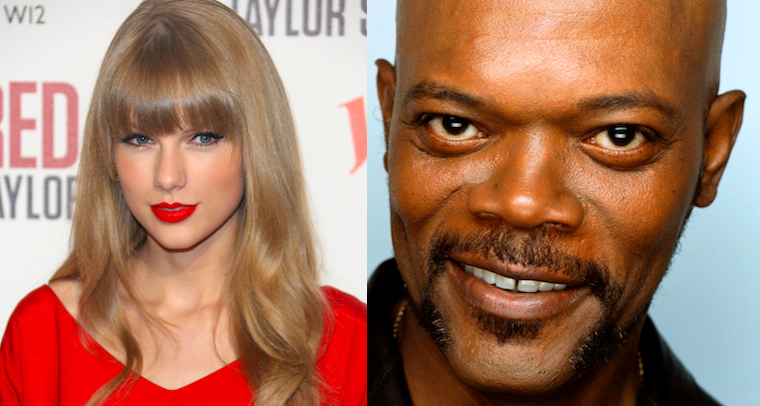 When Taylor Swift dropped 'We Are Never Ever Getting Back Together' sometime towards the end of last year I knew instantly that it was a massive hit and would go on to be absolutely huge (although maybe not as big as her badass new dubstep song) and I thought about posting it up on Sick Chirpse but for reasons I already discussed in the article I posted about Justin Timberlake's new song Suit and Tie on Monday, I decided against it. Turns out it didn't really matter though because a couple of months down the line I could post this way better version of SAMUEL L. JACKSON SINGING IT.
☛ More: Don't Believe Samuel L. Jackson Is A Badass? Check Him Out On Twitter During The Olympics
Wow. I think everyone knows just what a cool dude Samuel L. Jackson is. I mean he seems to be in pretty much every movie ever and in every single one of them he's a complete badass and probably the best thing about the movie. Even if he makes the occasional bad movie like um Black Snake Moan or XXX or Star Wars, we can usually forgive him because he's just such a sickhead. And that's why it works when he sings Taylor Swift, just because he's a complete badass about it. Of course, he doesn't actually sing it he just kinda vibes it out there in his unique way of speaking and of course it sounds even better than the original because Samuel L. Jackson actually sounds angry when he's singing it rather than really happy like that little bint Taylor Swift.
I'm not really sure why Samuel L. Jackson agreed to sing this Taylor Swift song but it appears to be something to do with some kind of promo tour he was doing for Django Unchained which is coming out on Friday as it was for Capital Radio that is based here in the UK and I guess in London. Cool idea though right? Maybe I should listen to the radio more then I would get cooler ideas. Anyway, check it out below and let us know what you think. I just wish he had sang the whole thing dammit:
☛ Watch This Next: Quentin Tarantino Has  A Meltdown When Interviewed By Krishnah Guru-Murthy To Promote Django Unchained 
[yframe url='http://www.youtube.com/watch?v=xP2cIz57Ggw']
☛ Still Not Convinced Samuel L Jackson Is A Badass? Check Out This Strain Of Weed That He Officially Endorsed