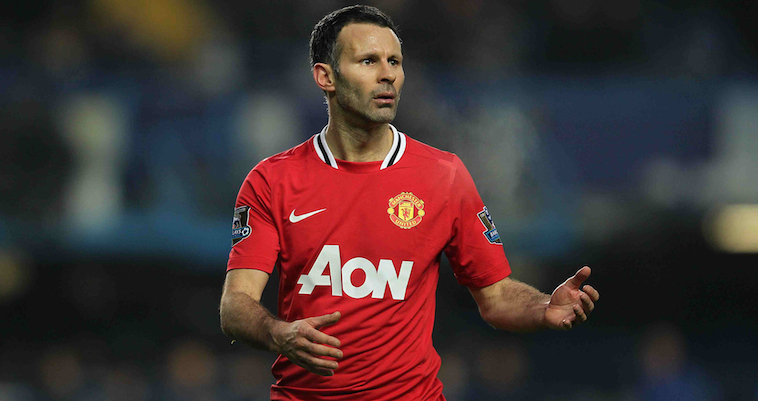 This is pretty hilarious and I don't know anyone else you can do it for because I'm fairly sure that Ryan Giggs is the only player who has featured in every season of the Premiership. Everyone used to think he was a really cool guy too as well until it turned out that he banged his brother's wife behind his back. To be fair that does make him an absolute player but I mean it's a pretty slack thing to do, although if you were his wife and you had a choice between whoever the hell he is and Ryan Giggs – the most decorated player in Premier League history and a complete and utter sickhead – there's only going to be one winner really isn't there. As there was. Gotta feel for his lamewad brother though.
☛ Watch Next: Brazil Under 13's Football Match Descends Into Mass Riot
But yeah this isn't an analysis of Ryan Giggs' chirpsing technique it's about this really funny picture of him where you get to see each of his football stickers from the past twenty years. Like I said there isn't anyone else you can do this for – at least in football, I guess there might be some people in baseball or ice hockey or something but nobody really cares about those stupid sports and I don't think they even do football stickers they just do stupidass cards which are nowhere near as much fun as stickers in any case. The picture is jokes though as it really shows you the evolution of Ryan Giggs as a man. We know he was always a scum bag but when you look at him now you kinda forget he used to have a floppy centre parting and a really pasty white face back when he made is debut back in 1992. And what the hell was he doing with his hair in 98 and 99? He looks like an action figure or something.
Anyway check it out below and have a giggle:
☛ Watch Next – Ryan Giggs Super Injunction Video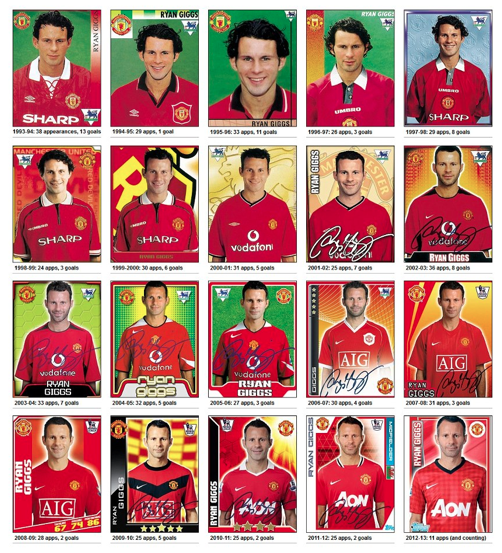 ☛ Read Next: Usain Bolt To Play For Manchester United