You might think that you or your friends are overweight, but when you look at Natalia Rudenko you should probably feel good about yourself because she tips the scales at just over 47 stone. That's well over three times heavier than me!
Featured Image VIA
38 year old Natalia says that she started eating following the double tragedy of suffering a miscarriage and then having her husband leave her when she was just 23. Now, residents in the 87 year old tower block where she lives are beginning to worry as every time she moves around the floorboards beneath her creak – they think that one day they will collapse and she will come crashing through.
Galine Klimova said the following: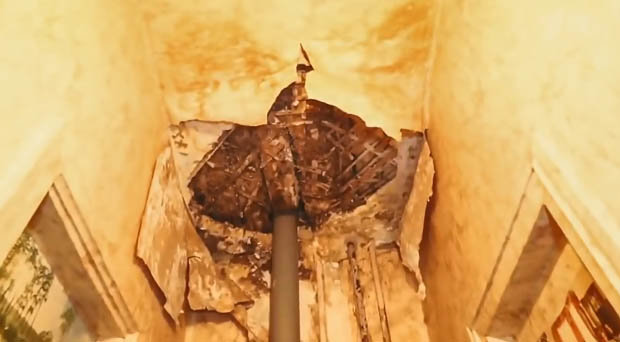 Every time Natalia takes a bath, water spills on the floor and we see it dripping down our walls.

The ceiling in our bathroom and toilet is always damp. Parts of it have already started to fall and one piece nearly hit my three-year-old grandson.

We hear her footsteps and they make our ceiling creak terribly, we genuinely fear that one day the ceiling will collapse under her weight and she will land on us.
I mean I would probably be kinda terrified as well if the ceilings looked like the one above and the strain seemed to be constantly getting worse. I don't want to fat shame anyone but when you're that heavy you're a danger to yourself and others so I hope Natalia manages to turn her spiralling weight problem around.
For more of the same, check out this woman who was struggling to stay fat because she couldn't stop having so much sex. Tough life.