It's been almost a year since the tragic death of Robin Williams and so it seems like a fitting time to remember yet another incident where he went above and beyond the call of duty for another human being.
In this story, Robin's co star in Mrs Doubtfire – the 14 year old Lisa Jakub – had been expelled from her high school as she had taken so much time off from school for the movie. Even though he really didn't have to get involved, Robin decided to send the following letter to the high school letting them know of his disappointment with the decision:
Featured Image VIA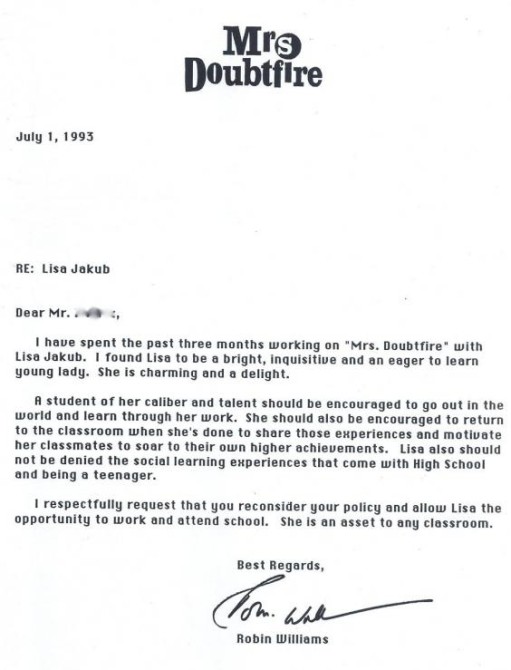 Images VIA
Wow. What a class act he really was huh? Jakub also explained what the letter meant to her at the time in a recent blog post:
When I was 14 years old, I went on location to film Mrs. Doubtfire for five months, and my high school was not happy. My job meant an increased workload for teachers, and they were not equipped to handle a "non-traditional" student. So, during filming, they kicked me out.

It's devastating, at 14, to have your formal education terminated. I felt like a freak and a reject. When I arrived at work the next day, Robin noticed that I was upset and asked me what was wrong. I explained what had happened, and the next day, he handed me a letter that he wrote to my school. He explained that I was just trying to continue my education while pursuing my career. He wrote embarrassingly kind things about my character and my work, and requested that they reconsider and allow me to return to my classes.

When I told him I still didn't think they would take me back, he said, "It's kinda like Amnesty International. That school just needs to know that people know the truth."

The school framed the letter. They hung it in the principal's office. But they didn't invite me to return to school.

But here's what matters from that story. Robin stood up for me. He was in my corner. I was only 14, but I had already seen that I was in an industry that was full of back-stabbing. And it was entirely clear that Robin had my back.
What a great guy. RIP – here's a tribute to him that we posted last year featuring all of his best movie moments.