Back when Take That were big and even at the beginnings of his solo career, there were always rumours flying around that Robbie Williams was a homosexual. Well, it turns that he kinda was and he's finally admitting it now in a recent interview with gay lifestyle magazine 'Attittude' this month, of which he also graces the cover.
Featured Image VIA
Here's what Robbie had to say: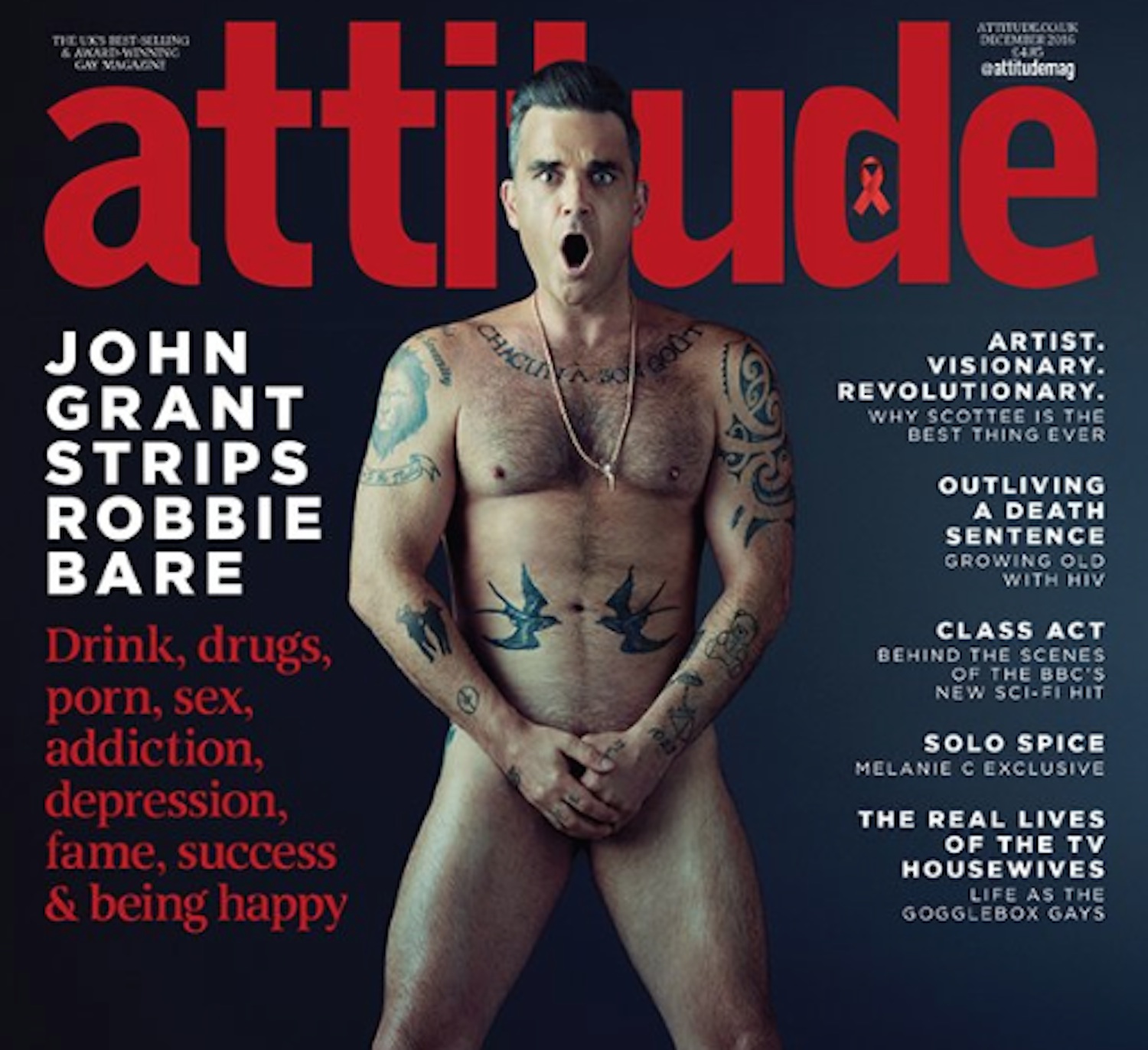 I was raised in a society where gay was the thing you levelled at somebody you wanted to hurt the most. So then being exposed to this world that I loved being a part of… I took my first ecstasy at a gay club… had the most incredible time. I thought: 'Why have I lived like that when I could live like this forever?' And I tried doing that, which led me to AA.

But also because of the homophobia that there is out there, I was sort of left as a 21 year old going: 'Actually, I don't hate the gay… so does that mean that I'm gay, too? So I was 21 or 22 and I was like: 'Oh, that must mean that I'm somewhat gay, in some sort of way'.

There was a time where if you put 'Robbie Williams' into Google, it said 'gay'. When it stopped being: 'Robbie Williams gay', I wondered what had happened.

The truth is with me and gay is that I can't get round the cock thing. You know I have crushes. Big male crushes. A lot. I crush a lot. But I just can't do the cock. I don't enjoy looking at mine that much. So I can't get round that bit.

And if I could I would have because I like sex. I would have liked being able to have it on tap.
Well, there you have it I suppose? Robbie Williams is kind of gay but hates dicks so can't go the full way. Fair play to him for 'coming out' so to speak because even that probably wasn't that easy an interview to give, even though there's probably more to it. But yeah can't give him anything but props for speaking out against homophobia and trying to move things on, nice one.
For more Robbie Williams, check him out flirting with a 15 year old fan during a live show. Awkward.