If you've seen 'El Camino' on Netflix, then you'll know that Walter White is 100% dead – which many took as confirmation of the official end of Breaking Bad.
Featured Image VIA
That may not be the case though, because RJ Mitte who played Flynn AKA Walt Jr, has pitched the idea of his own spin-off show to Breaking Bad creator Vince Gilligan where he becomes the new Heisenberg.
Mitte, who like his character has cerebral palsy, reckons his issues would make him an interesting drug lord protagonist.
Mitte told The Irish Sun:
He is his father's son in a way of his actions and his moralities of what he's going to do would be right for his family.

I think for us it would be a very hard life after what Heisenberg did to his family and I think that stigma would carry.

But I would like to see Walt Jr. being a gangster.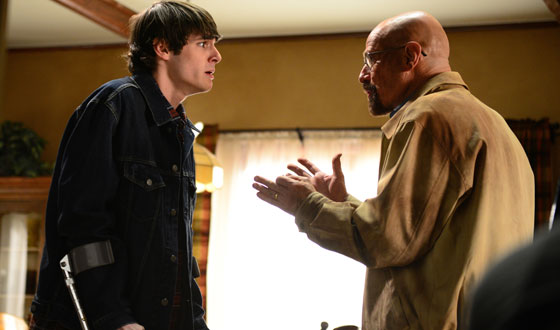 I'll admit – I never really liked Walter Jr too much. I mean did anyone? Sure you felt bad for the guy having cerebral palsy and whatnot, but all he did was eat breakfast and moan about his parents. Is that really someone you can see as a ruthless drugs kingpin?
Maybe not, but if anyone can pull it off – it's Vince Gilligan. Breaking Bad, Better Call Saul and El Camino have all been top quality television. Sure it will probably feel like they're milking Breaking Bad for all it's worth at this point, but I'm sure everyone would still watch the hell out of any spin-off they come up with.
Why do one about Walt Jr though? What about a Mike Ehrmantraut or Gus Fring spin-off about how they became the people they were in Breaking Bad?
Which reminds us – Better Call Saul Season 5 drops on Netflix next month. Can't wait for that one.