Rihanna was kicked out of the Abu Dhabi Sheikh Zayed Grand Mosque – one of the biggest Muslim places of worship in the world – over the weekend for what was described as an inappropriate photoshoot courtesy of her Instagram account.
Rihanna was dressed in a headscarf, black catsuit and was wearing crimson lipstick as she posed in the mosque's courtyard on Saturday. She was visiting Abu Dhabi as a stop on her current world tour.
A statement on the mosque's website – so 2013 – offered the following explanation: 'The singer entered on a private visit without introducing herself and without prior coordination with the administration. She was asked to leave before entering the mosque after she posed in ways that do not match the (mosque's) sacred status.'
The reaction to the pictures appearing on Instagram was decidedly mixed, with some comments being really negative whilst others were really positive. One user – who posted in Arabic – stated that 'she thinks she's sunbathing on a beach in Miami!' whilst another user praised Rihanna's decision to wear a headscarf and observe Islamic law: 'Thanks for your respect to our religion… you take your time to wear the traditional dress… And the pictures are beautiful not insulting.'
Even though Islamic law may seem outdated and trite in comparison with the western world, Rihanna (or at least her management) probably still should have discussed her ideas for conducting a photoshoot with the people in charge of the mosque. Having said that, I don't really find anything that offensive about the photographs and the fact that she did wear a headscarf should count for something too.
Both sides probably could have done more to make the photoshoot mutually beneficial but as is often the case with two different races/religions, they didn't bother communicating and as such neither of them have come out of the situation looking too good.
☛ More Rihanna: Rihanna Is A Stoner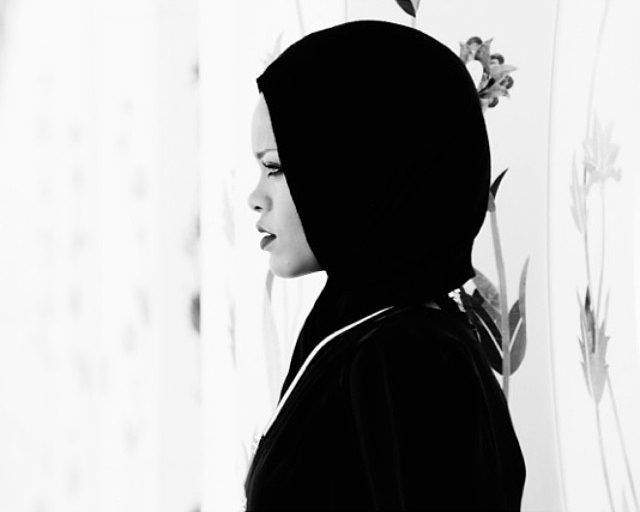 You can check out all the pictures on the following page. What do you think – too racy?