World famous businessman Richard Branson nearly saw the end of his life this week after suffering a horrific bike crash.
Images VIA
The Virgin boss was out cycling with his two children on the British Virgin Islands when he hit a hump in the road and was thrown off of his bike. He said he was "hurdled over the handlebars" and left worrying he was going to die.
Luckily he was wearing a safety helmet, otherwise it would've been game over. The nasty accident has left him with severely damaged knees, chin, shoulder and cuts all over his body. Branson stated:
I was heading down a hill towards Leverick Bay when it suddenly got really dark and I managed to hit a 'sleeping policeman' hump in the road head on.

The next thing I knew, I was being hurled over the handlebars and my life was literally flashing before my eyes.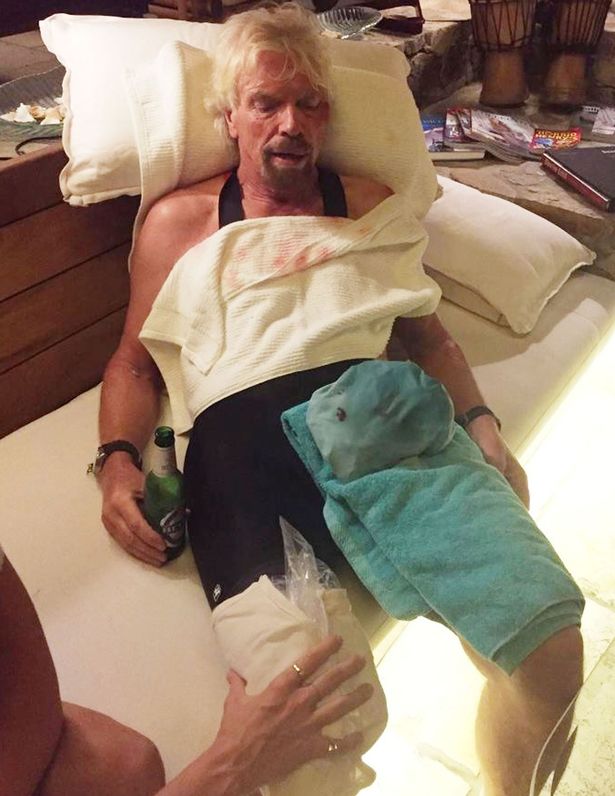 I really thought I was going to die. I went flying head-first towards the concrete road, but fortunately my shoulder and cheek took the brunt of the impact, and I was wearing a helmet that saved my life (however, perhaps they should build bike helmets that protect the side of the face too – does anyone know of one?)

My bike went flying off the cliff and disappeared. We've since recovered the crumpled bicycle, completely destroyed. My cheek has been badly damaged and my knee, chin, shoulder and body severely cut.

I travelled to Miami for x-rays and scans, but have been extremely fortunate that apart from a cracked cheek and some torn ligaments I hopefully will be able to complete the Virgin Strive Challenge next month.

My biggest hardship is having to drink tea out of a straw. Oh, and being called elephant man by a six year old.
My attitude has always been, if you fall flat on your face, at least you're moving forward. All you have to do is get back up and try again. At least I'm practicing what I preach – though a little too literally.
Sounds like he's onto a new business venture there. Don't be surprised if in the near future you see an ad for Virgin side face helmet protectors.
To check out the time Richard Branson showed us all this is his world by surfing with a naked girl on his back, click HERE.