You can't really mess around with a traditional Christmas dinner because it's pretty much set in stone what you have to include on it – I mean do you think anyone actually wants to have sprouts involved with it? – but people are still trying out new versions of it which is why we're seeing this Christmas dinner pizza.
Featured Image VIA
The pizza is being offered from Pizza Punks in Glasgow and will set you back £20, although you also get a starter and a dessert included with that which is fairly reasonable. The pizza itself comes with the following toppings on a thin crust: candied pigs-in-blankets, roast potatoes, slow-cooked pulled turkey Brussel sprouts. Mmmm. Except maybe for the sprouts.
The crust is also stuffed with sage and onion stuffing and they give you a little tub of gravy on the side for dipping as well. Seems like they've thought of everything and it actually looks pretty good as well.
Here's what operations manager Louise McCabe had to say about it: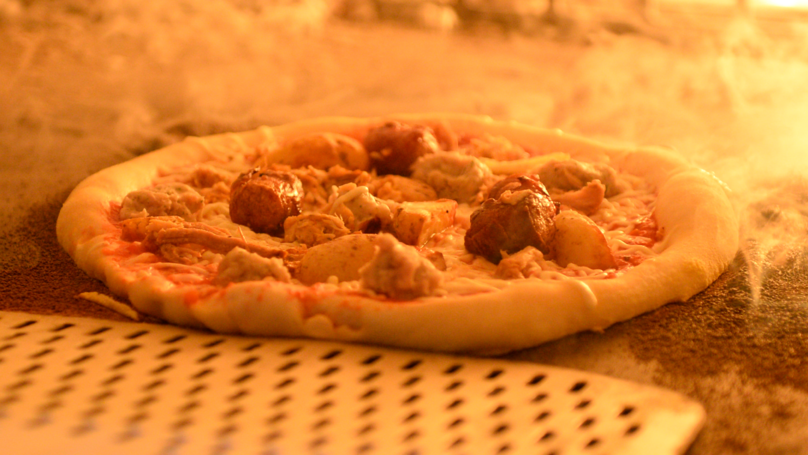 One of our really popular dishes is candied bacon, cooked with demerara sugar and maple syrup in the oven.

We were looking for Christmas ideas, and everyone likes pigs-in-blankets. So we decided to candy them, and we then thought about what else we could do.

We have put a whole Christmas dinner on a pizza – it is like an edible plate.

We are trying to do something different. It has been a massive hit so far.

Everything seems to be quite predictable at Christmas, it's all turkey and cheesecake.

This is still in the Christmas spirit, but it's not traditional.

I don't think I've heard of anything else like it.

The sprouts are like pineapple on pizza – it's about 50/50 either way.
I reckon it's probably more like 90/10 but you know, whatever. Not going to Glasgow any time soon myself so won't be able to try it, but if you're in the area I would give it a shot. Sounds pretty tasty.
For more Christmas dinner, check out