Everyone has to deal with someone farting in their personal space and it really stinking at least once in their lives, but I don't think I've ever heard of farts adversely affecting a sporting event until this year.
Images VIA
Of course, earlier on there was the controversy of the darts player who accused his opponent of farting to put him off, but now after that the World Pie Eating Championships have revealed that they've banned red meat and potatoes as a filling because they're worried about the flatulence that could be emitted and how it might affect audience participation. Seriously.
Whilst those in attendance might be happy about the development – all the pies will now contain chicken – some of the competitors are a bit miffed that they're going to have to change their training regime at the last minute. Here's what 1992 winner Dave Smyth had to say about the change: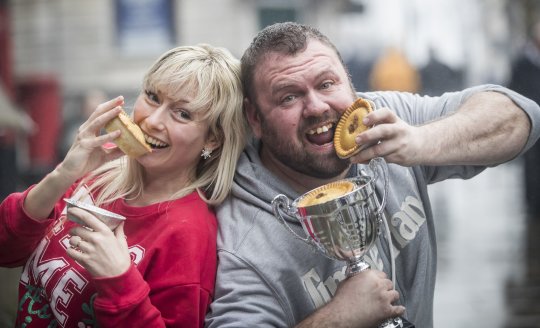 There is great skill in downing a pie without spillage, crumb splatter or swallow stall – talent developed over many years.

Chicken is less demanding and requires a completely different and less-challenging technique from meat and potato.

The introduction of chicken means lower-level weekend competitors will be mixing it with the elite group.

I predict not just a shock win but an unrepresentative win, possible even by a southerner.

This last minute rule change is like swapping regulation footballs for plastic balls. Cristiano Ronaldo would not tolerate playing with plastic balls.
Yeah, not really sure about the CR7 comparison there – don't really think Dave is on quite as an elite level as the guy there – but I take the point about how a last minute rule change could screw everything up for those that have been working on it all year. Can't really believe there are even going to be that many spectators for it anyway considering it's held in a pub in Wigan either, so why don't they just get on with it? Sounds like a bit of a conspiracy to me #Piegate.
For more farting, check out the whole thing with the darts players from earlier this year. Can believe that's more of a problem than this one.