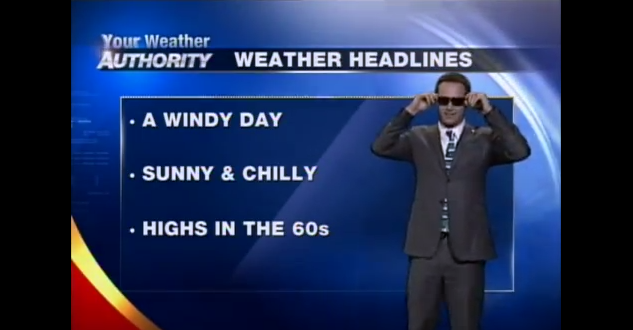 What do you do to help pass the boring hours of your mundane job? Go and take a massive shit that lasts for 20 minutes? Well, why not when the company's paying for it. How about Facebook? Sick Chirpse? RedTube? Yeah sure, of course you don't. But what would you do if you only worked for a few minutes a time throughout the day, and the rest of your 'working' day was made up of standing around making small talk with the rest of the office? I'm talking about weathermen/women/people obviously.
☛ More: Sick Chirpse Party!
☛ More: Price Charles Invades The Weather
☛ More: Gangnam Style X Skyrim
These guys and girls have to do their thing for a few minutes every 15/30/60 minutes or whatever, and between when they're live they have to kill some time. One weatherman in America decided to get his cameraman/woman/person to film him performing a weather rap with the full weather background in place. A great way to kill the time between shots to say the least, and check out the news anchor woman busting moves too. This is like a full production. There's no way they could have got away with this without the producer/director (do you have directors for the weather?) clocking on.
There's a big surprise at the end too, which you'd never guess. Yeah that's right, Gangnam fvcking Style. When will this shit end? WHEN?! Check it:
[yframe url='http://www.youtube.com/watch?v=tMM-yw5IWvg']