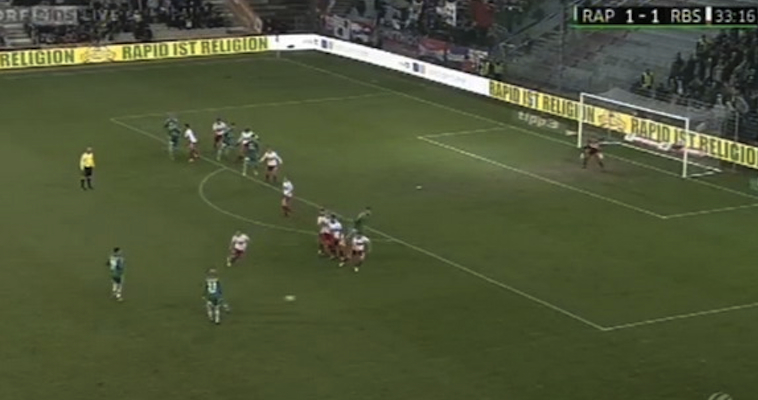 Everybody loves a good free kick routine right? I've featured a few on Sick Chirpse before (Crazy Free Kick and Most Bizarre Free Kick Ever – if you missed that one you should really check it out, words can't describe it and it's VERY VERY hard to figure out if it was meant to happen or not) but Rapid Vienna are making a name for themselves this season with some really well thought out free kick routines that are actually working. I always wonder why teams don't spend like twenty minutes trying out a couple of these in every training session because when they come off they're super cool and, as Rapid Vienna are proving, actually lead to results some times too.
Rapid Vienna have played two really awesome free kick routines so far this season. The first came in their match against Reid in the cup. OK, this goal comes from a corner but that's pretty much the same as a free kick right? Anyway, the players take a short corner to a guy running towards the flag by the byline. This dude flicks it up to the edge of the area, where the Vienna left back Christopher Drazan is running in, and he spanks it into the net on the volley. It looks completely sick. Check it out below (I could only find the highlights of the whole match for this goal so you have to skip to about one minute to see it. It's definitely worth skipping to and watching it though):
[yframe url='http://www.youtube.com/watch?v=RVdmfrDDbmc']
The second goal came in quite a big match in the Austrian league as Rapid Vienna met Red Bull Salzburg and their new free kick routine tore them to pieces. the free kick was about 35 yards out from the Red Bull Salzburg goal, and three Rapid Vienna players hover over the ball. You're kind of expecting one of them to shoot but the routine that follows is so much better and ends with a goal. It's kind of hard to describe, but they basically completely bamboozle the defenders with a couple of short passes before the killer pass releases Guido Burgstaller and he's one on one with the keeper and makes no mistake. Just check out the goal and you'll see what I mean. Let's get some of these routines in the Premiership eh?
[yframe url='http://www.youtube.com/watch?v=iaJ4iesYGPY']
What's especially awesome about both of these free kick routines is that after the goals the players involved all go and celebrate with the coaching staff, which means you know that they spent a while on the training field perfecting the techniques. I just think that's really cool. Fans often ask what the hell palyers are doing on the training ground when they play crap at the weekend, but I guess Rapid Vienna fans won't ever have that problem in the foreseeable future because it's clear they just practice cool set plays all the time.